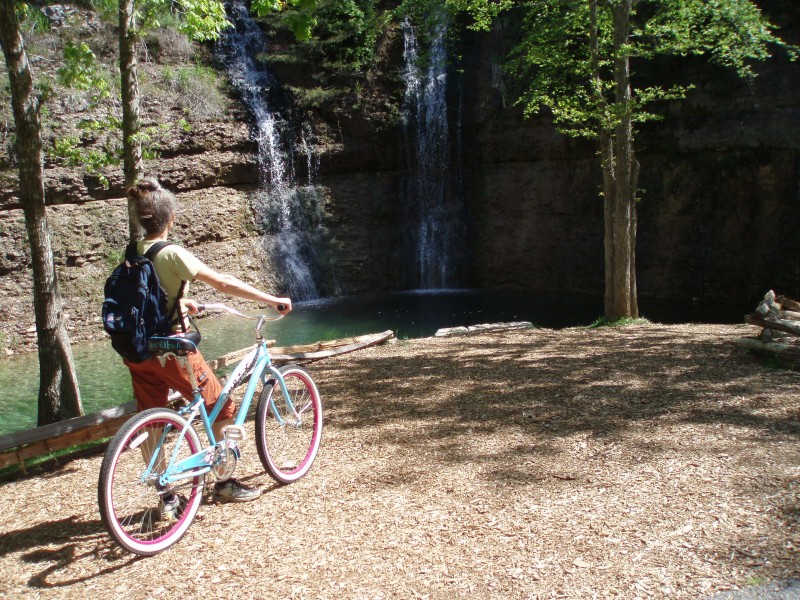 Sometimes it's just the simple things that make the outdoors great.
Take a dry bluebird spring day in the Ozark Mountains. Add a paved multi-use path through a nature park with a flowing creek along lovely limestone ledges. Now toss in a bicycle. Not a high-tech, ultra-light, clip-in rig, but an old school one-speed rental machine with coaster brakes and upturned handlebars.
Now roll, starting in Missouri, and pedal all the way to Arkansas.
Okay, it's only about three miles.
But along the way, watch as a heron takes off from the cool waters. Stop for a rest by thin cascading waterfalls. Look down in a pool under a cliff at monster-sized stocked trout.
Now reach the Arkansas line, turn around, and do it again.
Such was the scene in Dogwood Canyon south of Branson on a gorgeous May day as a friend and I pedaled an easy six roundtrip miles in the vast nature park in the southwest corner of Missouri. Not far from the shores of Table Rock Lake, the vast Lampe nature park is ripe with soft adventure for hikers, runners, and cyclists. There's time for fly fishing, horseback riding, archery, and even Segway tours. There's also elk, longhorn cattle, and bison to see, but only from a tram that shuttles visitors into the park established by Bass Pro Shops founder Johnny Morris.
"The paved trail and gradual incline makes the trail appealing to all ages but the scenery is unrivaled and is the real draw for our guests," said public relations manager Sydney Friar.
The park is managed by the non-profit Dogwood Canyon Foundation dedicated to preserving and protecting the canyon's natural plant and wildlife environment, she said.
For a seasoned cyclist, the riding's easy. But it's a bit of a throwback riding a one-speed, conjuring up a childhood time when AM radio ruled the airwaves, helmets were for football players, and blue jeans, not tight and bright lycra, were the clothing of choice.
About the only thing missing was a baseball card hanging from a clothespin ticking away at the spokes in the rear wheel.
We rolled under the cedar and oak trees by caves and outhouses, benches, springs, and over bridges. At times we did have to make way for a tram and a bunch of Segway riders but we also become part of the scenery, waving and smiling. When I pulled over for a tram, a rider asked if I was "tuckered out."
I assured him I wasn't, and rolled right on.
The simplicity, safety, and scenery of the park were personified by a couple of retired school teachers from Nebraska I met soon after they purchased their season pass.
Tom and Connie O'Boyle make the 450-mile drive every year from their eastern Nebraska city south of Omaha to a lake condo close to the nature park. In the park a few times a week, they ride a couple of old one-speed Huffy bikes that once belonged to their nieces. The bikes, one once had a license plate from 1976, have been tweaked with new tires and seats.
But when they ride, Tom, 71, puts a front basket on his to carry the towel for sitting on the grass. Then there's the bag for the picnic lunch and baseball caps for sun protection. With helmets on their heads, they set out to roll along the familiar pathway.
"We ride our bikes as often as we can, sometimes three times a week," says Tom, also a former junior high school football coach who schooled players ending up in University of Nebraska Cornhuskers uniforms. "We'll go all the way to Arkansas and back with a picnic lunch."
Each season brings a sense of place to the O'Boyles, arriving in spring with the blooming of the dogwoods and then staying as the mercury rises and summer turns to fall.
They're also well-known among the employees.
"The people who work here are such nice people," says Connie, 68.
And the O'Boyles are easy to spot too.
"As the tram goes by the driver will say, 'Those are the people who are here almost every day riding their bikes.' We're part of the entertainment, part of the conversation," says Tom.
For them, it's part of their exercise.
"It's not a difficult ride," says Tom. "It's uphill about 100 feet and you can coast nearly all the way back."
Now that's simple.
Images by Marty Basch