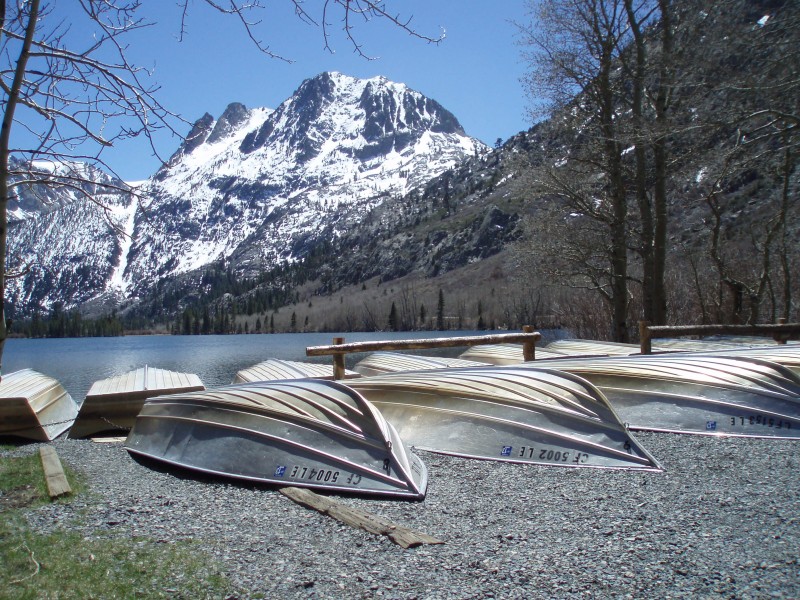 When the aspens turn golden in fall, the masses flock to the the June Lake Loop in California's Eastern Sierra.
But there's no reason to wait until then. Hiking, paddling, biking, camping, and fishing abound in the u-shaped canyon on the west rim of the Great Basin.
If Bostonians have New Hampshire's twisting Kancamagus Highway as a gateway to a national forest and outdoor recreation, then southern Californians have the 14-mile scenic stretch on Route 158 off 395 in Mono County with towering mountains containing snow-chocked ravines. Four soothing glaciated lakes sit like jewels in a craggy alpine treasure chest.
Those four lakes—Grant, Silver, Gull, and June—are each easily a favorite. With 10,909-foot Carson Peak rising behind June Lake, it's easy to see how the aptly named Oh! Ridge got its name.
The shore of Silver Lake, recently stocked with boats waiting for the season, had a classic mountain look with budding aspens framing the scene.
Grant Lake is the largest in the bunch at about 1,000 surface acres, while Gull Lake is the smallest.
The lakes make for memorable fishing with stocked steelhead and Alpers trout. Alpers trout are unique and local, raised not far from the loop. Known for putting up a fierce fight, the fish tend to weigh between two and four pounds while some are known to tip the scales at over 10 pounds.
Anglers can cast from shore, boats, and tubes. And don't forget the winding Rush Creek for fly fishing.
Cyclists routinely use the road whether as a circuit unto itself or part of a larger journey. Cabins and campgrounds, both private or run by the Inyo National Forest, abound. Hikers have a wealth of choices too. For example, the Rush Creek Trail leaves at the north end of Silver Lake eventually connecting to legendary western trails—the 2,650-mile Pacific Crest Trail through California, Oregon, and Washington, and the 210-mile John Muir Trail along national parks Yosemite, Kings Canyon, and Sequoia.
But of late, another attraction has sprung up along the road. But it's likely you'll only learn about it from a local.
Though travelers may visit the Double Eagle Resort and Spa for a vichy shower (showering while laying down) and exfoliation or aromatherapy massage, or stop in to the Double Eagle restaurant for fish tacos, there's something across the road that's become part of local lore.
Not far from Silver Lake, the resort's owners have a small pond on their property. Keep in mind the canyon is a land ripe with fish stories and California is a tad starstruck, but the story goes that makers of the just released Joseph Kosinski sci-fi movie Oblivion starring Tom Cruise were in need of a lake or pond with a wilderness feel and easy access.
They wanted to shoot in July. Oh, and there couldn't be any people around. So shooting on public land was kind of out of the question. Eventually producers decided on this small privately-owned pond accessed by a dirt road off 158.
So, last summer, for maybe a month or so, Hollywood came to town. Some 250 people tuned the small town into a, well, little bigger town. They set up shop in a meadow with a 3,500-square foot dining hall. They made improvements to the access road much to the delight of those who lived on it. One day the director thought the water level was too low. So out came the hoses and up went the water level.
Try doing that in a national forest.
And Tom Cruise came to town. He had a motorhome. So did his workout room. Apparently he took up a floor at a hotel in Mammoth.
Word is the scenes are at the tail end of the movie.
No fish story.
Check out a trailer for Oblivion below.
httpv://youtu.be/V_PBWtV1kRI
First image by Jan Duprey, second image by Marty Basch