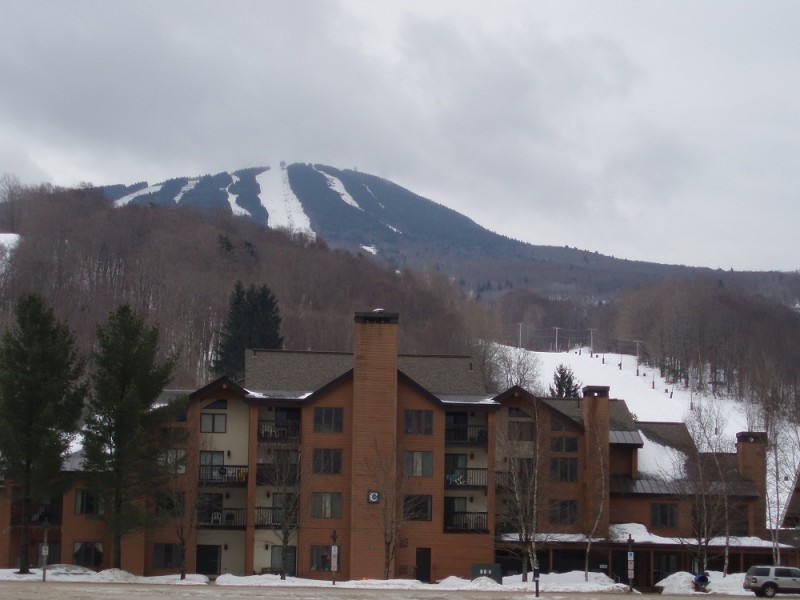 Count Patty and Murray McGrath among the Pico faithful. Owners of the Inn at Long Trail and McGrath's Irish Pub near the Killington, Vermont mountain, Patty's been skiing there since age three, nearly 50 years.
"Sometimes people who discover Pico Mountain really think they have found a gem, which they have," she said.
Pico may feel like a small homey mountain but it's a big one. The summit stands just shy of 4,000 feet, some nine miles east of Rutland and two miles west of Killington Road off U.S. Route 4 in central Vermont. The 50-plus trail ski area with a nearly 2,000-foot vertical drop and about 75 percent snow-making coverage operates Thursdays through Mondays with about 100,000-150,000 skier visits per season.
Tuesdays and Wednesdays locals skin up. Thursdays are post-dated freshies following an early midweek snowfall.
More laid-back than bustling Killington and owned by the same company, Pico skiers and riders dart through the glades in Doozie and Exhibition Woods, let the boards run on cruisers like Fool's Gold off the Golden Express Quad (one of two high-speed detachable) and test skills on narrow throwback trails like double diamond Upper Giant Killer—the mountain's steepest.
"Pico has everything Killington has in terms of terrain," said McGrath. "Being smaller, everything funnels down to the base lodge. You get a lot families who want a low-key skiing experience."
Advanced and intermediates cruise from the dazzling summit with its panorama to the base lodge on mile-long Pike underneath the Summit Express Quad. The self-contained Bonanza area is the place to learn first turns. Freestylers ply their trade in the Triple Slope Terrain Park. Mingle with locals skiing Wrangler and Sidewinder off the Outpost Double, the gem within the gem.
"Pico is the antithesis of Killington," says Pico director of operations Tracy Taylor, a man who worked the Big K for 23 years and now in his third at Pico. "I see people who want a little slower pace. I think the biggest difference is we don't see the 18 to 25 age group. They want to be at Killington with its fast pace."
Community-minded Pico, something of the Beast's feeder hill, is an integral part of Vermont's skiing and racing history, a family-owned area for much of its existence since that Thanksgiving morning in 1937 when a car engined chugged to life to run a 1,200-foot long rope tow.
Old time Vermonters remember when a 19-year-old Andrea Mead Lawrence won a pair of gold medals in the 1952 Oslo Olympics. Lawrence got her start at Pico, the mountain founded by her parents Janet and Brad Mead.
Her name lives on when Vermont Adaptive Ski and Sports, in conjunction with the Pico Ski Education Foundation and Mead Lawrence family, opens its new $1.3 million headquarters in December—the Andrea Mead Lawrence Lodge.
Another champion, Sarah Will, is linked to Pico. She started skiing there at age four but broke her back in an accident, paralyzing her from the waist down. Since then she's won 12 gold and one silver medal in four Winter Paralympic Games. She also helped raise money for the lodge and an elevator will have her name.
"One of the things I love about Pico's history is that it was in many cases run by some strong women," said McGrath. "Janet Mead, June Acker, they kept it going during some early, difficult years. As a woman that touches my heart."
In 1996 when faced with bankruptcy, Pico entered corporate ownership under the now defunct American Skiing Company and since 2007 is owned by Powdr Corp.
"People often ask me if I wish we were disconnected from Killington but Killington allows this place to survive," says Taylor. "Resorts this size are generally not healthy and this is a tough business."
Taylor's considering adding night skiing next season.
"I feel like this place remind me of skiing when I was a kid growing up," he says. "This is what skiing is about, walking into the base lodge and smelling the fire. There are still a lot of people with an affinity for that."
Image by Marty Basch