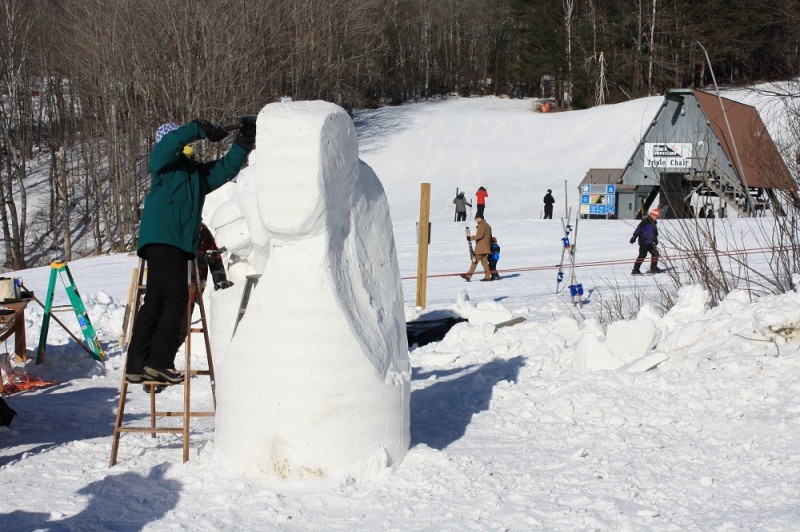 They are a common accoutrement of winter in many a ski town and beyond. Wielding tools used by everyone from backyard gardeners to equestrians to ice fishermen, they construct incredible castles, characters and other creations.
From huge blocks of snow come sculptures.
Generally coming from the worlds of culinary pursuits, art, and architecture, snow artists whittle away at winter by producing wonderful works of art. International festivals abound from Canada to China. The Nationals are held in Lake Geneva, Wisconsin through Sunday, February 3.
But chances are if you're near a ski town, you'll see some smoking creativity in the cold.
Dick Devellien of Jackson, New Hampshire is a retired engineer who took up snow art more than 10 years ago. An avid road bicyclist and cross-country skier, he recently competed in the 12th annual Jackson Invitational Snow Sculpting Competition, a state championship, at Black Mountain not far from his home.
"Just being outside and playing in the snow keeps me coming back," he said. "I think this is a variation of playing in the snow."
Most of the implements he used were of garden tool variety and some handmade. He has an old-fashioned cross cut saw and something of a homemade brush made from construction staplers for smoothing surfaces. He used an edger and a chisel. Rakes, shovels, and step ladders were also part of the arsenal.
Staying warm's important, in particular taking care to cover exposed skin if the temperatures are frigid. But the temperature doesn't bother him.
"When I'm working, I'm toasty warm," he says. "Sometimes you have to be careful you don't perspire much. The temperature isn't a problem, the wind is a problem."
Devellian first makes a 3D oil clay model of what he's sculpting and works from there.
"People tend to make abstract or classical pieces. This one is kind of whimsical," he said.
He was making Popeye.
Also out in the single-digit morning were a couple of high school teachers and a restaurant employee putting together a tribute to the Sandy Hook Elementary School shooting victims, a snow angel called "A Wing and a Prayer."
"The snow is an interesting medium," says art teacher Sandy Hall, a seven-year snow sculpting vet, skier, and snowshoer. "This gets me outside in the fresh air and thinking about how to take a block or form and make it into something different, something unique."
The team started with a couple of thumbnail sketches that were developed into a more detailed drawing. From there, they made a tiny sculpture.
They also had an assembly of unique modified common tools and blasts from the past. Hall used an old ice saw. There were chisels, rough screens to smooth out the snow, and a spiral curry comb typically used to groom horses. For a snow sculptor it helps create texture in the snow. Some snow artists are known to use dental picks and sandpaper too.
For Eric Marnich snow sculpting is a tremendous outlet.
"I like to come out and create something," he said. "This is s a lot of fun and there's lots of camaraderie here. I like seeing all the other creative people and the awesome things they are making."
Fraize, the other teacher, was making her debut as a snow artist.
"I'm here for the art and the community," says Fraize. "Working on a large scale like this is so different than working in a studio. This is new for me."
Come the conclusion, artists take pictures of their work. But for someone like Devellian who lives nearby, he can visit. At least for a while.
"I sometimes I walk by to see how long it lasts," he said. "Then one day, it's gone."
First image by Marty Basch, second image courtesy Jackson Area Chamber of Commerce