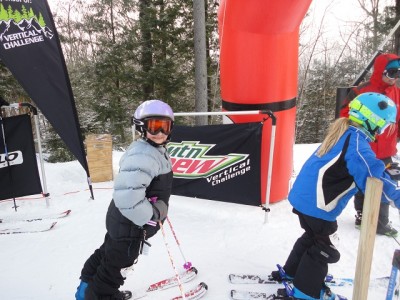 I'm not much of a ski or snowboard racer. Never ski raced in high school or college. I only learned to snowboard as an adult and only after several attempts that resulted in me realizing that taking ibuprofen at breakfast for the impending falls later was a good thing.
I raced on both skis and snowboards in a North Conway, New Hampshire midweek recreational league for several years on a routinely lower-third-dwelling team where participation was optional.
That's my kind of team.
Even made the podium a few times. Won first in my division in 1993 on skis, took third in 2000 (could have been skis or snowboard) and second in 2008 on a snowboard.
I was the best of the worst.
But I like to travel and decided last year to go on a beer league hiatus.
However, this season I'm dewing it again for fun on occasion with the Mountain Dew Vertical Challenge.
The long-running family-centric event is in its 23rd season. Founded by Rhode Island's Frank Tansey, the race through the gates visits nearly 30 Eastern ski areas from Maine to Pennsylvania from mid-December until the March 23 finals at Okemo in Ludlow, Vermont.
The schedule is posted at www.snocountry.com.
Typically, the race attracts families, children, and amateurs who have never raced before. The giant slalom course is generally easy, but that doesn't mean there isn't any pitch.
It's one run and you're done with gold, silver, and bronze medals awarded to the top three finishers in each division qualifying them for the finals.
The hope is the kids take a chance (the race is free, but a lift ticket is required), get bitten by the race bug and do a few Challenges at areas the family may not have skied before. Plus, there's the shot that young racers become competitive on resort, school and academy teams and clubs.
Along the way there is competition, boatloads of family smiles, product loyalty being groomed, developing and longstanding friendships, fundraising raffles, loud morning music, post-race party, lots of samples and schwag, and did I mention boatloads of smiling groms, moms, and dads (plus some hardy characters too, including a former U.S. Ski Team member who has done the race in a GS suit and tie, seriously).
Upfront, I've known Tansey for years, typically bumping into him at ski areas across New England and at the Boston Ski Show. I've written stories about the Challenge, interviewed families and racers, but never done it.
For some reason—probably the realization that if you are of a certain age and show up at a race there's a chance you'll make the podium in your division—I told him I'd dew it this season.
I have. Three times. And I've won a snowboarding gold and bronze medal.
On skis, I got smoked.
Oh, I also got smoked by 14 seconds, that's 14 whole seconds, while winning that snowboarding bronze but there were only three riders in my division. Yet I won that gold by a second in a group of three.
I guess that means snowboarders of a certain age are more inclined to do better than skiers.
But the race is more about families. I remember one Massachusetts mom telling me she raced in the Challenge with her three sons. I've seen three generations of families racing in it. I've seen dads with their sons and daughters loaded with nervousness and excitement before heading through gates for the first time dole out comforting advice.
I've met the eccentrics, that U.S. Ski Team guy (googled him and found some cool Sports Illustrated articles) and another fellow who says he has more than 140 medals from the Challenges he's done (and he does).
In the end though, it's all about the family smiles.
But then again, with those medals, I qualify for the finals which tends to attract 1800 skiers and snowboarders.
So I have a decision to make.
Plus, it doesn't help that next year Tansey's thinking of adding a freestyle run to the program.
Wonder how many skiers and riders of a certain age taking ibuprofen with their morning oatmeal will show up for that one.
Images courtesy Mountain Dew Vertical Challenge