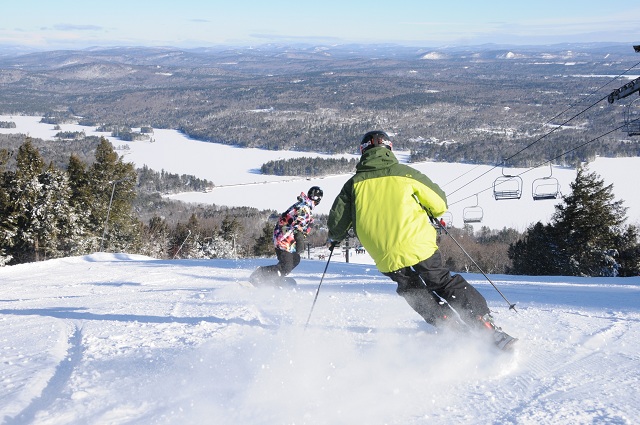 Where pastures once held court for cows, trails now rule the roost for skiers and snowboarders.
Back in the day a bunch of skiers from Portland, Maine ferried themselves to New Hampshire's rugged Mount Washington to ski before chairlifts were commonplace. They climbed up to ski down and during this infancy of modern skiing were on the prowl for other places a bit closer to the coast to ply their long wooden ski craft.
Western Maine's Pleasant Mountain in Bridgton along Route 302 was such a place.
So they sought out the owner and asked permission to ski.
He acquiesced but with a caveat.
"You can ski but you have to put the fences back up for my cows in spring," he said according to noted Maine Ski Hall of Fame member and ski historian Dave Irons.
That was 75 years ago and skiing's still going strong at what is now known as Shawnee Peak.
Shawnee is a modest mountain, the anti-glitz in an era of high-speed detachable quads, high-end trophy homes, and high-priced lift tickets. That's not to say the ski area known for putting in Maine's first T-bar and later the Pine Tree State's first chairlift in the 1950s is stuck in a time warp. It moves on, albeit at its own pace, and has increased its slopeside development with rustic accommodations, put in a new fixed grip lift in 2010, and this season a full-time big air bag.
Recently, slopeside Blizzard's Pub was packed with Shawnee faithful to commemorate the ski area that officially opened with a 1,100 foot rope tow on Jan. 23, 1938 thanks to pioneers like Jack Spratt (general manager in 1939 with a gloriously wide trail named after him under the triple) and Russ Haggett (founder and general manager for 39 years; a race bears his name) whose names still shine at Shawnee.
Over the years, Shawnee has seen its share of owners. The name change from Pleasant to Shawnee is credited to Pennsylvania owners who bought the mountain in the late 1980s but also made an important decision that impacts the ski area today—the addition of night skiing.
But two names are synonymous with today's Shawnee, owner Chet Homer and general manager Ed Rock. A couple of unassuming guys more comfortable away from a microphone than in front of one, they've been integral to Shawnee's longevity.
Homer bought Shawnee in 1994 and has invested millions. He's a Dartmouth grad, former American Hockey League Portland Pirates owner, ex-president and director of Tom's of Maine, and a University System of New Hampshire Trustee.
"I think the best thing about being involved with the mountain is seeing it grow over the years," he said.
During his tenure improvements include a makeover of the chairlifts, new and expanded beginners terrain, woodsy trailside homes and upgrades in snowmaking.
He calls snowmaking the "invisible investment," something the mountain continues to "push to new levels."
He also enjoys seeing families grow up at Shawnee and return.
One family patriarch has been there for more than a generation—Ed Rock. General manager since 1982, he's been at the mountain longer than Homer's owned it.
Rock has long maintained he's but one of the many stewards of the mountain over the years and is quick to laud those who made Pleasant-turned-Shawnee possible.
"Seventy five years to us, and certainly to many of us who have been here for a long time, it means that we continue on with the stewardship of the mountain," he said. "Through the years, the people that formed the mountain, the Russ Haggetts of the world, I've always felt that I'm just one of the many over the years that have been able to continue it."
Mountains are always older than the men and women gracing its trails. Humility is something mountains teach and at Shawnee the lesson has been well learned by its caretakers.
"It's been a good run and we're going to keep it up," said Rock.
Homer echoed a similar sentiment.
"I feel pretty lucky to be involved in this," he said.
So must the skiers and riders attracted to its trails.
Image of skier and snowboarder courtesy Shawnee Peak, image of Chet Homer by Marty Basch