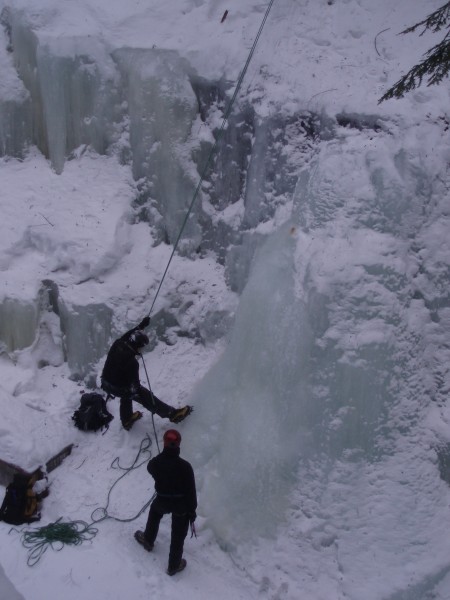 I've lived an off-peak life since my first job after college working the overnight shift at a New York City television and radio network. From working weekends to making the commute by train against waves of humanity, I'm okay outside of what most consider prime time.
Such is a visit in winter to one of New Hampshire's most famous natural attractions—The Flume.
Long a Franconia Notch State Park summer staple, the 800-foot granite gorge at the base of Mount Liberty discovered in 1808 becomes a cathedral of multi-colored ice with frozen waterfalls, massive granite ledges and ice-choked brooks when in the deep freeze.
Unlike summer, there is no admission charge. But there also aren't trail signs, numbered posts or maps along the way (download a map and guide from www.nhstateparks.org).
A two-mile well-trodden loop good for snowshoers and hikers takes travelers over wooden bridges, into rock squeezes (if desired), across two covered bridges, near three shelters, and by huge glacial boulders weighing some 300 tons.
The circuit—outside the visitor center shuttered in winter— is soft adventure with a bite, located at something of a crossroads of winter activity with snowmobilers, ice climbers, winter campers, cross country skiers, and nearby downhillers at Cannon.
Not exactly easy and certainly not hard, the path has a few hills and goes over several stairs covered with assorted ice and snow toppings. I opted to hike with poles, carrying snowshoes just in case.
The counterclockwise journey leads down to the red Flume Covered Bridge over the chilly Pemigewasset River. The Paddleford truss bridge was built in 1886 within sight of 4489-foot Mount Liberty looming in the background.
Up along Flume Brook, the pathway skirts snow-covered Table Rock with its dancing waters before entering the ice temple. Most people, especially non-ice climbers and those not wearing helmets, will heed the stop sign as the chasm narrows and huge pillars of ice cling to the granite. Just to gaze at the sharp and bulging ephemeral formations from brackish brown to brilliant blue is something. I bet it would be incredible during a full moon.
The Flume, along with the nearby Black Dike along Cannon Cliff, are popular western White Mountain ice climbing spots. Watching is one thing; climbing with crampons, ice screws, mountaineering boots, ropes, helmets and axes is something else entirely.
Heading on the path that goes above the formations, I eventually spotted two climbers trying their luck at the top of the gorge near 45-foot high Avalanche Falls. It was possible to watch in silence from the many vantage points available there. One climber made the effort look more like a vertical gymnastic event, easily navigating the surface and quickly rappelling down.
I soon left and continued on to Liberty Gorge. Certainly not as dramatic as its neighbor, the mountain stream was covered in snow.
But what was ahead was the toast of the outing. Rounding a corner, there was the timber 8-foot wide Sentinel Pine Bridge rising high above the cliffs and ice-free pool in an Alpine atmosphere. The covered footbridge was constructed from a 90- foot high, 5-foot round pine in 1939 by the Society for the Protection of New Hampshire Forests. The pine wasn't cut down, instead it was felled by strong winds during the 1938 hurricane. The 60-foot long bridge got its name from the tall pine that stood near the rear of the pool as if a sentry on guard duty.
Adorned with a wreath—as was the Flume bridge—a monorail of snow across the bridge's floor made the span's roof appear lower than it really is as it towers some 130 feet or so above the 40-foot deep pool about 150 feet in diameter.
After crossing the bridge there was the option of crawling on hands and knees through a rock squeeze called the Wolf Den. Throw in a cold and slippery floor of snow and ice, and it's easy to make like a bypass and wander up and away for perhaps another day.
The final traipse through a section of glacial erratics soon completed the circle on a sleepy weekend morning. In the plowed parking area, a group of snowmobilers were getting ready to ride while some snowshoers were stepping into their bindings. A few hikers were preparing to caravan as a couple of SUVs pulled in.
It was nice to be going the other way.
Images courtesy Marty Basch