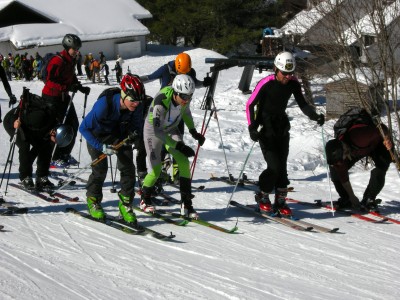 Though most people head to a ski area to ride the chairlift for an exhilarating cruise down there are those who prefer to go up the mountain on their own steam. Called "skinning," these dedicated free-heeling ski mountaineering men and women ascend ski resorts to work-out and perhaps train for a race. They enjoy the convenience and chance to break in new equipment before venturing into the backcountry. But for ski areas out for a profit, they've got some safety concerns like mixing uphill and downhill traffic, potential conflict with grooming and snowmaking operations, and liability.
Across the country, some areas embrace it while others outright ban it. Now uphill skiers and snowboarders with split boards can check in with the U.S. Ski Mountaineering Association web site (www.ussma.org) to get a sense of the polices at various areas. "It made sense for us to do this," said USSMA director Pete Swenson from Breckenridge, Colo. "There are a lot of people who like to know if they can skin at a mountain where they are going on vacation." With advances in technology, the uphill set has more choice with gear. Also, skiers and snowboarders are becoming more aware of backcountry and sidecountry (in-bounds terrain loaded with glades, chutes, etc.) opportunities. Called alpine touring, or randonee, skiers ascend a mountain with their heel free and for the descent can clamp down their binding to
give it a more alpine feel. Underfoot they wear long thin climbing skins that prevent them from slipping. Once at the top, they can take them off. Telemark gear can also be used. More popular in Europe than in the United States, there are a series of various races across the country for all kinds of athletes. Randonee racing is also done at the World Cup level.
Those who skin generally do so when the lifts aren't running. At many a resort across the nation, they are found methodically striding up the mountain, often on a designated trail, and once at the summit, schuss down all before the lifts become operational. Some do the same at night too. Swenson equates skinning to the early days of snowboarding when that pursuit was frowned upon and illegal before resorts realized they could make a profit. There are far more snowboarders than skinners but Swenson advocates for some sort of pass akin to a cross-country trail pass. "Once ski area operators see how this works, it is another way for them to make money," he said.
Some ski areas allow season holders and lift ticket purchasers  the opportunity to skin on select trails during certain hours. A handful of New England ski areas recently unveiled single day tickets, and one now has a season pass for under fifty bucks. "There needs to be open lines of communication between skiers and management," said Swenson. "We recognize snowmakers and groomers are just trying to get their work done. We want to know where they are to we know where we can and can't skin."
Swenson envisions resorts perhaps using existing mountain bike or snowshoe only trails for skinners, giving than narrow cat tracks in the woods for their ascents instead of them gracing the groomers. Those who skin can be their own ambassadors by doing it safety. Wearing reflective and easily visible clothing helps. Headlamps are essential to see and be seen. Some skinners also using blinking lights used by cycling commuters. Stay away from snowmaking and grooming operations. Most certainly beware of winch cats, in essence a grooming machine with a cable that allows its to rappel down a steep slope. Those cables can be lethal. Stick to the sides of trails if the ski area prefers it that way. Says Swenson, "Hopefully we'll look back in 10 years and say, 'Remember when no one skinned up ski areas.'"
Images courtesy Marty Basch and Pete Swenson