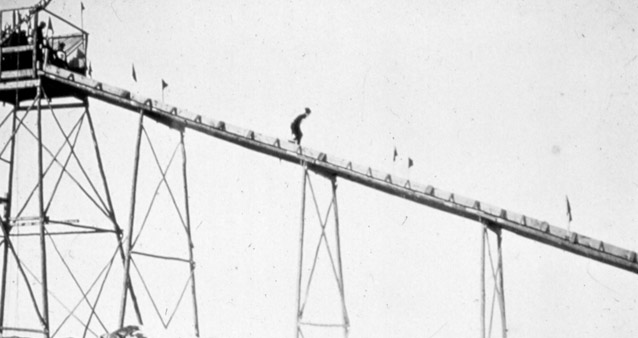 The next time you lock your boots to your skis will you think about who tested the first safety binding? When you arc a turn on your short shaped skis do you ever wonder how much speed it took to turn the first longboard? Loading the chairlift do you care who engineered the cable system carrying you up the mountain?
Probably not.
But chances are if someone slides up next to you in the lift line with leather lace-up boots cabled to six foot long wood slats, you'll spend the ride up talking ski history, or at least how far equipment has come in four thousand years, from wood and animal skins to plastic and epoxies.
As one of the oldest sports on the planet, skiing has chronicled a dynamic heritage. After all, it doesn't take place in the confined comforts of an indoor arena and it evolved from hunters and soldiers who depended on skis not just for play but for survival. You'll find designated ski slopes on all seven continents and when it comes to age range, you'll not find a more encompassing sport. Even if you can't walk, you can ski, just ask Muffy Davis, Sara Wills, and Chris Waddell, all skiers in the Hall of Fame.
Skiing came to this country by way of hearty Scandinavians transplanted to do the jobs Americans wouldn't take. Aside from the Sierras of California, they also settled in the mineral-rich hills circling Lake Superior to dig for iron and copper. Underground work was hard; above ground winter was even harder. Uphill from the world's best snowmaker—Lake Superior—where as much as 300 inches of lake-effect snow could bury the peninsula from November through April, the Upper Peninsula's snowfall ranks right next to some of the high altitude towns in the Rockies. To the Norwegians, those house-high snowbanks looked like home. So, at the same time they were building places to live, work, and worship, they were also building ski jumps. In fact, at one time there were more backyard ski jumps than baseball diamonds in Ishpeming.
With the weather and ready-made ski culture, Ishpeming developed a reputation for hosting the best ski jumping competitions in the region. To this day the Ishpeming Ski Club has hosted the longest running ski jumping tournament in the country and will celebrate 126 years on February 6, 2013 at Suicide Hill.
When the move came to standardize ski competition with rules and requirements, it was natural that the founders of the National Ski Association would meet in Ishpeming. Since that event in February 1905, the Hematites' town has laid claim as the birthplace of organized skiing in America.
In 1954 that distinction earned Ishpeming the right to house the country's ski trophies and statistics along with equipment and biographies of its heroes. Now the US Ski and Snowboard Hall of Fame and Museum–one of Ishpeming's most prominent signature buildings on US 41 modeling a ski jump or even a quarter pipe–has grown to an impressive 14,500 square feet with the largest collection of recorded ski materials in the world. If you haven't visited, you surely must make this pilgrimage. And if you haven't become a member then add that to the list too.
And if you're still hunting a lasting gift for the skier or snowboarder who has everything, visit www.skihall.com and click on "Join Today." The $49 membership comes with a year's subscription to Skiing Heritage magazine. Get one for yourself too. Second memberships and subscriptions are $39 a year. You can complete the form online or call 906-485-6323 and share your passion in person with Tom West, Ann Schroeder, Jeri Ahola, or Bob Hendrickson at the Hall of Fame.
Who knows, once you delve into the pages of Skiing Heritage, tour the exhibits at the Hall of Fame, and maybe even attend an induction, you may be the one to strike up conversation with a stranger on the chairlift and share your knowledge of where skiing started in America.
Images courtesy US Ski and Snowboard Hall of Fame