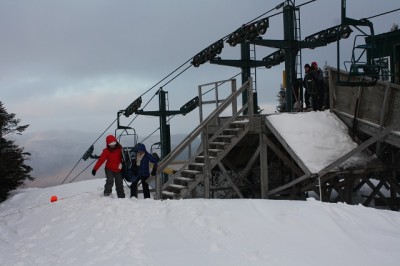 Sometimes you don't have to be a kid to feel like one.
Northern Vermont's Smugglers' Notch is one of those ski areas that's positioned itself as a family-centric place.
About four hours north of Boston, it's got a heralded daycare center, a ski and ride program called Snow Sport University and a healthy dose of on- and off-snow programs and entertainment that keep texting tweens and teens away from their smart phones—at least for a spell.
The 78-trail resort with three interconnected mountains and a thigh-burning 2,610 foot vertical drop seems to have a permanent spot near the top of Ski magazine's annual best family program list.
Arrive in the condo, toss the car keys into a large bowl on the table and just forget about them. Get around on the free shuttle.
But you don't have to bring the kids to become one again while skiing, snowshoeing and zip-lining.
Smugglers' Notch—a notch is a mountain pass—is affectionately called Smuggs and hosts New England's fourth largest vertical drop. So while the gang's hanging out at the indoor pool, it's time to hit the trails in the shadows of Mount Mansfield, Vermont's highest peak.
Many newbies get centered on benign Morse Mountain, the peak easiest reached by the busy village. Okay, get your snow legs. But if you're ready to plunge down classic East Coast trails, make way to Madonna and Sterling mountains.
Mount Madonna at 3,640 feet is the big one in the middle with some of the gnarliest and steepest trails, chutes and glades around like Freefall, triple black diamond The Black Hole and Upper FIS. Cruise down Upper Chilcoot with its outstanding vistas and explore the options off Link. The summit warming hut has a not-to-miss viewing platform that on that can show up the tallest mountains in two states: neighboring Mansfield and far-flung Washington in New Hampshire.
Sterling also has fascinating looks to Mansfield and is the most versatile of the three with a melange of intermediate and expert cruisers and glades with Upper Rumrunner and Black Snake nice blue square trails. Plus, Sterling's parking lot is also known as a hotspot during the spring tailgating season.
But there's something about the resort that might have skiers and snowboarders eventually turning to their partner and say something like, "Hey, is it me or have we ridden a high speed lift yet?"
Well, it's not you. Smuggs only has double chairs. No high speed detachables. No six-across. Just the two of us.
One might be tempted to relax after a day of skiing with an adult beverage at Bootlegger's or Black Bear Tavern, but the snowshoe adventure dinner under a full moon couldn't be passed up.
You didn't have to snowshoe up to the dinner. Instead, some 50 people turned out to ride the shuttle and then a chairlift (holding snowshoes) up a candlelit cupola-topped cabin. Rustic, cozy and warm, diners brought their own beverages and if nature called it was answered outside in the trees.
Instead of delving into dinner, the assembled went on a short pre-dinner hike under the cover of darkness. The cold and crunch of snowshoe marchers led into the summit woods along the Long Trail (Vermont's state-long hiking trail), to a lean-to and over the frozen waters of Sterling Pond. The full moon rose over a ridge casting a fine light during the trek before dinner, which many enjoyed with snowshoes affixed to their boots.
Then it was time to work off the meal by snowshoeing down. The trek down to the base under the moon light was enchanting. Following groomed trails made the snowshoeing easy, and there were those allowed to slide down occasionally on their backs and rumps, hooting and hollering like, well, children.
Sleeping comes easy after a day of skiing and snowshoeing. How do you build on that? Ski and zip. Following a joyous morning of fresh corduroy we checked out of the condo for the quick drive to Arbortrek Canopy Adventures.
The canopy tour takes zipmeisters among tree platforms through the friendly skies by birch, hemlock and maple, over two sky bridges and down a final rappel. In ground school, we teamed up with couples from Ontario and Puerto Rico for Arbor's six zip Wild Winter Ride that lasted two hours. Following a quick van ride into the snow-covered forest, two capable and knowledgeable guides led us on progressively longer and faster lines ranging in length from about 150 feet to shy of 1,000. Canopy tour fliers wear sturdy work gloves to brake by placing pressure on the line behind them when signaled to by the guides. The lines went high over winding cross-country ski trails under the cover of the woods before bursting out on outstanding zip 5 with its incredible look at Madonna and Sterling.
And after spending yet another day acting like big kids on snow, the sleeping was easy for a couple of adults after the drive home.
Images by Marty Basch