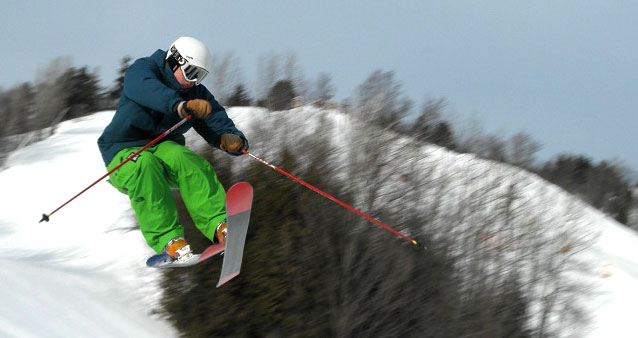 Jeff Thompson was starting high school when he wanted to build a ski bike.
"I cut apart a pair of old straight Dynastars," he remembers. "The summer before my Dad and I built a surfboard so I asked him for a hand." When the two examined the way the skis were layered up, they started thinking bigger than a bike.
With father John's carpentry skills, Jeff's energy for experiments, and older brother Jonathan's time and ability to build a press, this trio of lifelong skiers and "do-it-yourselfers" started production on a race ski, the SL Carve.
"I had a race in the U.P. at Marquette Mountain and Jonathan wanted to take advantage of the trip to test a ski," says Jeff. "We were building them in our unheated barn, and it needs to be warmer than 40 degrees to cure epoxy," explains Jeff adding, "when he took the skis out of the press, the tip went flat and delaminated."
That's when the brothers took over an extra bedroom in their parents' basement, ripped up the carpeting, and set up shop. Jeff figures the family spent thousands on equipment, materials and summer trips to the mountains to find snow for test glides before they ever sold a pair of skis. Since 2005, however, they've produced 800 pairs and Shaggy's Copper Country Skis now feature nine models ranging in price from $595 to $810.
Production has moved to Boyne City with the heart of the materials—ash, beech, and poplar—milled a mile and a half down the road at Matelski's Lumber Company, another family owned business in Boyne Falls. But the company name, "Shaggy's" as well as the model names, "Ahmeek, Brockway, Bootjack and Fannie Hooe," are all Yooper from the tip of the Copper Country.
"My grandma, Lenora Thompson, was from Kearsarge," tells Jeff. "Her uncle Shaggy was quite a character and the local jack-of-all-trades. He built skis back in the 1920s and made a pair for her. When it came time to name our company, what better than to follow in the family footsteps?"
Over the course of his ski career, 23-year-old Jeff figures he's owned at least 20 pairs of skis from the big manufacturers. Graduating from Michigan Tech on December 15 with a degree in Mechanical Engineering, he's not only passionate about skiing, but he's studied the physics and geometry that makes a ski perform and he believes his models stack up with the best, maybe even better for the Midwestern skier.
"Our all-mountain ski has a tighter turning radius so it's really better suited for our conditions, yet it also skis great on the big mountains too," confesses Jeff.
The Thompsons strive to make their customers feel like they are a part of something and Steve Ford couldn't agree more. He is one of their most loyal customers. His family of six live just minutes from Mt. Holly in southeast Michigan. Self proclaimed "ski freaks", they put in nearly 100 days a season there, and then take a couple trips to the front range in Colorado. Steve first learned about Shaggy's a few years back when he was searching on-line for a fat all-mountain ski to take out west.
"When I saw they were made in Michigan, and at that time they were building skis in a garage in nearby South Lyon, I went over to check them out." Steve bought three pair that day, and now he says, "It's easier to count the models I don't have, rather than the ones I do."
Shari Thompson, Jeff's mom and Shaggy's office manager (who is also known to lay up skis in the factory), just sent the Fords some shorter (140 cm) test skis for their 10-year-old twins and 12-year-old son. Steve and his wife Melissa as well as their 14-year-old daughter already have Shaggy's in their quiver, so Steve jokes, "you can call us Team Shaggy."
Big on "try before you buy", the Thompsons and their reps will visit regional ski areas this winter with a demo fleet. Check the schedule at their website at http://sccskis.com/.
Images courtesy Jeff Thompson