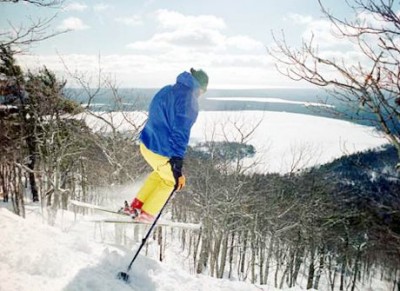 Dropping through backcountry thigh-deep powder, it was like floating down through a cloud. My skis, which I couldn't see, sliced silently through deep, light snow as it billowed up around me.
Stopping at the edge of a small cliff I watched a skier above me dropping through glades. Telemark skiing, his hop-turns were precise. The soft, deep powder rose around him like a cloud of "cold smoke," a term I first heard skiing backcountry powder in Montana years ago.
But this wasn't Montana, Colorado, or even Jackson Hole; it was Mount Bohemia, located on the Keweenaw Peninsula of Michigan's U.P., a witch-like finger of land that juts out into Lake Superior catching copious amounts of lake-effect snowfall that in a typical winter measures around 300+ inches. Born in on cold Canadian winds across Superior's open waters, the snow has a light, cold smoke-like quality.
It's the most radical ski area you'll find around the Great Lakes. It is a 900-foot drop (large for the Midwest) of pure backcountry. There are a few open slopes on the front side of the mountain, but the majority of skiing and riding is done in the extensive backcountry. There is no snow-making, no grooming, and the ski area advises in its advertising that beginners stay away. That could easily extend to low intermediates as well. The backcountry skiing is rated as single, double and triple Black Diamond, and it deserves the rating. Much of the terrain is steep and difficult with even a few cliffs scattered across the mountain.
The open runs stretch for up to a mile-and-a-half plunging down the mountain side. The front side runs, serviced by a triple-chairlift, are pretty straight forward fall-line skiing and riding. The backside runs, serviced by a double-chair, are long and rambling with occasional small building-sized boulders thrown into the middle of the trail, or a cliff drop that you either suck it up and take or, more wisely, work around. The backcountry is divided into three areas; one off to each side of the open runs and one smack in the middle between the front and back-side chairlifts. The two lifts which deposit skiers and riders almost next to each other on top of the mountain are separated by almost a mile at the bottom.
The backcountry area, a three-quarter-mile-swath of glades, cliffs and chutes between the two lifts is rated extreme, or three Black Diamonds. Busses are used to transport backcountry skiers that come out along a road between the two lifts. You come out above the road, drop down the bank, take your skis or board off, relax and wait for the bus to haul you back to a lift. It normally isn't a long wait.
The other two backcountry areas, Haunted Valley (my personal favorite) and Outer Limits, are rated double Black Diamond, and while still steep with glades they are more navigable. They offer alternatives that flow instead of plunge straight down the mountainside. It's easier to change direction, pick a path, and keep alternating directions as you work your way down the mountain.
That's what I was doing as the tele skier-pulled up next to me with a broad grin on his face.
"That's a Rocky Mountain high. I haven't skied anything like that since I was in Colorado going to college. I thought I'd given backcountry skiing up when I moved to Chicago a few years ago. That was until I discovered Bohemia. It's as close to an out west backcountry experience as you you'll find in the Midwest," he said. "There's nothing even close."
From the top of the mountain you get jaw-dropping views of Lac La Belle, the beautiful frozen inland lake at the base of the mountain, and Lake Superior stretching as far as the eye can see.
The base area consists of interconnected yurts. There's a small ski shop with necessary equipment and supplies and a restaurant and bar. The North Pole Bar and Restaurant, new this year, will be serving hearty lunches and dinners and breakfast on weekends. Local Keweenaw Brewing Company draft beer will be available in the bar.
They even have an area set aside in the parking lot for those who want to camp under the stars. With nighttime temps that routinely dip below zero this far north, that's really Spartan. For those that want a little more luxury trailside cabins, based on double occupancy, rent for $156 per night, including breakfast and dinner. The cabins sleep four and additional people, beyond two, can be added at $18 per person, per night.
That's the way backcountry snow sports enthusiasts like it; a no thrills atmosphere, just lots of good, hard terrain, which you'll find plenty of at Bohemia.
Bohemia's web page at http://www.mtbohemia.com/index.php even includes a page of people with email addresses that are looking to car-pool to the mountain from as far away as Indiana, Chicago, Minneapolis, and several from Michigan's Lower Peninsula.
Images courtesy Mount Bohemia