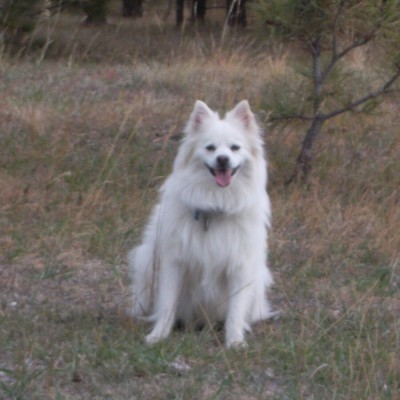 The fall is a unique time of year and one of my favorite times to be outdoors. The cooler temperatures and changing colors offer some great opportunities for riding ATVs, camping, hunting and hiking with my dogs in the back country. What I like best about hiking in the fall is there is more time to enjoy the sights and the back country wildlife.
I always take my dogs hiking and over the past decade I have developed a hiking trail in the remote back country where we live. My dogs, Buddy and Caleb, absolutely go crazy when they see me getting ready for a hike as they enjoy the back country as much if not more than I do.
Buddy is a American Eskimo Dog, a small to medium-size Nordic-type dog known for its bright white coat, jet black points (lips, nose and eye rims) and erect triangular ears. He is an amazing dog and loves to run. His white coat always turns a dingy brown from him running up and down the trail and through the brush. But by the time we get back to the house his is always miraculously white again.
Caleb is a small Terrier mix who thinks he is much bigger then his actual size. He is a true mountain dog and loves trying to keep up with Buddy. I have to keep Caleb on a leash for most of the hike because he thinks he can tangle with the coyotes the way Buddy does.
The trail we hike is between 5 – 6 miles long weaving in and out of the trees and open space of the mostly private land that I have hiked for years. Occasionally we will come across one other hiker that lives in the area that found our trail a couple of years back. He hikes with his Bulldog Max. Max, Buddy and Caleb are always very excited to see and play with each other.
We always come across several of the local wildlife from deer, bobcat, raccoon, fox, squire, rabbit, coyote, porcupine and a occasional skunk. Whenever we come across a coyote Buddy will chase them off. I never let him leave my site and a quick whistle always brings him back.
We always experience something different on our hikes and most of the time I run with the dogs. Trail running is one of my exercises I do to keep in shape for riding the ATV. But in the fall I just like to hike and enjoy the sights. Every season offers different experiences, sights and smells.
Maybe its me but I notice the air always seems fresher, crisper in the fall. The dogs seem to enjoy the cooler temperatures more also. The last part of our hike is across a wide open meadow. It is here that I usually unhook Caleb from the leash and let him run with Buddy for the remainder of the hike.
Occasionally I will play hide-n-seek with the dogs. When they run off in the meadow with each other I will run back into the trees and hide. It usually does not take them long to find me and they jump all over me excited to find me.
Fall hiking with my dogs is a favorite activity of mine and I sure with others also. Not only is it healthy to do but it also offers so much more. Don't keep your dogs cooped up in the house or kennel get them outdoors on a hike in the back country. It will do you both good.
This article originally appeared on CampingATV.net and is republished with permission.