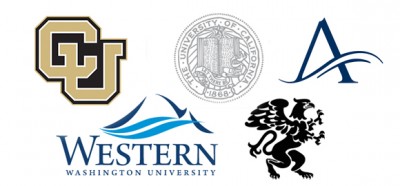 Whether you're sending kids to school, a student looking to transfer, or reliving the college dream (grad school), there are many things to consider when picking a school. Don't get me wrong, it's important to think about things like faculty/student ratios, tuition costs, student diversities and admission rates but, that's not to say you can't also consider how many days of powder your local resort can expect or how quickly after attending Management class you can be making s'mores in an old growth forest. Combine your education with your passions by attending one of the best colleges for hiking, camping, skiing, snowboarding, biking, or kayaking.
For Hiking & Camping
Reed College – Sssshhhhhhhhh. Humbly hidden just outside Portland, Oregon's liberal city center is Reed College. Reed is known for it's unusually high proportion of grads who finish PhD's and other postgrad programs. With under 2,000 undergraduates, it's easily the smallest college on this list but boasts an amazing resume for camping and hiking enthusiasts. Within short drives of two national parks, as well as the Columbia River Gorge and the Pacific Ocean, you can reach nearly any environment imaginable on less than half a tank of gas. If you can't get in, try Lewis & Clark College or head south to Eugene and the University of Oregon.
For Snow
University of Colorado Boulder – For those who are powder inclined, head to the winter wonderland of the University of Colorado, Boulder. Within reach are some of the top skiing and snowboarding destinations in the country, Eldora Resort, Aspen and Breckenridge to name a few. Expect plenty of free ski buses, like minded riders and lots of temptation to skip classes. But don't think this is an education for mindless jocks, admissions are strict and academic programs are among the best in Colorado.
For Mountain Biking
University of North Carolina at Asheville – Nestled in the Blue Ridge mountains, UNC at Asheville is crawling with epic mountain biking trails. While other parts of the country, like Moab, get more attention, there isn't a decent school with an hour's drive from other epicenters of the sport. At UNC Asheville, you can be riding within minutes of campus.
For Kayaking
Western Washington University – It's hard to imagine a more perfect kayaker's playground than the San Juan Islands. One hundred and seventy two islands await the paddle prone. Expect killer whales and porpoises to escort you from island to island, helping you explore hidden beaches, secret camping spots and tranquil bays. Situated on Bellingham Bay, Western Washington University is your best bet for quick access to this wonderland.
For Surfing
University of California, Santa Cruz – UC Santa Cruz is not for bronze skinned bikini bimbos and bimbros. It's not for those seeking Jack Johnson and fields of hammocked palm trees. It's for those who want serious surf. It's for real riders. While it is frequently cold and seemingly uninviting, Santa Cruz has some of the most consistently good waves on the planet and the university is just minutes away. If you want to train your mind and your ride, this is the place to do it.
This article originally appeared on the Wenger blog and is republished with permission.