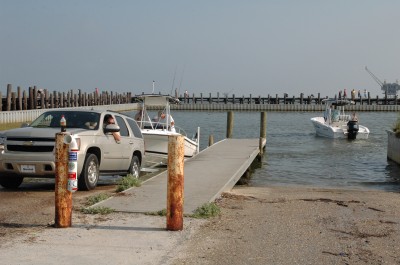 Boating accounts for a $72 billion economic impact in the United States and is responsible for an estimated 350,000 American jobs, according to the National Marine Manufacturers Association (NMMA). Of course, if you throw in the fishing aspect for a great deal of that boating activity, the economic impact balloons to $730 billion annually, according the U.S. Department of Interior.
It's no wonder that boating access is a big deal to the people involved in the States Organization for Boating Access (SOBA), which held its annual meeting recently in southwest Alabama, alternating between Mobile and Baldwin counties for the activities.
SOBA's mission is "To encourage, promote and support federal and state programs that provide safe, high-quality and environmentally sound public recreational boat access to the waterways of the United States and its territories."
With about 77,000 miles of rivers and streams in Alabama, boating access is obviously of critical importance for those who love to launch a boat for a day of fishing, floating or frolicking in those abundant waterways.
The Alabama Department of Conservation and Natural Resources' Wildlife and Freshwater Fisheries Division (WFF) maintains boat ramps on more than a half-million acres of surface acreage on Alabama's waterways, which include 52 bodies of water.
Damon Abernethy, WFF's Fisheries Development Coordinator, said the division recently completed two major projects in central and north Alabama.
"One was in Wetumpka, where we built a ramp on the west side of the river near the old lock wall," Abernethy said. "We did that so we could return the old Goldstar Park ramp to the City of Wetumpka. That one was down inside their city park, and our federal guidelines would not let them close that ramp. It created problems for them being able to use their park the way they wanted. They gave us property across the river, and we built a bigger, better, more modern ramp across the river. Now they can close the one in Goldstar Park whenever they want."
Abernethy said the ramp on the Coosa River has paved parking for about 20 vehicles with overflow parking on gravel that will accommodate another 50 or 60 vehicles.
"It's a one-lane boat launch, but we have room to add another lane if there is a need for it," he said. "We didn't want to invest the money in another lane until we found out how much it would be used. We're also planning to put in a pier. We were planning to do that last year when the tornadoes hit us. We had to change our plans and get the guys out cleaning up tornado damage."
The second project was the South Sauty Creek launch on Lake Guntersville in Jackson County.
"It's a really nice ramp, but it's not a huge ramp," Abernethy said. "It's designed very well. It will launch three boats at a time, has about 75 parking places, has good traffic flow and has two piers. We'll get a lot of use out of that property.
"For 60 years, that ramp has just been a concrete launch and dirt parking for four or five people. So we developed the entire piece of property there."
Abernethy said in south Alabama the crews are putting the finishing touches on a new pier at the Tensaw Boat Ramp on the (Mobile Bay) Causeway, and the pier at Choccalotta Bay has been replaced.
"We're doing the best we can with our limited budget," he said. "We built a lot of ramps back in the 50s and 60s when the program was started. The needs at that time were so much different than they are now. You had small boats and small motors. Because of that, we had a lot of small boat ramps. For instance, at Lake Guntersville, we have 25 small boat ramps. We don't need that many. We need some big ones. With that terrain, there aren't many places suitable for expansion. We'll have to choose the ones where the land will allow us to expand and where we can get support from the local officials.
"We're about to break ground on a new facility at Scottsboro City Park. We're going to expand the parking lot. It'll be very nice compared to what they have now. It'll probably park 50 to 60 vehicles when we get finished. We're working hard to expand the parking at our ramps at Guntersville. That lake has become so popular that during the spring every ramp is maxed out, and they're parking up and down the road. So we're trying to focus our effort on that reservoir. Wherever we can find a good site and some cooperation, we are trying to expand the parking. That's what we did at South Sauty. It went from five parking places to 75."
Abernethy realizes that access to Alabama's numerous rivers is somewhat limited, but that's more due to Mother Nature than a lack of willingness to pursue the projects.
"I don't know what to do about it, because it's more of an engineering problem," he said. "In those areas that are subject to flooding, we can't invest all this money when a flood may wash it away. These people need access, but to use it in those locations would not be a wise use of our resources. There's not really much we can do."
Alabama is fortunate to also have Mobile Bay and the coastal waters in Mobile and Baldwin counties, where boating activity is heavy, especially during the summer months. While there are only 60 miles of actual coastline, there are about 600 miles of tidal bays and estuaries for boaters and anglers to explore.
Chris Blankenship, Director of the Marine Resources Division, said boating access is always at a premium in areas like the Gulf Coast, where property carries such a high value. He said Marine Resources is upgrading existing facilities and looking for opportunities for new facilities.
"We recently reworked the ramp at Weeks Bay; some people call it Big Mouth," Blankenship said. "We just finished a new pier that is ADA (Americans with Disabilities Act) compliant. We went back right after Hurricane Isaac and everything is still good. We made the pier about a foot higher and a foot wider.
"In 2013, we're going to redo the ramp at Cotton Bayou in Orange Beach. We're going to put new ramps in and make the pier a little wider to be ADA compliant. We're also going to put some Ts on the end of the pier to make it easier for loading and unloading. It'll be a place where people can tie off while they go get their trucks."
Dauphin Island continues to be a difficult location for adding any new launch facilities because of lack of public land. The ramps at Billy Goat Hole on the east end of the island were reworked and upgraded a few years ago, but no new access is available.
"We're interested in finding more boating access in other areas in Mobile County, like Heron Bay Cutoff, Theodore Industrial Canal and any area where we can find access," Blankenship said. "It's a matter of finding available locations.
"We need another ramp in Orange Beach because it gets so congested during the summer, and we need something at Theodore Industrial Canal. Overall, access is pretty good, but it could be better. The Eastern Shore is in pretty good shape. We just need a few more ramps on the Western Shore of Mobile Bay."
Image courtesy David Rainer