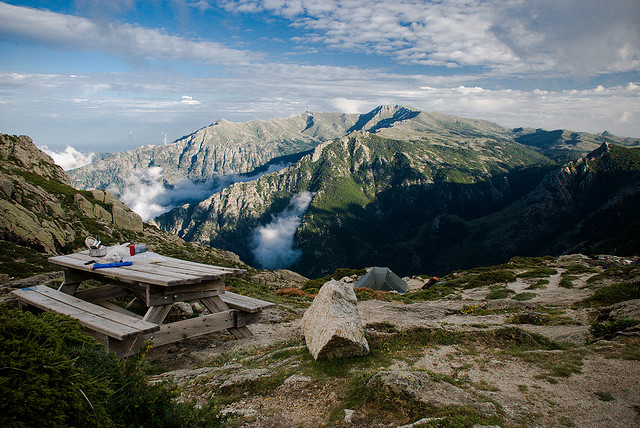 With an impressive 12,000 miles of long-distance hikes across 6 continents under her belt, Jennifer Pharr Davis remembers a few trails that stand out. She's been hiking at an advanced level for nine years and has opened up her own hiking company in that time. She is perhaps best known for setting the overall record for fastest completion of the entire Appalachian Trail in 2011. Since a young age, she has known that she loves to be outdoors and being active. If you enjoy the same, here are five of Davis' recommendations for your next grand hiking adventure.
1. GR 20 – Corsica, France
~100 miles
Also known as fra li monti, this trail running through the middle of an island in the Mediterranean Sea has been described as "one of the top trails in the world". Huts provide shelter along the route and there is a train station at what is considered the halfway point for those seeking to do half the route. "It's a really spectacular hike that you can do in 10 to 14 days. I thought that in the middle of the Mediterranean it would be relatively flat, but it's super jagged and there are snow-covered peaks in the summer. It's really incredible terrain," Davis adds.
See a time-lapse video of the trail here.
2. Laugavegur Trail – Iceland
~ 35 miles
"It's the most well-known trail in Iceland. As far as diversity, that trail just kept changing every five miles. You felt like you were on a different planet. It was incredible. It had a lot of active geothermal activity and it had glaciers and volcanoes and lava fields and geysers," Davis says about this trail located in southwest Iceland. The route used to connect with the Fimmvörðuháls path for an additional 16 miles of hiking, but 2010's Eyjafjallajökull volcanic eruption partly blocked passage between the trails. An ultra-marathon is held on this trail every July.
3. John Muir Trail – California, USA
~ 200 miles
"In the U.S., I love the John Muir Trail, which is a portion of the Pacific Crest Trail, up in the High Sierras. It's very remote and the scenery is just spectacular." Most of the trail is backcountry wilderness area which passes through the Sequoia National Park and Kings Canyon National Park. Named after John Muir, one of America's first and most-outspoken conservationists who was responsible for the preservation of a large amount of wild land.
4. The Foothills Trail – South Carolina, USA

~ 76 miles
Davis has these comments about this eastern trail: "it's really beautiful, it's similar to the Appalachian Trail, but it has a lot of water features along the way, like waterfalls and lakes and beautiful trout streams. It's not nearly as populated as the Appalachian Trail, so that's another one I love to do."
5. Bibbulmun Track – Australia
~ 600 miles
"It was actually modeled after the Appalachian Trail. It is very well marked and boasts trail shelters every few miles. However, unlike the Appalachian Trail, this path is not very mountainous, but it will pass through 200 miles of unique forest with very tall Karri trees and Tingle trees with wide bases. The southern 200 miles follows undeveloped coastline and it is not rare to spot several dolphins from the trail. You will also encounter kangaroos, emus, large lizards, and giant spiders along the entire path."
Image from Jean-Baptiste Bellet on the flickr Creative Commons