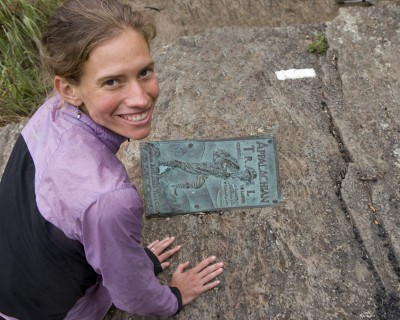 Hiking the Appalachian Trail is fun, right?
"I think when we talk about things that are fun, they should come easy and they should be light-hearted and society teaches us to do things that are fun," says Jennifer Pharr Davis, an accomplished hiker who founded her own hiking company and set the record last year for fastest completion of the entire trail.
"But, often the most memorable, or worthwhile, or fulfilling things in life are really, really difficult. That's what the record was for me. It was one of the most amazing experiences of my life, I wouldn't trade it for anything… although it was at no point fun or easy."
In 2011, Davis set an unofficial record kept by trail archivist Warren Doyle. She hiked the entire trail (2,181 miles) in just 46 days, breaking the record overall speed set on the trail by 26 hours. That's not just a women's record, which she set in 2008, but the overall record. The previous record was set by runner Andrew Thompson in 2005 at 47.5 days on his third and final attempt.
Doyle began keeping track of records – based on an honor system – since he first broke the record on the trail in 1973. He was part of Davis' support crew for this hike. "She is – in every sense of the word – a true Olympian," Doyle said in a phone message. "It's an amazing accomplishment. I don't know if it will be broken again."
While most thru-hike records have been set by male elite runners, her strategy was to extend the length of the hike per day, to be consistent and not exert her energy. "Something similar to the tortoise and the hare method," Davis said.
To do that, Davis averaged 46.93 miles a day, which took 16 to 18 hours of serious hiking every day. In between she slept only about six hours a night and ate 6,000 calories a day. Davis said there was a mental low point halfway through the journey when she realized it wasn't going to get less difficult, but the hardest troubles came in the first two weeks.
"I didn't think I could keep going. It was really my husband who was my emotional support and told me that things would get better if I was able to get some medicine and get some food… So after the first 12 days I did not think I would have to give up. It was a struggle the entire time. I dealt with exhaustion, nausea and 100-degree days." There was also a bout of hypothermia, diarrhea and shin splints that didn't go away for the first 1,000 miles.
Despite all of this, Davis was able to successfully set the record, but not without the help of her husband and other supportive friends and family. "Historically and traditionally to set the overall record, you accept or receive support along the way." Davis's husband would meet her at road crossings with supplies and gear while Davis hiked all the miles with the minimum weight possible. "There were only a handful of nights where I had to pack in with a tent and sleeping bag and traditional camping gear. Usually it's more set up like a series of day hikes and if I could, I would end at a road at night [to meet her husband]."
Davis seems predestined to be the woman to accomplish this sort of feat. Four and a half years ago she founded her own business called Blue Ridge Hiking Co., which hosts guided hikes near her home of Asheville, North Carolina to encourage people to get outdoors.
She works full-time at her business, often traveling for speaking events, providing workshops and at the moment she is also writing another book to follow up Becoming Odyssa that came out in 2011, a coming-of-age story about her solo hike of the Appalachian Trail in 2005 when she was a fresh 21-year-old college graduate. Her other book, set to come out next spring, will be about her record-setting hike, but more than that. "I'm working on one particularly about the overall record, which again, is not specifically for hikers, but it's for a much larger audience. It's more than just being about the record, it tells the story of my relationship with my husband. So really, it's a love story spoken through the lens of the record, which is really sweet and hard to write."
The thousands of miles of trails she has hiked in her life are accomplishments themselves, but soon another accomplishment of a different variety will be added to the list when her first-born daughter arrives in November. By her second trimester, she had hiked 600 miles with the baby. Although she hopes her daughter will be a hiker, she doesn't think she'll push the lifestyle on her child. "[She will be a hiker] if she wants to be! I hope so."
Images courtesy of Jennifer Pharr Davis