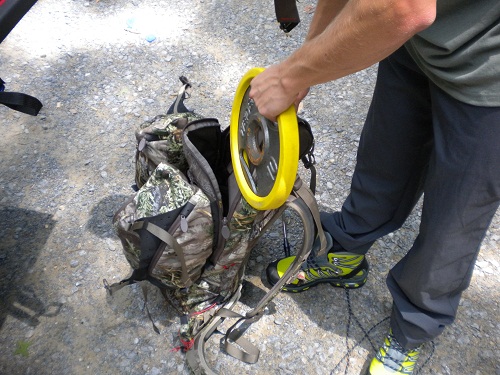 Did we go on this hiking trip for fun? No, we went to prepare ourselves for the upcoming elk season. We literally looked at topography maps, found the steepest terrain within 4 hours of Auburn, Alabama and went to punish ourselves and our gear (next post will recap my feelings about some gear items). Mission accomplished.
We left a trailhead (but not before Pete dropped a 10 pound plate in our packs for extra weight carrying my total pack weight to 46 pounds and 32% of my body weight) near Chatsworth, Georgia, and hiked to the top of Little Bald Mountain. 6.2 miles and about 2600 feet of elevation. Arrived at 7:00 p.m. and immediately struck out for Bald Mountain, which was another half mile and 500 feet up, then dropped off the spine and dropped 1800 feet down to the Conasauga River on Tearbritches Trail. It was 6.3 miles round-trip and we arrived back at the top of Little Bald Mountain around midnight. Next morning, we headed down to the Conasauga River via a different round-trip trail taking an additional 6.3 miles and losing/gaining more elevation. I think it was called Hickory Lead Trail or something like that. Made it back to Little Bald Mt. about 2:00 p.m., then hiked the remaining 6.2 miles back to the truck. 25 miles and somewhere around 5,500 feet of elevation – infinitely farther than I had ever hiked in the same time span.
As far as wildlife goes, it was pretty barren. Saw spotty hog rooting, three piles of black bear crap, a rat snake of some variety, a monster timber rattlesnake, and a rabbit hanging around camp. Other than that, pretty much desolate.
We had one team member go down in a spectacular ball of flames, but it was a nasty run of luck for him: blisters, dehydration, cramping, and pouring unfiltered water in his Ziploc bag of breakfast granola/powdered milk/protein power. Plenty of time before Colorado though and this was exactly why we planned such a brutal pre-hunt hike. Much rather work the kinks out now than later.
Overall, a very successful trip even though successful means the trip really sucked and my body is still screaming at me 48 hours later.