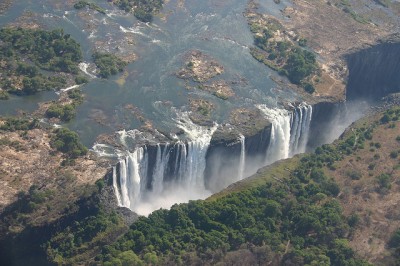 Who was the first person to discover that humans could go to the edge of this waterfall, 328 feet above a foaming gorge, float up untethered to the drop, and survive to tell the story? No matter who it was, and no matter the speculation surrounding Devil's Pool, the story is real (as proven by Snopes and countless visitors).
The Victoria Falls, or natively Mosi-oa-Tunya (the Cloud that Thunders), sit on the Zambezi River between Zambia and Zimbabwe in Africa. Hundred of thousands of tourists come annually to view the spectacular falls, although tourism rates have fluctuated in the past two decades because of political and environmental concerns. The United Nations designated the site a World Heritage Site in 1989, but is considering revoking that status because of rapid development in the area.
Still, being able to come to the edge of the waterfall without being swept over is undeniably stunning. The area of the 5,604 feet wide waterfall known as Devil's Pool attracts visitors seeking an unbelievable photo-op. From September to December every year, the river flows at a perfect level and a rock barrier forms a pool with little current where people can swim. The pool is accessible from Livingstone Island in Zambia.
While Victoria Falls is neither the tallest nor widest waterfall in the world, the falls' claim to fame is that it is the largest, by combining height and width to measure the largest sheet of falling water in the world. More than 300 feet below the surface, the water falls into a narrow series of gorges.
While tourists come from all over the world to experience this natural phenomenon, the majority of visitors to the falls are Zambian and Zimbabwean nationals. Inexpensive train and bus travel from the two countries make it possible for nationals to visit.
Tourists who come to visit the area may take a day trip from either country. Although Devil's Pool is only accessible from Livingstone Island in Zambia, both countries offer visas from nearby border posts.
Photos provided by Sarah Depper through a Creative Commons license on flickr. The video below was made by a few girls who claimed their visit to Devil's Pool was the coolest thing they had done on their trip to Africa.
httpv://youtu.be/FVFsiJBSQps
Photo: (feature) i_pinz, (waterfall) Zest-pk, (Devil's Pool) Sarah Depper, video: samiam2310 on YouTube