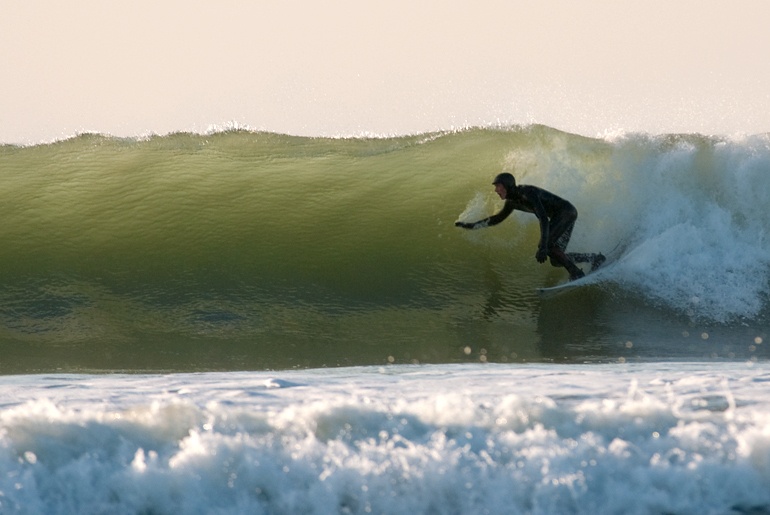 Like most surfers, I've spent a lifetime chasing perfect waves. My travels have taken me across the globe and I've experienced all of the good and bad things that go hand in hand with budget travel. Luckily, most of my favourite spots are right here in good old Blighty. Here is a list of the very best UK surf spots. Whether you're going for a weekend, or for as long as you possibly can – these are the spots you NEED to add to your itinerary this summer. Surf's up!
1.

 Three Peaks, Gower, Wales

The Gower Peninsula in South Wales is home to some of the UK's most premium surf spots. You've most likely heard of Llangennith and Rhossili, which are credit worthy spots. However, when the crowds flock to the area in the summer, the locals move up the beach to Three Peaks, which is situated at the furthest north point. I'm probably going to get in trouble for letting the cat out of the bag, but I couldn't title this article the "top 5 UK surf sports" without including it.

As well as being less crowded, Three Peaks also offers superior conditions. The swell is amplified because of an exposed reef and it's also better sheltered from the wind. So if you are going to surf in Gower, check out Three Peaks! Just don't tell the locals it was me that told you about it!
2. Croyde, Devon, England
Croyde is a well known (and some may say 'overcrowded') surf spot on the north Devon coast. Everything about Croyde revolves around being outdoors, or in the water. It's easily one of the UK's best beach breaks and there are countless places to stay, for all kinds of budgets.
Croyde works on all tides but works especially well on a low tide. Experienced surfers can enjoy hollow barrels at the right hand peak, but be careful as it gets very shallow at the tide's lowest point.
Local Knowledge
Avoid bank holidays like the plague – the beach isn't big enough to cater for the huge numbers of tourists it attracts. When you do go, aim to be in the water about one hour after low-tide – this is when the tubes start to shape. After a solid session, head to 'The Thatch Pub' and enjoy a pint of 'Thatchers' and a plate of their famous nachos!
3. Watergate Bay, Cornwall, England
Anyone who has ever surfed at Newquay will know just how overcrowded it gets during the summer months. Watergate Bay is the ideal escape and offers equally good surf conditions, without the summer crowds. On a sunny day, the crystal clear water gives you the feeling that you're surfing somewhere on a tropical island – it really is a beautiful spot. Beginners be warned! Watergate can get pretty big on a decent swell and I know from personal experience how strong the currents can be.
Local Knowledge
You may also want to grab something to eat from the legendary Jamie Oliver restaurant – 'Fifteen' which overlooks the water.
4. Freshwater West, Pembrokeshire, West Wales
Growing up in South Wales I remember hearing stories about the surf at Freshwater, in West Wales. It sounded like a surfer's paradise and I promised myself that as soon as I learnt to drive, I'd back up the car and spend a summer surfing there. That's exactly what I did and I feel like Freshwater West is the spiritual home of Welsh surfing.
Local Knowledge
Huge peaks form all the way along this vast stretch of beach, and you'll find some seriously powerful waves. The locals can be a little aggressive so be sure to pay due respect. For those of you looking for the ultimate adrenalin fix, I'd suggest hitting the reef section which offers some of the heaviest tubes in Wales.
5. Thurso East, Scotland
Scotland is not known for its outrageous surf, which is strange when you consider just how awesome some of the Scottish breaks are. Thurso East is easily one of the most underrated surf spots in the UK. Thurso offers a solid right-hand reef break and gets triple overhead (that's HUGE) high when the conditions are good. Although it tends to be surfable in most conditions, the break becomes world-class on a big north-westerly swell.
Local Knowledge
When the conditions are perfect the spot becomes very busy. Again, like all good surf spots, the locals are territorial and can get quite aggressive. Treat them with respect and you'll be just fine!
When Ben is hunting out new surf spots, you'll find him working at Nucleus Surf & Urban Clothing Store.