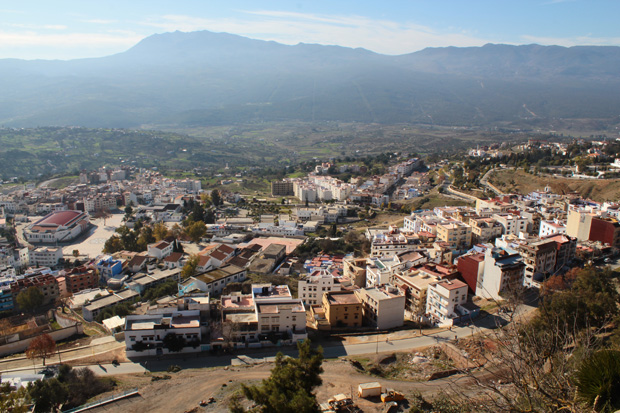 It's pronounced "Chef-shauw-ehn" and it means "look at the peaks."
And there are plenty of them, even more peaks to gaze at than there are vowels in Chefchaouen. A tour guide who worked in a hostel in Granada, Spain recommended that if we go anywhere in Morocco, it had to be Chefchaouen.
I wasn't familiar with many cities in Morocco, let alone Chefchaouen and its 35,000 inhabitants. Compare the city to Marrakesh, the country's most attractive tourist destination, with a population of more than 1 million and Casablanca, the country's financial and cultural capital with a population of almost 3 million.
The city was small and walkable, and once my boyfriend, the two Australians we were traveling with and I had our fill of the blue-painted medina streets, we decided to take a day-hike up the peak that extended out the back wall of the medina (the medina is just the old quarter of the city, oftentimes the "downtown" in most Moroccan cities).
I read in my Lonely Planet guidebook that there was a ruined Spanish-built mosque two miles east of the medina gate. It was abandoned during the Rif War in the 1920s and now it makes for great views of the city and is also a good spot for photos. Well, my poor Lonely Planet guidebook could not explain exactly how to get there: since the medina is so old and well-known by locals, there are no street names assigned to any of the zigzagging 300-some little alley-like streets. Even with the aid of a map, we could not locate the mosque and the Moroccan locals were of no help at all. If you ask three Moroccan men for directions, all three will point you in different directions just to get a laugh. From my experience, all of Morocco is in on the joke.
So we started climbing up whatever trail we could find out of a back gate of the medina. As we started out from our hostel, the first thing we climbed were stairs leading up to the back entrance. So many stairs. But with each level, the view became even more beautiful.
We reached the gate and thought, "now what?" With no guide or directions to a designated trail, we decided to just to start climbing "up". We found somewhat of a beaten-out path and followed its winding trail up. Then it got rocky and slippery, then our path became obstructed by bigger rocks, fallen trees and a mesh of twigs and plants. Finally, we came upon a small fenced-off facility. A lonely sign warning off strangers was all I needed to turn around fast. Eventually the makeshift path we were on became too torn up, so we headed back down to the road to find another way up.
Not knowing where we were going, nor how to get there landed us exactly where we should have ended up – crawling up the first clearing we saw on all fours, avoiding treacherous steps on rubble and other loose rocks.
Whatever sparse vegetation we saw along the way was gorgeous and lush for spending most of the year in the blazing sun at high elevation in the Rif Mountains.
Finally, we reached a winding dirt road midway up the mountain. Thinking this area would be deserted, we were quite surprised to see a concrete pen full of haphazardly-arranged construction material. We started walking in the direction that would take us higher up and lead us to a scenic spot where we hoped to eat the bread and fruit we packed. By now, we had almost exhausted one of our two three-liter water bottles, as climbing makes you thirsty and even though it was January in Morocco and the nights were frigid, when the sun comes out, it feels like it's 70 degrees Fahrenheit.
We passed a sign that says we're entering a national park and the name is so worn that we couldn't make it out, but we thought this should prove to be a scenic walk. A few construction trucks and workers drove by, one made a treacherous pass by a parked tractor facing the opposite direction. The truck utilized absolutely every available inch to pass. Had the truck been any wider, the tractor would have gone tumbling down the mountainside. A worker on break slept on what must have been an uncomfortable rock as we passed, he gazed over through squinted eyes and greeted us though missing teeth as we waved and walked by.
And we walked and walked, the path we walked along never changed, just wound about. The scene overlooking Chefchaouen from several meters up was stunning from every angle. I could see for miles, the peaks surrounding the city, outlying smaller villages that would take hours to get to by bus, blue skies… absolutely peaceful, like the breeze in our face. The bread and fruit we packed was not enough to make up for all the calories we'd burned hiking and our rumbling stomachs had us thinking about going back to town. We were looking for an alternate route back down and eyed a path across the valley. Soon enough we noticed that it ended and picked up in multiple places, while big rocks and grass covered the rest of the route. Also, from our angle, looking straight at the wide mountainside across the pass, we couldn't make out what incline the hill was at. We decided it's best to head straight down the dirt path we came to a while back.
Heading back down the path, we ran into probably one of the most stereotypical things you can see on a desolate Moroccan mountainside; a mountain man with goats. Later, we would find a whole herd of them feeding off whatever short grass unobstructed by trash they could find right outside the wall to the medina.
He let me take his picture, something you must always ask permission for in Morocco otherwise they'll either expect payment or run you down abusively until you delete the picture. We walked down the path now, lower and deeper into vegetation until we were surrounded by a thin, tall forest. Further down at the base of the path we finally saw the sign we were meant to see hours ago at the start of this hike.
Now we know where to go… for next time. We were too hungry and sans supplies to turn back toward the trail now. Notice the sign is in French and Arabic. Arabic is Morocco's first and common language, while French is their second language after a long history of trade and diplomatic relations with France.
Soon after, we were back in the blue city scouting out good food where we wouldn't get ripped off and fending off the men trying to sell us hash in the streets or lure us into their gift shop.
Below is a short video of some scenes from the hike up the mountain.
[ohubvideo code="Rja2lwMzqMt-fdRYupjAVQ0gyqHc_NA6″]
Photos and video by author