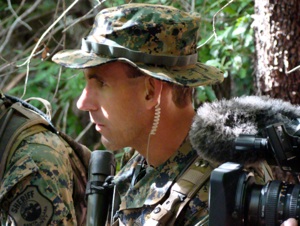 If you have never been to an ISE show, let me tell you – it's like Disneyland for outdoor enthusiasts.This year the show will land in Phoenix from Feb 23-26, at University of Phoenix Stadium. You can also catch shows in Denver, Sacramento, Las Vegas and Salt Lake City. Every year around this time, I do what I can to help promote ISE – its an awesome experience and friend John Kirk of ISE is always generous in providing some tickets for my contests, etc.
This year, though – I'm excited to have a bit of an expanded role with ISE, working with marketing promotions guru Scott Kelly over at Black Dog Promotions to help spread the word about the fantastic guests ISE has lined up for the Phoenix show. One of those guests this year is Lieutenant John Nores, Jr. of the California Department of Fish and Game. You may recognize John from his NatGeo TV show Wild Justice. Through his show and his book War in the Woods John chronicles the war against drug operations in our nation's wilderness. It was cool to ask him some questions!
Tell us a bit about your book – why did you decide to write it? How have sales been? Will there be more books in the future?
Following the discovery of my first grow site in 2004, the public land marijuana cultivation issue rapidly grew in significance. This was true for not only our special operations team in California, but for all other law enforcement teams throughout the country dealing with the issue. Before being encouraged by several people to write "War in the Woods," the thought of writing a book about this topic did not cross my mind. With the problem of the extensive public safety threat and massive environmental damages growing and spreading throughout many other states besides California, getting the message out became critical. And while the content focuses on the development of our Marijuana Eradication Team (MET) and our most significant, dangerous, and environmentally damaging missions throughout a 5 year period, the book conveys the issues and challenges faced by all teams similar to ours throughout the US.
Book sales and reviews have been good, and the book has been well received by all aspects of readers on both sides of the political spectrum. And while "War in the Woods" does not convey a stance on marijuana use one way or the other, it does illustrate very vividly, the high level of public safety threat (our team has been involved in three gun fights with DTO gunmen over the last five years) and environmental resource damage associated with all of these operations on public wild lands throughout the country.
At the request of several readers and team members, I am seriously considering writing another book on the same topic. Since the five year period (2004-2009) of missions highlighted in "War in the Woods," our team has had many more exciting, dangerous, and challenging missions worth describing. In fact, the 2011 season for our team set new records in California for number of suspects caught, number of suspects charged with and prosecuted for Fish and Game related resource crimes, number of firearms and weapons seized in grow sites, and number of marijuana plants destroyed. As a result, I have enough relevant stories from the 2011 season alone to complete more than half of a follow up book. If the readers want it and "War in the Woods" continues to sell well to justify a sequel, a follow up piece to "War in the Woods" will happen.
How did your TV show come about? Has it been hard to juggle the TV show with your law enforcement duties or has the show merely become an extension of your job (as a public relations tool, maybe?)
"Wild Justice" came about largely through the efforts of my co-author, Dr. James Swan. Being a supporter of California game wardens, Dr. Swan produced a 60 minute documentary in 2009 called, "California Game Wardens: An Endangered Species." The documentary highlights the diverse law enforcement jobs all game wardens do (not only in California but throughout the country), and the challenges game wardens face (understaffing, low salaries, etc) throughout California. Following the release of his documentary, Dr. Swan worked with the major cable networks and our law enforcement division of the California Department of Fish and Game to develop a reality TV series. Showing the world, (through a TV show) the diversity, challenges, responsibility, danger, importance, and the attractiveness to young people interested in the career, was an opportunity to spread our message to a massive audience. National Geographic channel beat out many other outdoor related cable channels interested in producing the show in late 2009, and the filming of season one was begun shortly following in October of that year.
Along with a handful of other warden teams throughout California, the Nat Geo film crew started working with my patrol squad, our K9's, and our allied agency Marijuana Eradication Team (MET). For 3.5 weeks, we worked daily with the film crews to capture the stories throughout season 1. The work of our MET was especially well received by worldwide viewers. The TV visuals of a game warden involved special operations team working against the drug cartels in the foothills of California ( just like a military special forces team in the Middle East) is intriguing to many viewers. The public safety and environmental message that both the book and show convey is well received.
While being part of the show has definitely been challenging and time consuming, I do consider it a unique extension of my job. Those of us game wardens involved in Wild Justice are lucky and blessed to be part of a public relations opportunity wardens in California and other states have needed for a long time. Wild Justice has shown the world the diversity of dangerous law enforcement jobs we do, with little or no support. The public needs to know that game wardens are skilled, professional, well trained, and diverse law enforcement officers, and not the stereotypical "bird and bunny" cops as once perceived by the masses.
As a result of the book and the show, I get weekly emails from around the country from a diverse mix of adults and kids inquiring about the game warden profession. The Law Enforcement Division of the California Department of Fish and Game has seen a significant increase in application numbers for the game warden position. Both mediums have also attracted quality applicants such as law enforcement officers from other Departments as well as skilled military personnel and veterans.
Are marijuana grow operations primarily an effort of the Mexican drug cartels or do the locals do their share of growing also? How has the evolution of cartels affected law enforcement operations? Is this a regional problem, or a national one?
The public land growing operations highlighted in the book and Wild Justice are primarily operated by the Mexican Cartel Drug Trafficking Organizations (DTO's) out of central Mexico. Since these groups are running operations in not only California, but throughout the entire west coast and south western states, the threat to the public, law enforcement officers, and our country's wildlife resources has increase significantly. Law enforcement teams working these operations everywhere are seeing more guns in the hands of cultivators in our forests, and the number of officer involved shootings with these gunmen has increased drastically in the last ten years. As an example, our MET has been involved in three gun fights with armed growers, with the first shooting in 2005 resulting in my warden partner being shot through both legs with an AK47 in a grower initiated ambush. Other teams throughout the country are seeing the similar examples.
While most of the cartel related cultivation ops are primarily on the west coast, the product from these operations is sold on the black market throughout the entire US. In addition, the profits from these cultivation operations fund meth amphetamine production operations all over the country, making this a NATIONAL problem. As a result, marijuana enforcement teams from all levels (local, state, federal) need to work together, share information, share training concepts and tactics, etc. to be more effective and safe when combating the problem. This is another critical message highlighted in "War in the Woods," and networking in this way has fortunately increased as a result.
Click here for part 2 of this interview to be posted later this week. I sincerely want to thank John for taking the time to answer my questions. You can read the ISE interview here and take the opportunity to follow ISE on Facebook and learn more why you don't want to miss hearing John's presentation at this year's show!
Click here to follow Marshall MacFarlane's blog, the Desert Rat, for more updates.