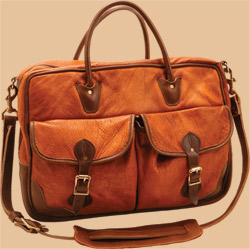 It's hard to believe that another holiday season is upon us. Many of us end up rushing around at the very last minute desperately seeking the perfect gift for the special ladies who love to hunt. Check out this gift of unique gift giving ideas for the outdoorswoman on your list.
One of a kind
Is the woman on your list one of a kind? If so, consider giving her a gift that reflects her distinct beauty. Watch her face light up on Christmas morning as she unwraps a beautiful, one-of-a-kind gift from Trophy Hides. She filled her tag and now she can proudly wear or display the hide from one of her trophies or maybe one of your trophies. Trophy Hides creates unique, custom-designed gifts from her (or your) harvested animal hide. Gorgeous leather vests and jackets, custom handbags or totes, or even mittens or wine bottle totes, it doesn't matter which unique gift you choose, each item in the Trophy Hide collection is a work of art. Each custom made product is unique and truly one-of-a-kind like she is. Give the outdoorswoman on your list a gift that will reflect her love of nature, give her a Trophy Hide.
Pistol-packing mama
Self-protection is no laughing matter. So consider giving your special lady a gift that is not only beautiful, but practical and potentially life-saving: a pistol from Taurus firearms. Taurus is a name you can trust and their line of concealed carry personal protection pistols pack a punch without all the bulk. Light, powerful and technically advanced, Taurus is a great choice for concealment and back-up carry. With nearly a dozen calibers to choose from a Taurus personal protection pistol makes a wonderful gift.
Perfect handbags
You bought her a handgun now she needs a place to carry it. Handbags designed to carry a concealed weapon are typically pretty pricey and, to be honest, a little ugly. But there are stylish, functional, affordable options to conceal a firearm. All of the GunTote'n Mama's bags are designed by women and are made for either right or left handed use. They are comfortable, lightweight, attractive and priced right. Now there is no reason she has to carry an ugly, oversized CCW handbag. GunTot'en Mama handbags are available online at www.guntotenmamas.com.
Practical present
Protect that new handgun with compact, secure and affordable handgun storage safe from Gun Vault. The NanoVault line features an easy-to-operate combination lock system and is perfect for home, travel or concealed-weapon permit holders. Plus the NanoVault 300 meets TSA airline firearm guidelines and fits discretely in a bag, briefcase, desk or under a vehicle seat. The Nano Vault is tough yet attractive and gets the job done and is a perfect present for the lady who is equally tough and attractive
For the heartbreaker on your list
Do you have a special lady on your list that is a mix of sugar and spice, maybe even a little naughty and nice? A lady who been known to break a heart or two? The "heartbreaker" on your list can now be armed with bow that is as strong and beautiful as she is. Although the design is a head turner, the primary focus is on performance. Bowtech held nothing back when they created the Heartbreaker women's bow that is destined to break the hearts of the competition. The serious female archer on your list will love the new heart-busting, Heartbreaker bow from Bowtech. One of the greatest features of this bow is the straight-out-of-the-box R.A.K. technology, all she will need is arrows and she is ready to go.
Home baked
Perhaps it takes us back to our Easy Bake Oven days or maybe it's just a better way to bake a chocolate chip cookie in the middle of nowhere, whatever the reason, outdoorswomen love the new Camp Chef's Ranger II stove with 2 burners. This high output, small framed stove is just 14 lbs and puts out 34,000 BTUs per hour. Its light weight cast aluminum burners and matchless ignition makes it one of the coolest items made by Camp Chef and is a particularly huge hit with outdoorswomen.
Heirloom quality
People often want to give gifts that will be passed down from generation to generation. Imagine the reaction you'll get when that special person unwraps a work of art from one of the world's renowned gun makers. Benelli's new sleek, lightweight Legacy shotgun series is available in 12, 20 or the new 28 gauge and encompasses features that perfectly mesh to create an effective yet attractive shotgun that is sure to become a family heirloom. Not only will this fine shotgun become her favorite in the field, it will quickly earn a spot in the front of the gun cabinet thanks to the beautiful craftsmanship. The Legacy is sure to be an item that will be passed down from one generation to the next.
The eyes have it
She will look stylish on the shooting range, lake or even driving around town in ESS Crossbow tactical grade eyewear that is unlike anything else on the market. It's hard to know which feature she will love the most, the uber-comfortable Tri-Tech Fit frame which provides maximum comfort and zero pressure points or the ClearZone FlowCoat fog proof lenses. Perhaps she will love the ESSOPTICS distortion-free vision she will have or maybe she will love the ability to quickly and easily switch to various tints. Regardless of which feature she loves the best, she will certainly appreciate the fact that she received a pair of the highest quality shooting/everyday eye protection items available.
One hot mama
Is Mrs. Claus a serious huntress? If she is, consider giving Santa's better half a hot-looking fleece hunting vest from the leader in serious hunt gear for women, Prois. She will flip when she discovers this vest is as flattering as it is functional. Amazing super-soft Sherpa Fleece outer shell along with brilliantly designed hidden pockets strategically placed between the shoulder blades and lower back to conceal heat packets. Prois thought of everything to help keep women comfortable in the field. The Prois Sherpa vest is the perfect layering option – plus it works hard, looks good, and feels amazing. It is sure to become her favorite, must-have hunting garment for years to come. I know the Prois Sherpa vest is on my wish list this Christmas. Check out the Prois Sherpa Jacket online at proishunting.com.
Ultimate gift idea
Why not send her on an adventure of a life time? Regardless of whether she is a seasoned huntress or just getting started, she will love what the National Rifle Association (NRA) has to offer women. The NRA Women's Wilderness Escape (WWE) is truly a one-of-a-kind adventure camp designed especially for women. WWE provides hands-on experiences with archery, tactical rifles, muzzleloaders, long range rifles and much more. Unlike any other outdoor experience the WWE not only offers training from some of the best instructors in the country, but the participants get the added bonus of learning these skills at one of the country's premier shooting facilities, the NRA's Whittington Center in Raton, New Mexico. As an added bonus, she will make new friends as she bonds with dozens of like-minded women. Talk about getting the most bang for your buck! This experience is second to none. Be sure and stand under the mistletoe when she unwraps this ultimate gift from the NRA. To learn more visit the NRA Women's Program Web site at www.nrahq.org/women/.