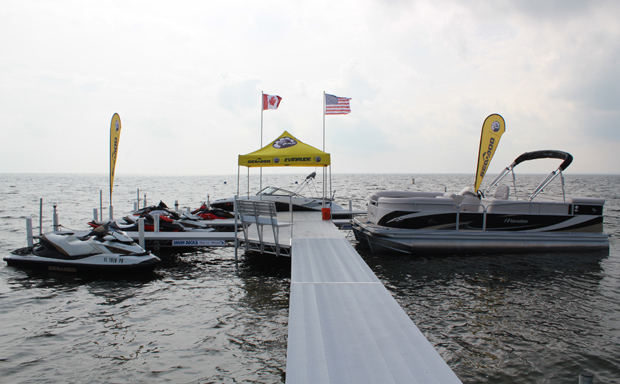 The sales team at Bombardier Recreational Products requested it, Metro Beach Metropark at Lake St. Clair in Michigan had the ideal space for it, and BRP believed the market was picking up in that area enough to bring it. Lake St. Clair near Detroit was the site of 2011's BRP Ultimate Playground demo tours, a weekend where power sports enthusiasts could come out and get rowdy on BRP's latest products on the water or on a custom ATV course. Here we've compiled two videos showing the water sports station in action.
You can read about all the experiences on BRP products beyond boating (like ATVs, Spyders and more) here, but you've come to the right place to see the boats blowing past in the water, hear the wind and listen to what riders had to say. Watch the video below for a short visual tour of the Sea-Doo and Evinrude station at this year's BRP Ultimate Playground.
[ohubvideo YyczN1MjrBheeEAexcRVqLTmdqL04DiL nolink]
For those who think that simply watching the machines in action isn't enough and want to know more about what's underneath the hull of these products, watch Sea-Doo representative Tim McKercher explain the technology that makes these machines run.
[ohubvideo R1cjN1Mjo9AgVG-w9aF16WXf_JXW5VFX nolink]
There are more videos in the BRP Ultimate Playground series, check out the videos on:
and an article on the whole event, BRP Ultimate Playground for Ultimate Adults