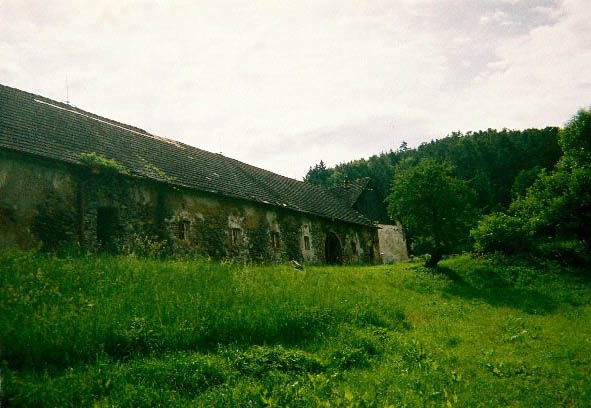 An international mix of seven unequipped 20-somethings set off into the backwoods behind castle ruins somewhere in Bohemia in July of 2007. That was half the fun. We brought along our 40 lbs. packs that we were backpacking across Europe with, some food and a fifth of absinthe, legal in the Czech Republic. That was the other half of the fun.
My two friends that I was traveling with and I found ourselves in Bohemia (western region of the Czech Republic with Prague in the north) by circumstance. All the hostels in Fussen, Germany were full the day we planned on staying there. Prague was our next destination, so we stopped in a little town northeast of Munich for one night before Prague, per the recommendation of Rick Steve's Guidebook. Then, Cesky Krumlov pulled us in. I don't know if it was the small southern Bohemian town's antiquated charm that attracted the coolest travelers from around the globe, but the town was a perfect setting for devious adventures like boat rides through the town's winding river, spectacular views of uneven red-tinted rooftops, dingy, weathered bookshops and a castle directly in the middle of town overlooking it all.
I intended on showering and sleeping as soon as we made it to our hostel. We had a long, harrowing train ride from Munich and a run-in with the Czech Republic's ultimate creeper in the Cesky Budejovice train station – our last stop before Cesky Krumlov. But when I walked into the lounge where my friends were hanging out to say goodnight at 11 pm, I wouldn't make it to bed until we watched the sunrise from our hostel rooftop. The most incredible mix of people happened to be in that lounge. There were two boys from Chicago, near our hometown of Detroit, and two boys from a small fishing town in northeast England, two Australians and a girl from Canada.
Eric, one of the guys from Chicago, had been to some small castle ruins just outside Cesky Krumlov the day before on a day trip and suggested that we all camp there overnight the next day. It didn't take much convincing before us three girls, two English boys and two Chicago boys were all loaded up on the bus heading to the Bohemian woodlands. We had brought just a few supplies for starting a fire, some food and anything else we needed we had in our 40 lbs. packs that we had dragged around Europe for a month by now. We didn't need a tent because we had sleeping bags and we would camp it out under the stars.
A short bus ride and a long 45 minute walk down wooded hills with no path in sight, past castle ruins we came upon a bonfire pit that became our "basecamp." It was a stone's throw from a river where the forest grew thick on the opposite bank. The river was probably the same one that runs through Cesky Krumlov. It was a delectable spot to cool our sweat-soaked bodies and also to cleanse ourselves the morning after a rowdy night in the field we camped in. That was the cool thing about this camping experience: we knew nothing about the area, whether it was a designated campground or not. We assumed so because we had a bonfire pit, another couple camping nearby, and a small hut that served food and beer. Otherwise, it was just the people we came with and the forest and field.
The field was a picturesque story tale. Sprawling and slightly hilly, surrounded by a forest and with castle ruins just a few meter's walk out of sight. We properly splashed around in the river then got the bonfire going before the sun set. The night was crazy fun. Solitude and good company and English Ben interluding on the guitar to top it off. My one friend and I made up after a long, passive feud that had worsened on our few weeks on the road. We became incredible friends with everyone we were with; still four years later we keep in touch.
An intermittent drizzle began and we scattered off to find shelter of any sort. The three thirstiest people found a hut for hand washing to set up beds, though they'll tell you to this day it was a urinal. I don't blame them, it probably smelled like one. The rest of us huddled underneath the small roof of the ice cream/beer shop and tried to catch as much sleep as we could before the sun came up.
The morning-after of a party with a bottle of absinthe in the mix is bound to be interesting, and what we found that morning was bizarre indeed. Chicago Jeff apparently didn't use his sleeping bag the night before and sometime in the early morning (or at night?, we don't know) crawled out to sleep by the bonfire pit for warmth. No blankets, no pillows, no warm clothing, nothing. Although he did use a pop bottle for a pillow…
We woke in the late morning and scrambled to collect our things to catch the train to Prague. We wrapped up camp, grabbed our heavy packs and the English boys and us three girls set off for the train. The Chicago boys were going to hang around camp longer and catch the next one.
Now, an important lesson about traveling Europe was learned and couldn't be undone. We were one month into our travels and also one month away from heading home; almost exactly. A month of walking EVERYWHERE in subpar shoes and carrying a 40-pound pack half the time all came down on my friend Kathleen that day. On the 45 minute walk back to the train station she kept stopping for breaks saying her foot hurt. None of us even thought that it might be broken at that point. Soon after, me, my friend Joanna, Ben and Luke all grab a corner of Kathleen's backpack and carry it with our own on our backs. Kathleen lagged behind and starting complaining of severe pain. Needless to say that slowed us down and through the trees we could see and hear our train passing 10 minutes before we could make it to the station.
We wait another two hours for the next one to show up. The Chicago boys cheerfully arrive, though surprised to still see us. We begin the crappiest day of our trip after having one of the best and most memorable camping experiences the day before. After a few train transfers including a bus to the next stop because of railway construction, we stop in a hospital and find out my friend's pain is because of a stress fracture in her foot.
We carried on fine with the trip after that, each of us fared better than Kathleen who couldn't even really treat her foot until we got back to the United States. Camping in Bohemia was definitely still worth it for her. We loved sleeping out of a hostel in Bohemia much more than we enjoyed sleeping outside in a park in Vienna later that trip. I would encourage you to seek out the same spot, but sadly I have no idea how we got there. I have no clue what bus number we took, in which direction we went nor which stop we got off at. Ask for castle ruins near a river not far from Cesky Krumlov, and be sure to bring your own bottle of absinthe.
Photos: [Chicago] Eric Michaels