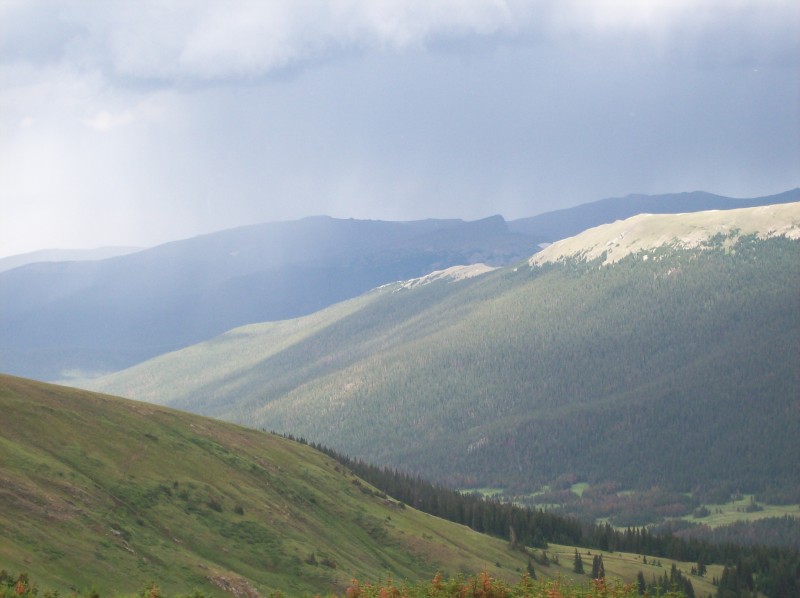 Fairyland Loop, Bryce Canyon, Utah
Bryce Canyon has a few hiking trails I put in the category of "novelty" only because they are too unique, geologically, to even compare with other trails. The main feature of the park are the pink, orange and red "hoo-doos," or skinny, tall formations created by years of erosion. This place looks almost like a set built for a cheesy sci-fi movie as if you could brush away some of the salmon-colored gravel to reveal scaffolding and electrical outlets. The stunted, gnarly pinyon and juniper trees look as if they'd been stuffed in a prop closet for years, having been pulled out and displayed for your arrival. Actually, those trees have had rough lives; After three or four hundred years, some have barely grown six feet, and most show the signs of multiple lightning strikes.
The trail me and my wife hiked, called the Fairyland Loop, winds its way eight miles through these crazy chimneys of rock so soft their surfaces crumble like brown sugar at the slightest touch. Now, I'm an avid motorcycle-rider, but this is the type of place that, if opened up to dirt bikes and quads, would be rooster-tailed to a pile of dust in a matter of weeks. They don't even allow mountain bikes on the Fairyland Loop, but the more of it I saw, the more I longed to devour the 8 miles of smooth singletrack on my hardtail.
But you can't see much when you're going fast, and I was happy to be doing this loop on foot. The journey was a surreal experience, and although it can be completed in about five hours, my wife and I brought our over-night gear so we could take our time. Fairyland is listed as one of Bryce Canyon's "strenuous" day hikes, but don't let that scare you. True, it's eight-miles long, but the trail is not technically challenging, and the 2,300 feet of elevation change is made pretty tame by the length. Just bring a lot of water, and rain gear, even on a sunny day because you'll never see a storm approaching from the west. My wife and I got caught in a cold hail storm and had to seek cover from lightning.
The only reason I'm leaving out another favorite "novelty" trail — Moab's Slickrock — is that it's not technically a "trail," but a broken white line painted on miles of red rock. It's really cool, as are the intricate mazes of the Canyonlands, but Fairyland is a better fit for my definition of a trail. http://www.nps.gov/brca/planyourvisit/fairylandloop.htm
Alturas Lake and Pettit Lake hiking trails, Sawtooth National Forest, Idaho
The Sawtooth National Forest, just outside of Stanley, Idaho, is made up of some of the most jagged peaks in the entire Rocky Mountain range, with some rugged hiking trails laced throughout. What I love about Idaho is that you don't just feel like no one is around for miles . . . There really is no one around for miles. My wife and I spent a day hiking the Alturas Lake trail, before connecting to the Pettit lake trail, which we spent another two days hiking. These routes traverse very high, rocky terrain, and I would consider them "advanced," but totally worth the work. The Sawtooth National Forest has many great day hikes to choose from, and they don't ever seem to be crowded. Go here to see more: http://www.tripleblaze.com/2/4992/Campgrounds/Alturas-Lake-Inlet.html
North Country Trail, Upper Peninsula, Michigan
I was only 14 when I hiked a 42-mile section of the North Country Trail in Michigan's Upper Peninsula, between the towns Grand Marais and Munising. Back then the trail was called the Lakeshore Trail because it's within the Pictured Rocks National Lakeshore Park, but the National Forest Service now refers to the trail simply as a section of the 4,000-mile North Country Trail, which goes from upstate New York to North Dakota. Pictured Rocks is a beautiful span of limestone cliffs hanging several hundred feet above Lake Superior, occasionally broken up by tall sand dunes. The hike itself is beautiful, but hope for a steady breeze coming off the lake to blow the mosquitoes away, which can be pretty thick during some months. The trail generally stays pretty close to the water but goes inland up to a quarter-mile in places. I did the 42-mile section in seven days, although it could be done much faster, as there are not extreme elevation gains. Go here for more info: http://www.nps.gov/noco/index.htm
Half Dome Trail, Yosemite National Park, California
The longest and most intense of the day hikes on my list, the Half Dome trail ascends 4,800 feet over 7 miles to the top of a giant, rounded-off chunk of granite (Half Dome). It's also located directly across the valley from El Capitan, one of the world's most famous climbing sites. Rock climbers also like to climb the flat side of Half Dome but it's not as popular as "El Cap," though I'm not sure why . . . When I did the Half Dome hiking trail about fifteen years ago there was no permit required, but apparently, there is one required now.
The majority of this hike is a beautiful jaunt through the coniferous, rocky Sierra Nevada mountains until you get to the base of half dome, at which point you're staring up at the basketball-shaped rock with a little gray zipper going up the side. There are ant-like things moving up and down the zipper. You get closer and see that the zipper is actually a pair of cables bolted into the rock, running up toward the top, disappearing over the curve. The people — tourists from all over the world — are climbing and descending carefully, as politely as they can manage but their eyes are full of fear, sweaty hands squeezing the life out of the steel cables, pairs of woefully improper footwear scramble and kick to find the next hold, each 2×4 bolted into the rock spaced just far enough apart to make things interesting . . .
Another thing that makes Half Dome interesting for day hikes is the weather. When going for the summit you have to make sure there are no clouds within fifty miles, so you can pretend like you're at the final Everest base camp waiting for the green light . . . The precaution at Half Dome, however, is not to avoid getting snowed-in but to avoid electrocution when static electricity builds up and discharges down the cable ladder like a giant bug-zapper. Plus, I imagine it's not too fun in the rain. For more info, go here: http://www.nps.gov/yose/planyourvisit/halfdome.htm
The Colorado Trail, Colorado
The Colorado Trail stretches 500 miles, from Denver to Durango, and takes about four to six weeks of hiking to do the whole thing. Although I have not hiked the whole thing, and currently have no plans to do so, I know a guy who has done it. He said it was a great experience, one of his favorite hiking trails and he was much skinnier when he arrived in Denver.
I have gone for day hikes and mountain bike rides on a 20-mile section leading out of Durango because the trailhead was less than a mile from my front door. Based on those experiences, I'm pretty sure the 480 miles-or-so that I haven't personally seen is totally awesome, which is why I'm willing to give it my official STAMP OF APPROVAL and put it on my top-five list. Congratulations, Colorado Trail. http://www.coloradotrail.org