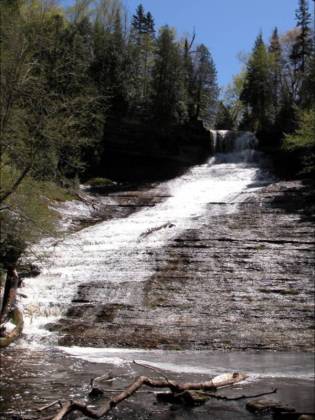 When I was 10 my parents took me to Laughing Whitefish Falls and it was the type of hiking experience that helped turn me into an outdoorsman for life.
Laughing Whitefish Falls is located off I-94, in Michigan's Upper Peninsula. The falls are part of Laughing Whitefish River and run through the Escanaba River State Forest which is filled with dark cedar trees.
It was a few hours before dusk when we arrived at the trail leading to the falls. From the path I could distant sound of the falls echoing through the dense forest like the cedar's were whispering secrets in a language all their own.
As we drew closer to the falls and emerged from the tree line Laughing White Fish River came into view. The Laughing Whitefish is a sight like few others in the Michigan outdoors. The falls come in two main varieties. First the traditional cascade pouring down off small cliffs into naturally formed staircases of pools and flows. These structures are beautiful in their own right, but the truly unique feature of Laughing Whitefish falls are the gentle, Chinese-fan shaped falls that pour down the river-slope like fingers dancing across a piano.
From there we hiked along the easy sloping trail for length of the falls, stopping to try and spot fish in the slow pools and run our hands over the smooth wet rocks of the stream bed.
The entire scene left an impression on me that is impossible to forget. From the bottom of the gorge I could look up and see 30 feet of exposed rock wall towering over us like petrified skyscrapers. The image gave a lasting impression of power and scope of nature.
To take your family on the family friendly hiking experience of a lifetime go to Michigan's Upper Peninsula, about 20 miles south of Marquette, head for Laughing Whitefish Falls and the scent of cedar and hemlock, park in the camping area and enjoy one of the best slices of natural scenery in America.
DNR Laughing Whitefish Falls information page