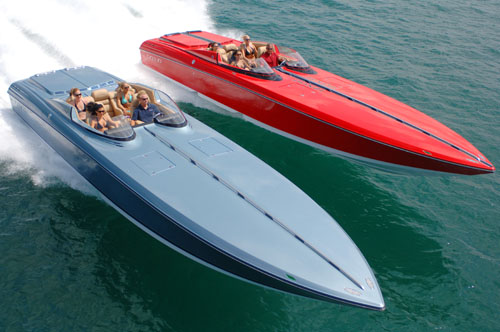 You're flying across open, turquoise water, the skin on your face rippling, tears streaming from the corner of each eye. The speed is intense, as is the salty spray coming up from the bow, which barely glances the water at over 100 mph. Where are you heading? Who cares? Certainly not the three beautiful women who decided to join you on this sun-kissed trip down Florida's balmy coast. There were plenty of other boats in the harbor they could have jumped on, but they boarded yours because it's a 40-foot Donzi. Once they saw the long, beautiful, hulking piece of raw power bobbing gently in its moorings, glistening under the noon sun, there was really no decision to make . . .         Suddenly you hear the loud, raspy call of mallards streaking across the sky, looking for a place to land, followed by: "SHOOT 'EM!!!!" and the loud blast of a twelve gauge, which rousts you from your slumber. "Those birds were right in front of us!" your hunting partner says. "Where the heck WERE YOU?"
"These damned waves rocked me to sleep," is all you can say. "I was dreaming about that 40-foot Donzi, again."
OK, so maybe a Donzi isn't for the average guy, but isn't that sort of the point? If every guy could have one, then what would kings and millionaires take out for a Saturday spin? And would Joe Sixpack really have trouble choosing between his Donzi and his 14-foot aluminum, recently "upgraded" with a custom camo paint job? Obviously there's a reason these boats were featured at the beginning of every episode of Miami Vice . . .
When Donzi Marine hired Craig Barrie to head up their marketing department four years ago, they didn't have to worry about the new guy getting his feet wet in the powerboat industry. Donzi wanted to make sure they maintained their image as the best in saltwater powerboats and as president of the Cigarette brand offshore racing team for 16 years, Barrie had a proven track record for keeping a brand in the spotlight.
It's great to have a good marketing guy and all, but when you're already the biggest name in luxury powerboats, and you only build 80 boats every year, how much advertising do you really need to do? Craig Barrie must be the Maytag Repairman of the boating industry — always there, but never really needed. Well, yes and no.
When a new model is introduced to Donzi's 20-boat lineup — like the 38 ZR Open for example — it's Barrie's job to help you understand why you need that boat, even if there are only 5 or 6 of "you" in the whole world.
"You want to have a performance boat," Barrie says, tossing out a few hypotheticals. "but the people in your family might want a sun pad to lay down on, or a table to have lunch on or maybe the kids want to go swimming off the swim platform and they want to have extra room. Maybe you have friends and instead of taking out five you want to take nine. You have an 80 mph. boat and, from the side it looks like a performance boat and performs like a performance boat, but when you tie up or get to a cove or get the family out to have lunch, you have all this extra space to use. It's just a popular trend right now."
Okay, I'm sold on the 38-foot "open" style, but why should it be a Donzi instead of some other brand? "We are highly customized, and very customer-oriented," Barrie says. "All the boats go through a sea-trial process where they have been set up with the proper props, and they all get weighed and the center of gravity is recorded on every one. We take our time building a very special unit, performance-wise. I feel they are superior to anything on the market right now." Apparently so do serious boaters in many countries. "We sell these boats all over the world," Barrie said. "There's always one going to Dubai or Bahrain or Kuwait, Russia, Australia, New Zealand, France, England, Spain . . ."
So, after placing my order for a lime-green 38 ZR with ostrich skin seats and dance-club subwoofers, when can I expect to throw the christening party? Although it takes 10-11 weeks to actually build a Donzi, there could be a four to six month waiting period before production even begins. At any give time there are about eight boats in the process of lamination and finishing, with six or seven waiting in line.
The quest for power and performance has been shared by many, and spread across different industries. "The evolution of the change that's taken place is pretty dramatic," Barrie said. "The power, the technology, the lamination the material that we use — those have been the major changes in the industry over the years. You have GPS, and engines that are very reliable provided by Mercury Marine, plus a selection of props, a selection of gears. The boats are faster with smaller power than they've ever been, whereas they used to use big power to make them go fast. Now the big power makes them really go fast. If you look at formula one or NASCAR, they hold all these cars back because they would be too fast."
Just how fast is too fast? "Today you can get a Donzi V-Bottom that will run 140 mph." says Barrie. "You can get a catamaran that will run 170 mph. And those are big, big numbers going across the water for anybody, whether it's a consumer or a racer."
Besides pure, face-melting speed, what kinds of creature comforts can be ordered up for your new Donzi? Besides custom interior colors and materials, customers can choose from different stereo systems, DVD screens, powder-coat finishes — even underwater LED lights. "That's a very popular option," Barrie tells me. But one of the more interesting and useful features a customer can add to his or her Donzi is the bow-thruster. This nifty gadget allows you to keep the bow steady on a windy day so you can bring your baby into the marina without trading paint with other guys' boats.
Once ashore, you might like to represent your favorite boat brand while cruising around town, and now you can choose from a wide assortment of Donzi-branded apparel. The line includes everything from hats, t-shirts and jackets, to bathing suits, scarfs and purses. "In the marine business," Barrie says, "Donzi is a very fashionable name because you're going to mention to someone 'I have a Donzi,' and they're going to know what that is." Check out the duds at http://donziapparel.com
Doing good by your own company brand means more than just building a good boat, or slapping your logo on a few hats or coffee cups. Great companies earn the title by doing good things for their communities and the world in general, which is why Donzi goes out of their way to help people in need. "We do stuff for Make-A-Wish Foundation where we take children for boat rides in various cities," Barrie said. And what could make an ailing child feel better than the fresh air and sunshine found on the open water?
Recreational boating is generally thought of as one of those activities directly affected by economic downturns like the housing bubble crash of 2008. After all it takes money to buy a boat, money to operate one, and money to store one in a slip or dry dock. Surely a company like Donzi, whose cheapest vessel sells for $110,000 must have seen a slight decline in sales. Barrie was quick to set the record straight. "The economic [downturn] doesn't bother us whatsoever," he said. "We're not in that game of numbers. We're a very high prestige, image type of performance boat. You're not going to knee-jerk your production schedule and give up quality to chase [quantity of] units. It just doesn't make sense. If you're in a mass-market, making a thousand boats a year like one of those other brands, obviously the economy has put a damper on lending retail-wise and wholesale-wise."
Some of those "other brands" were definitely hit hard by the recession, but Liberty Associates, parent company to the Donzi and Pro-Line viewed the situation as an opportunity and in 2010 rescued the popular Fountain and Baja brands from choppy swells. The four companies have recently been consolidated under one roof at a large facility in Washington, North Carolina, where they can test and tune their products right on the water.
View all the Donzi boats at www.donzimarine.com