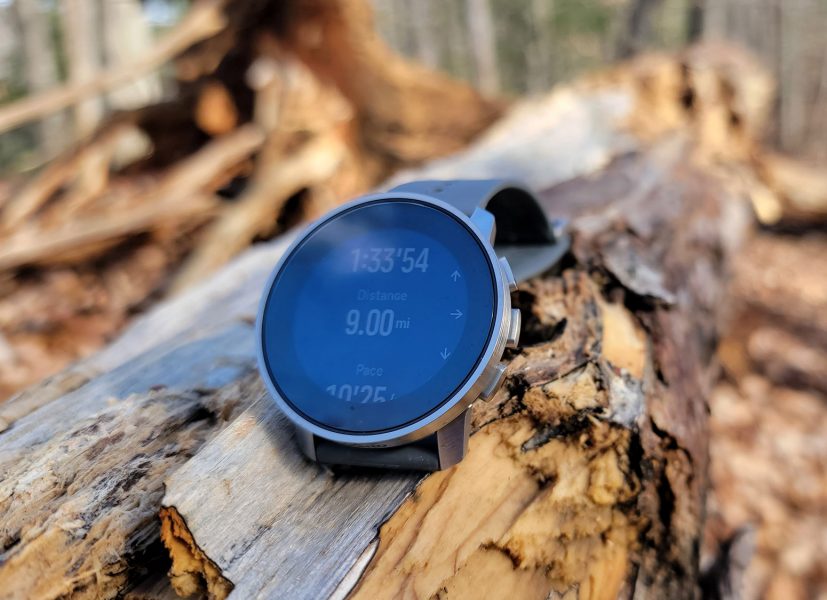 My playground is the Blue Ridge Mountains, where trail runs and mountain biking adventures take me down miles of rocky and rooty technical terrain. It's the kind of off-grid landscape where the Suunto 9 Peak Pro, a sportwatch released in fall of 2022, excels.
I entered the Suunto ecosystem almost two years ago, as I began to spend more time on trails rather than paved surfaces and needed a wearable that better suited my newly adopted environment. Since then, I've worn the Suunto 9 Baro, which became my favorite sportwatch ever, yet I occasionally swap in a Suunto 5 Peak when I know my workouts are going to remain on roadways.
The roughly 90 different activity profiles that are available from Suunto — from the basics such as trail running, snowshoeing, martial arts and pool swimming to more niche areas such as mermaiding, kitesurfing and racquetball — best fit what I'm looking for in a device, as does the durability and accuracy I've come to appreciate from Suunto.
So when the Finland-based company offered to send me the Suunto 9 Peak Pro to review, my interest was piqued. And I immediately asked myself whether it would be worth the upgrade from the 9 Baro to the 9 Peak Pro.
Behind The 9 Baro
I spent close to six months researching watches and asking fellow outdoor enthusiasts their opinions before settling on the 9 Baro in spring 2021. By that point, the watch had been on the market for almost three years, and I was going to be switching from another brand. So I knew I was taking a gamble.
The gamble paid off, and the 9 Baro has been an amazing adventure companion — particularly in terms of its firmware stability and its elevation measurements, which always line up almost exactly with official trail race course listings. It has traveled thousands of miles with me, survived hard falls on the rocks and held me accountable for every step, no matter how difficult.
I have my preferences in a device, and as much as I wanted to put the 9 Peak Pro through the grind of several weeks' worth of activities, there were things I was expecting to miss. The size is a biggie, with the 9 Baro coming in at 50 mm overall and a 1.34-inch display screen. The 9 Peak Pro is considerably smaller (and my eyes are getting older), measuring 43 mm and a 1.2-inch display.
But much has been said about the snappier user interface (UI), better readability and improved accuracy of the 9 Peak Pro, so that's what I latched onto to start with.
The 9 Peak Pro Out Of The Box
Aside from being 0.2 mm thicker, the 9 Peak Pro is packaged identically to its 2021 predecessor, the 9 Peak. I appreciate how Suunto's flagship devices come standard with sapphire glass, and the design across its wearables can't be beat.
My older 9 Baro was a hefty watch, but because of the way the styling and finishing touches were done, it didn't fall victim to having a "tactical" look that other such manufacturers struggle with. With the new 9 Peak Pro, the slim profile gives it one of the best trail-to-town vibes on the market. The weight of the stainless steel version is a comfortable 64 grams, while the titanium one that I've been using comes in at 55 grams.
Charging with Suunto's proprietary cord remains wonderfully fast, and the backlight and Do Not Disturb settings worked cleanly.
The watch has both touch screen and button functionality in day-to-day mode, but it locks the touch screen during activities, relying solely on the three metal side buttons to operate it. Like with previous generation Suunto watches, the top and bottom buttons usually mean up and down scrolling, while the middle button is your selection button. A long press of the middle button serves as your "back" button in most instances.
Upon wakeup each morning, the Suunto 9s offer a useful summary screen of your night's sleep and overnight heart rate. The 9 series also include the basics of smartwatch functionality, such as notifications via Bluetooth from your phone, quick reply setups when paired with Android devices and music controls. (I'll admit, I disable all of these "smart" functions because I want my watch to be more sport-focused rather than lifestyle-focused.)
Yet while the specifications of the device conjure up the same images as the 9 Peak, it's what's under the hood that makes the Pro version a big step forward for Suunto.
The company completely revamped the UI in this new watch, making the scrolling from screen-to-screen noticeably faster. Coming from the previous UI on two different wearables, I couldn't rely as much on muscle memory to jump from place to place, so there was a learning curve to deal with.
But careful observers may note that the new UI offers multiple access points to the same feature. For example, the Alarms (a manual alarm as well as sunrise and sunset alarms and a storm alert alarm) can be reached by long-pressing the middle button to activate the Settings menu and scrolling to Alarms, or you can scroll down from the main screen to come across both an Alarms shortcut and another Settings menu access point. I wondered whether part of this is Suunto learning how users prefer to access a feature, with the goal of eliminating the more cumbersome ones, or if Suunto intends to leave it like it is and simply embrace having multiple ways for users to reach each feature.
The 9 Peak Pro has several other new features that elevate it past other devices in the 9 series. For the first time, Suunto has incorporated wrist-based running power, something Coros has been doing for a while and which Garmin made available on some of its watches about two weeks before the 9 Peak Pro came out.
Battery life is unquestionably a major factor for many people buying sport watches — charging every day or every two days isn't ideal, and those short-life watches won't do well on extended activities. The 9 Peak Pro data sheet says that it'll last 21 days with 24/7 tracking and mobile notifications enabled, and training mode with GPS can be set to 40 hours in Performance (best), 70 hours in Endurance or 300 hours in Tour (or you can create a custom mode). A major change with the new UI is that Endurance mode now measures every second, allowing for solid navigation features while maintaining great battery life. Previously, Endurance measurements were 60-second intervals.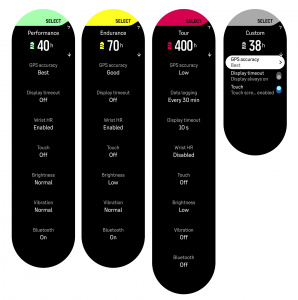 I wore the 9 Peak Pro out of the box — starting at about 75 percent battery life — and did 10.5 hours of activity tracking over a 14-day period before I even considered charging it (again I don't use notifications at all). By comparison, my 9 Baro usually lasts four to six days on a single charge with a few hours of activity in the mix. I also did a more than six-hour long trail race in near freezing temperatures, and the 9 Peak Pro lost just 17 percent of its battery during that activity.
Lastly, differing it from my 9 Baro, the 9 Peak Pro has an SpO2 sensor, which I didn't zero in too much on but should appeal to those who do deep dives on their health data.
The 9 Peak Pro On The Trails
While I spend a lot of time hiking, kayaking and kickboxing, when it really comes down to it, trail running is where the bulk of my active time happens. And while people can talk about the design and durability of a watch, what almost everyone cares about the most is accuracy.
The 9 Peak Pro incorporates a new Sony GNSS chipset, which allows it to function using all-systems satellite tracking, pulling a signal from any of the five systems: GPS, Galileo, GLONASS, Beidou and QZSS. This is the same approach that watches such as the Coros Apex 2 use but should not be confused with multiband (or dual-frequency) GPS like what you'd find in the newest Garmin Fenix series or the Coros Apex 2 Pro or Vertix 2.
Multiband is often viewed as the holy grail of positioning accuracy, but from most reviewers who have done comparisons, the differences seem to be either negligible or they are best noticed in dense urban environments, where tall buildings make GPS tracking uniquely challenging. Additionally, multiband functionality is a battery vampire, which prevents many people from implementing it under normal circumstances.
However, my experience with Suunto has been that the company delivers generally strong accuracy without multiband functionality. Suunto is going to steer into what they do well, and when comparing my post-race data with fellow runners in person or over Strava on the same course, I have no misgivings.
And as an endurance athlete, my results are going to be measured in hours rather than seconds, so an occasional wobbly track in a ravine or under particularly dense tree cover isn't going to impact my activity over the long term.
I'm not sure that I care enough about multiband to pay more (both in money and battery life) for it. The accuracy improvements using All-Systems GPS is noticeable on maps, even if the completed metrics ended up pretty similar.
Here is a nearly identical out-and-back trail run I did about two weeks apart, with the 9 Baro map on the left and the 9 Peak Pro map on the right. Both were done in the late fall, on a cloudy day after the leaves had fallen off the trees. The 9 Peak Pro's 6.5-mile-long map looks so clean, especially considering how many tight turns this trail had, as well as the 3D measurements required over its 855 feet of elevation gain.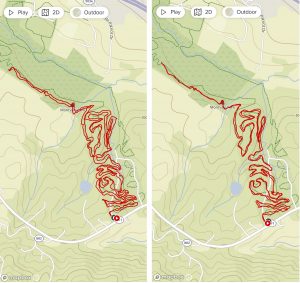 While it's difficult to see exactly how crisp a GPS track looks on a trail, it's significantly more visible on roadways and other more open areas. Right out of the box, I could see how dialed in the 9 Peak Pro was. I did a couple of runs where I intentionally stayed on one side of a paved greenway to see how close it matched, and if it wasn't an out-and-back, I did testing where I focused on staying the middle of the path.
Here is one of those runs generally staying in the middle of the path, part of an hour-long run I did as a lollipop route: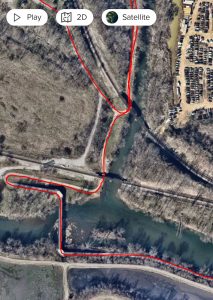 While I understand that some people may have immensely exacting standards, it's difficult to imagine getting tracking more worthwhile and precise than this. Whether going under a four-lane underpass, skirting around fallen trees or bounding up and down hilly terrain, I was very pleased with the Suunto 9 Peak Pro's GPS performance (and saw where it delivered better results than the 9 Baro).
In the one 50k race I wore the watch for, the 9 Peak Pro showed 30.88 miles — the course's official site says the race is 31.6 miles, and on the handful of public Strava posts I checked from this year's race, runners registered distances between 29.89 and 31.4 miles. Since my reading fell close to the official distance and within the range of the various Strava measurements, I felt the 9 Peak Pro calculated acceptable and reliable data.
Room For Improvement: The Big Picture
There are two major things that people seem most critical of when it comes to Suunto watches, and it would be a disservice not to mention those.
First is the size of the bezel — specifically that large black ring that dominates significant real estate on the watch face. Some brands add markings to that area in an attempt to make it less obvious for the user. And some brands accomplish that significantly better than others. Suunto's philosophy, which is imbued throughout its product lines, is more minimalist. And that's reflected in the plainness of the bezel.
I went into it thinking I would be turned off by how it looks, but I surprised myself. Almost from the start, it didn't really bother me, and I appreciate not having much "visual noise" (hash markings, etc.) to contend with. I would prefer the bezel to be smaller, but based on its actual size in comparison to other brands, Suunto is doing well.
For example, 29.07 percent of the 9 Peak Pro's 43 mm watch face is that bezel, while the newly released Garmin Forerunner 955 sees 29.03 percent of its 46.5 mm face consisting of bezel. The Garmin Fenix 7S, which is 42 mm, excels with 27.38 percent of its face that way, while the larger 51 mm Fenix 7X is one of the worst-by-ratio performers in this space with 30.39 percent of its face gobbled up by bezel. But it all depends on the components the manufacturer needs to build into that area of a watch.
Another, more legitimate, concern some people express is the display brightness. It's relatively dim under normal indoor circumstances. The 9 Peak Pro is better than previous 9 series devices — the backlight is strong, and it looks good in full sun — but this is one area where improvement can go a long way toward amplifying the brand.
Here's how the 9 Peak Pro looks under varying conditions:
As I sit in an unlit room writing this, I'll confess to preferring darker conditions and see fairly well in low light, however I do agree that brightness is a problem on most Suuntos. I do like the way Suunto has it when compared to a "Super Amoled" Samsung watch I had a few years ago, whose screen was invasively bright and distracting. But there is room for Suunto to grow here, especially with other brands having great all-around visibility despite using non-amoled screens.
Building off both the bezel and the resolution, the screen size is small for my tastes, especially as I'm jostled around on technical trails and don't have much time to safely look at my watch during an activity. The identical 1.2-inch display was one reason I left my previous watch brand and adopted the larger 9 Baro a couple years back. A smaller screen limits the number of activity fields you can realistically customize for a watch like this, and when you have a route imported into the watch, the elevation graph screen was particularly difficult to see on the 9 Peak Pro compared with the 9 Baro.
Probably the only functionality aspect where the 9 Baro beats out the 9 Peak Pro is in measuring sleep. I've frequently looked at the clock moments before laying my head on the pillow, and the 9 Baro consistently nails my "fall asleep" time within a minute or two. Additionally, it recognizes when I wake up, even if I lay in bed and play on my phone or watch TV on the couch for a bit.
The 9 Peak Pro isn't as accurate. In one extreme example, I took my 9 Peak Pro off my wrist at 4:30 p.m. to work on some machinery. Even though I put the watch back on two hours later, it registered my sleep as beginning at 4:30 and lasting all the way to the morning (if only I could really get 13 hours of sleep!). Plus, if my alarm goes off at 5:15 a.m. and I don't get out of bed right away and instead check messages on my phone or peruse social media for a bit, the 9 Peak Pro doesn't show me as awake until I'm solidly out of bed and moving around. That's been disappointing.
I assume all of that it is related to the Optical Heart Rate (OHR) sensor, because I have noticed on several occasions after a long and comfortable night's sleep, the 9 Peak Pro shows I regained only 24 percent to 40 percent of my body's Resources (a feature similar to Garmin's Body Battery). The measurement doesn't seem quite right, and my 9 Baro did better at Resources calculations and gauging how I felt upon wakeup.
There are also several small things that I think could be improved with future firmware updates, such as:
Lowering the aggressiveness of the normal alarm, which would work well with lesser vibration.
In a bit of juxtaposition to that first item, ramping up the aggressiveness of the timer function, which too-gently beeps when it gets close to 0:00 and does nothing after it hits that mark.
Relocate the selection to "end" an activity so that it's not directly next to the "discard" an activity spot.
Create more watch faces, especially those akin to the Outdoors watch face, which showcased barometric pressure readings and was my favorite to use with my 9 Baro but was cut from the 9 Peak Pro lineup.
Ensure connectivity never drops off with the phone in range. It only happened to me one, so maybe it was an isolated instance, but prior to an activity, the 9 Peak Pro wouldn't connect to the Suunto App that time. After spending several minutes trying to force the connection, I figured out to turn off then turn back on the phone's Bluetooth.
Lastly, it's important to address a question that has been asked often in the months since the 9 Peak Pro came out: What makes it "pro"?
That's a valid inquiry.
I think the 9 Peak Pro is what 2021's 9 Peak should have been. "Pro" indicates that it has something really above and beyond a base unit, and it has to be more than just a better UI. I play on trails to connect with nature, to find peace, to unplug from all that bothers me, so I care very little about distractions/extras such as contactless payment or in-watch music streaming. On-board maps would be a massive boost to what I feel is a top-tier turn-by-turn navigation functionality from Suunto and would certainly justify the "pro" moniker if that were here. Multiband would probably do it, too, though as noted above, I don't think it's necessary. In fact, I don't find maps to be necessary either, as I've never been in a position to desire them (nor would I legitimately be able to read them in a useful way on a watch), though I can see the appeal for some folks. (My reasoning is, in part, that smartphones have gobs of easier-to-read offline mapping possibilities these days.)
Perhaps, because of the extreme conditions that Suunto excels in, implementing a feature related to search and rescue or distress/first-response is an element that could justify its "pro-ness." Most people who love this brand aren't just wilderness users, they're really off-grid. Bringing together components related to severe weather, alerts and response — building off the onboard temperature and barometer tools and the SuuntoPlus Safe feature — has a lot of potential.
Overall, I like the functionality that the watch delivers, but it currently seems a bit of an overreach to give it a "pro" label, unless there are plans to import something new and big in the near future.
Final Thoughts
If I were to size my ideal watch, I'd shoot for 47 mm with at least a 1.3-inch display size. While there's a lot to be said for the sleek yet minimalist design of the 9 Peak Pro, I'm still partial to the style of the 9 Baro. I think the perfect watch for me is somewhere with the hardware and software of the 9 Peak Pro but closer to the size and style of the 9 Baro.
What's great about the 9 Peak Pro is that it is built to embrace the next phase at Suunto, where third-party apps (through the 2022-launched Suunto Store) are poised to bring a wealth of new activity, training and race-day tools to devices. And longer-standing features, such as Storm Alert, air pressure sensors and the on-board Compass, have enhanced my time outdoors.
» Related: Suunto Looking Forward: Watches, Resources and Sustainability
I have absolutely nothing negative to say about its accuracy, both in terms of GPS tracking and elevation metrics, for the land-based activities I pursue. Yet the watch is so compact that it's hard to remember you have it on your wrist. Couple that with some of the best sustainability initiatives around — Suunto is the only major watch brand not doing their manufacturing in East Asia (or at least the bulk of it), and the company uses fully renewable energy in its factory in Finland. The 9 Peak Pro, in fact, has the smallest carbon footprint among sportwatches, which at 7.5 kg is significantly less than any meaningful competitor.
It may not overall be enough to make folks leave Garmin or Coros or Polar if they're already entrenched in those ecosystems, but is worth the upgrade from the 9 Baro or another device in the 9 series? Yup!
---
Ryan Tipps is Managing Editor for ActionHub. He lives along the Blue Ridge Mountains, is an avid hiker, backpacker and trail runner and has been a part of the wilderness search and rescue community since 2005.