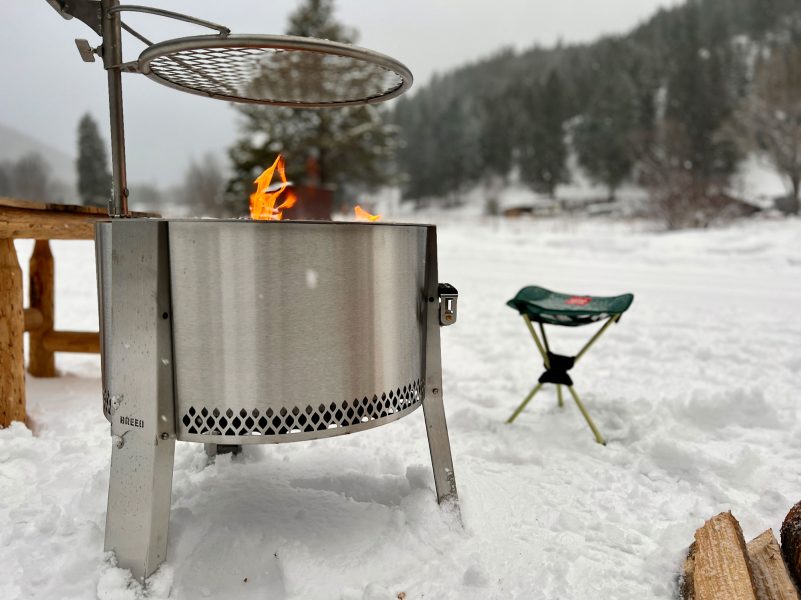 When you think of gathering around a campfire, you probably think of relaxation — sitting cozy in a chair snuggled up with your favorite blanket. You may even think of the sound of crackling wood and a feeling of warmth. In addition to relaxing, sitting around a campfire with friends or loved ones is a great way to connect and make memories. The heat relaxes your muscles and the light of the fire improves your mood. To find out how one company is further improving time around a fire, we get Unpacked with Breeo.
One common feature of campfires is smoke. If you've ever experienced the wind shifting during a campfire session, you know that smoke can quickly come barreling your way burning your eyes or forcing you to move your chair. Smoke also leaves a lingering distinct smell on your clothes. Thus, the phrase, "This is my campfire hoody."
Now imagine there is minimal to no smoke coming from your firepit.
That's what Breeo's founders, Andy Kaufman and Jr. Troyer imagined more than a decade ago when they set out to design a smokeless fire pit — which they accomplished in 2011 with the creation of the "Ablaze" fire pit.
Fast forward a couple of years, and Jonathan Miller joined the Breeo team. With a marketing background and a passion for living off the grid, becoming a Breeo business partner was a natural move for Miller.
Breeo's Beginnings
When the Breeo team launched the Ablaze smokeless fire pit in 2014, it won the Vesta award at the Hearth, Patio and Barbecue Association Expo. The following year, Miller and his wife traveled across the U.S. and Canada in their trailer on a "Rethinking Fire Tour" to demonstrate the smokeless fire pit in multiple cities.
Despite all the innovation, there were some design flaws that needed to be fixed. During manufacturing, the Breeo team coated each fire pit with black high temp paint. The visual appeal faded over time and eventually led to surface rust. And the fire pit was heavy. That's when Breeo's engineers moved towards using Corten Steel for their fire pits and focusing on portability.
"Breeo is very unique as a company," Miller said. "We buy blank sheets of steel, cut it, weld it, package it, warehouse it, ship it, market it, take photos and videos, all in-house."
And still today, Breeo's products are manufactured in the USA.
"We've managed tremendous growth while staying true to our 'Made in America' roots," added Miller. "Our core values at Breeo are flexibility, fearless feedback and focused on growth and fun."
Today, Breeo's founders believe in providing jobs in their own community in Lancaster, Pennsylvania.
"This has been a challenge, but it also allows us to be more nimble in responding to customers' needs," Miller said. "We can make changes in real-time to make the product better, and because our products aren't on container ships for months, the changes are immediate."
The CEO and half of the Breeo team are from the Amish community. "They are the heartbeat of Breeo's craftsmanship and their dedication to 'Made in the USA' products are what makes this company truly special."
The X Series Fire Pit and Outpost Grill
The Breeo X Series fire pit (released in 2019) was an iteration of Breeo's first innovation — the Ablaze fire pit.
"It took many rounds of iterations," said Miller. "We wanted something that had no paint or coating, but also wasn't as costly as stainless." The Corten steel and stainless construction was their answer. The X series fire pit was also when they invented their core X Airflow technology.
This technology is essentially a raised air vent design on the bottom of the fire pit that lets oxygen feed the fire. A double-walled design allows for hot air to rise through the gaps and circulates around the fire. The hot air goes through the holes around the top. The result is a cleaner more efficient burn.
In 2020, the Breeo team released the Outpost grill — an X Series accessory that allows you to grill over an open flame. The Outpost grill is also portable, and you can use it to grill over a traditional campfire — giving campers a way to grill in the backcountry.
Today, you can select from the X Series 19, X Series 24 and the X Series 30 in Corten Steel or for an additional cost, stainless steel, which all range in sizes of 22 incehs to 34.5 inches in diameter. All the Breeo X Series fire pits are compatible with the Outpost grill.
Miller said to date, their top two selling items are the X Series 24 and the Outpost grill and that his favorite thing to cook on the Outpost grill is bone-in ribeye.
Breeo's Portable Y Series Fire Pit
Miller loves Breeo's Y Series fire pit because it allows him to take the Breeo experience to faraway places.
"Whether it's to a tailgate, camping, hunting, etc. the Y Series is our most versatile product to date and the opportunities to adventure with it are endless," he said.
After field testing the Y Series, it's understandable why people are instant fans. The handle on the side of the fire pit allows you easily tote around the fire pit. A stand-out feature (other than the beautiful flame) is the collapsible legs. You lock legs in all the way in to carry it, halfway for a traditional fire, and all the way out if you're grilling with the Outpost grill accessory. And the Y Series weighs only around 30 pounds, so it's not too heavy to carry and load up in the back of your car or truck.
You can also use wood, lump charcoal or pellets for your campfire and cooking. By feel and aesthetic, the quality of craftsmanship of this fire pit is evident. The Y formation of vents at the bottom of the Y Series fire pit is like the X as far as airflow. You get an efficient clean burn. Even with softer wood like ponderosa pine, which we have an abundance of here in my home state of Montana, the fire lasted a couple of hours with a clean smokeless burn.
Paired with the Outpost grill (which was very easy to install and use) this Y Series fire pit is ideal for campers and road trippers. A flame-cooked hamburger with toasted buns was a nice treat during field testing, and the lack of smoke was noticeable.
Beyond Fire Pits
In addition to Breeo's luxury firepit, the Luxeve, designed for use as an upscale backyard fire pit, you can find a handful of add-on fire pit accessories on their website, like a heat deflector, fire pit lid, griddle, cast iron kettle, gloves and more.
You'll also find a high-end X Series chair with accessories and an X Series table made with the same quality craftsmanship as their fire pits.
Miller said Breeo has many new products and expansions in the works as well as continuing to provide more value and tools to their existing customers.
"An example is our free Firewood Finder," Miller said, "which is a tool on our website that helps anyone across the U.S. locate and order quality firewood for an elevated fireside experience."
---
Unpacked is a regular feature on ActionHub to help people discover new performance and lifestyle items that will amplify their adventures and outdoor experiences. This article was not sponsored by the brand or any PR/marketing agency, and all opinions are that of the ActionHub writer.
Suzanne Downing is an outdoor writer and photographer in Montana with an environmental science journalism background. Her work can be found in Outdoors Unlimited, Bugle Magazine, Missoulian, Byline Magazine, Communique, MTPR online, UM Native News, National Wildlife Federation campaigns and more.