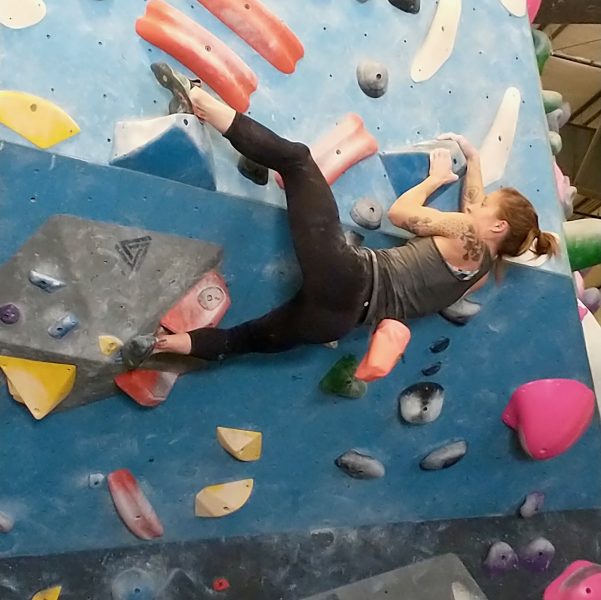 I don't normally mess with slipper-style climbing shoes. The new Mantra from La Sportiva had been sitting untouched in my closet for a few weeks until I pulled them out to bring along on a few back-to-back cross-country trips. If slippers have anything going for them, it's convenience: easy on and easy off, plus a simple design that allows them to pack down pretty flat. A little extra ease goes a long way when you're running on a tight schedule while living out of a suitcase.
But I'm typically hesitant to rely on slippers as my only option. There's nothing like the feeling of cranking down on a heel hook, only for the back of your shoe to pop off as soon as your fingers tickle the next hold. And as a climber who barely hits five feet tall on a good day, there's no telling how often I'll have to use my heel like a third hand. Girl's gotta do what a girl's gotta do to maximize every available inch.
All this to say, I went in with relatively low expectations. I'll admit that La Sportiva rarely makes a shoe I don't like … but I also recognize that there's a first time for everything.
Maybe La Sportiva truly can do no wrong, though, because the Mantra blew those expectations out of the water.
Less Is More
The OG version of the Mantra, released way back in 1999, was one of the first "minimalist" climbing shoes on the market. It avoided all the bells and whistles in favor of unprecedented simplicity.
The 2022 iteration ups the ante. Modern technology makes the new Mantra simultaneously more minimal and more capable. Microsuede, a slingshot rand using one single piece of rubber, and the absence of a midsole come together for a shoe that, at just 150 grams, feels like it's barely there.
Stuck Like Glue
This slipper doesn't act like any other slipper I've ever tried. It goes on just as easy as I'd expect, but the Mantras stuck like glue to my foot from that moment forward — heel hooks and all.
A thorough investigation tells me that a few key design choices make this possible. For one, the shallow and malleable heel cup lacks structure in the best way. The whole shoe is so soft that you can literally roll it into a ball. On the forefoot, this looks like thin — but still protective — rubber wrapped in a way that eliminates all edges, corners, and angles. This "No-Edge" design gets your toes as close to the rock as possible without eschewing the shoe entirely.
But as much as my toes love the barefoot vibe, my heels are even happier. That same soft rubber practically suctions itself to all the nooks and crannies back there. Don't expect it to offer the same protection as, say, the bulbous heel cup on the classic Solution. The Mantra's lack of rigidity, though, is what keeps the back from popping off in the middle of those tenuous heel hook positions.
Combine such a malleable sole with rubberized ribs on the inside of the tongue that grip the top of the foot, and you get a shoe that simply refuses to budge.
Jack of All Trades
Normally, such soft and sensitive shoes make great tools for tension-dependent climbs. Smearing, scumming, and stemming meet their match in a shoe like the Mantra. But I was surprised to find myself keeping them on no matter where I went, indoors or out, from steep overhangs to delicate slab to compression corners. The close fit made up for any potential deficiency on small edges or precise jibs. Since I could feel the holds so well, as if there was nothing between my foot and the wall, I didn't have to rely on the shoes themselves. My toes were free to work their own magic.
For beginner climbers, that could be the Mantra's main downside. You do need dexterity in the toes to master this style of shoe. They perform so well because they don't get in the way of how your feet want to move on the wall. But it takes time to build that muscle memory. The Mantra would likely make a better choice for more advanced climbers with a deep understanding of body English.
Overall, I'm so pleasantly surprised with the Mantra that these shoes have earned a place in the main quiver — not just for an easy travel option. They won't do the work for you. But that's the best part. The Mantra will bring out the best in you by giving the power back to your feet.
Go with your regular size in La Sportiva for a fit that feels too tight at first but quickly molds to your foot shape. These shoes, which have microfiber, unlined leather, and Vibram XS Grip2 rubber, retail for $169.
---
Lucie Hanes is an avid writer and adventurer on rock and trail with a passion for sharing her outdoor enthusiasms through journalism and mental strength consultation.