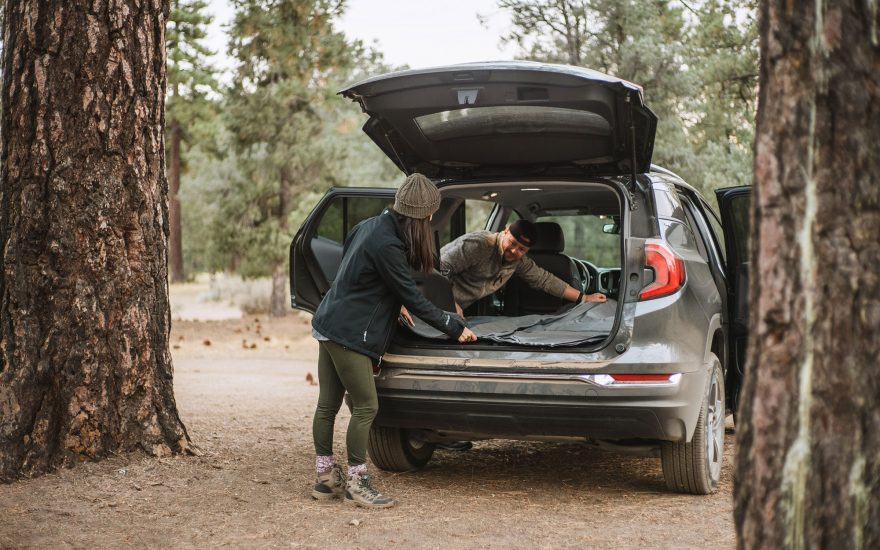 If you've ever spent an uncomfortable night in your compact car, SUV or truck after a long day exploring outside, you know how interrupted your sleep can be. Whether it's an armrest digging into your hip, the stiffness of a traditional camping sleep pad or simply the lack of legroom to stretch out, you're not alone. And like most car sleepers, you know there must be a better way to get a good night's rest in your vehicle. To find out how one company is doing things differently, we get Unpacked with Luno.
After a snowboarding trip to Mammoth Mountain in California more than five years ago, founder Pete Ducato's vision for Luno began.
"We weren't willing to pay $300 for a simple hotel room," Ducato said. "So we opted for sleeping in our Subaru. The convenience of sleeping in the car was well worth it, but the soreness resulting from a night on our camping pad wasn't."
After that road trip, Ducato knew there had to be a better and easier way to get a comfortable night's rest in his car. He started Luno trying to solve a problem.
Since launching Luno in 2017, Ducato and his team have come a long way with innovation and design. Today, Luno's flagship Air Mattress 2.0 can fit a wide range of vehicles, and their website allows you to sort by make, model, and year — creating a comfortable sleeping experience designed specifically for adventure road-tripping.
"All of our mattresses are tailored to fit specific vehicle types and we test and confirm fitment before adding them to our website." said Zack Shelhamer, Luno's vice president of strategic growth. "Our in-house designers and product engineers are all based here in the U.S. and are avid camping enthusiasts that use our product."
For Luno, refining gear to create a terrific car camping sleep solution is at the heart of what they do.
"We like to say our gear is made for campers, by campers," added Shelhamer.
Leading the Comfortable Car Camping Space
Luno's team continues putting thought into their products, from durability to practicality. The company says that every piece of Luno gear offers a solution to a common car camping problem.
For example, their best-selling product is their custom-fit mattress that converts your vehicle into a comfortable bed, allowing you to have a better sleeping experience. Their car window screens fit your vehicle's windows to keep light at bay and give you privacy for uninterrupted sleep. And the Luno magnetic shoe storage bag easily attaches to the side of your car to stow your boots or shoes. This keeps unwanted dirt out of your sleeping area while giving you easy access to your footwear when you open your door. And all of the Luno gear is designed to work together.
For Shelhamer, his personal favorite piece of Luno gear is the front cab air mattress.
"Having the ability to convert the front seats of a sprinter van into a bed for our little one or pup is amazing," he said.
Today, Luno remains the first-ever brand dedicated to creating a better car-camping experience.
Luno Culture
Ducuto's favorite road trip was a week-long stint from Salt Lake City, Utah, to Moab, Utah, that he took with his cousins. They went fly fishing, rafting and biking, and Ducato and slept in a rented RAV4 that they decked out with a Luno Air Mattress, Fitted Sheet, Seatback Organizer and Window Screens.
"This was a favorite road trip of mine because it was one of the first trips where I took the Luno Air Mattress as a carry-on," Ducuto said. "It was so cool to fly into Salt Lake, pick up a rental car, and turn it into our adventure mobile for the week."
 

 

View this post on Instagram

 
This adventure culture at Luno doesn't stop with Ducuto. Their entire team is intentional about fostering a culture that enables staff to enjoy the outdoors.
"Whether it's offering time to volunteer for a local trail clean up, planning hikes before work, or taking time mid-day to go climbing together, we want all of our employees to have the opportunity to be fulfilled both professionally and personally," Shelhamer said.
And similar to how Ducuto started the brand, some of the best ideas still come from camping with friends and experiencing the outdoors — which is exactly the company culture Luno exudes.
Testing Luno Gear First-Hand
After getting my hands on the Luno Air Mattress 2.0 custom-fit for a 2019 GMC Acadia, I experienced first-hand the car-to-bed transformation.
The most unique feature of Luno's air mattress is that you air it up in halves. If you're traveling with a partner, you can adjust each side of the air mattress to accommodate each person's preferred firmness. Or, if you're camping solo, you can fold the mattress into one, giving you added room for luggage or additional camping gear.
After watching a quick instructional video produced by the Luno team, installation with my husband's helping hands went well.
With a few minimal adjustments to the seats (and after figuring out how to remove the headrests on the middle seating row) we set up camp in no time — much quicker than setting up a traditional tent with an air mattress.
The included air pump filled up the mattress with air quickly and the fitted Luno Car Mattress Sheet went on well after a few tries of turning it to match up the corners correctly. The mattress was cozy with a depth of 4 inches that can accommodate up to 600 pounds. Since the mattress is filled with grids of air beams, I could definitely feel the added support. And because Luno designers made the air mattress to custom fit the Acadia, the mattress maximizes the sleeping area and is quite roomy. You can really stretch out comfortably.
This sleep system is ideal if you're sleeping in bear country or snake country — or if you simply want to extend your camping season through the winter in cold weather states.
Check out the full Luno field-test set-up process here on TikTok.
Luno Top Sellers, Challenges and Successes
By far, Luno's mattresses (SUV, Van, and Truck) are their top sellers, followed by the custom-fit privacy curtain and window screens.
"Personally, I'm a big fan of our magnetic waterproof shoe bag as it can be used for so much more than a shoe bag," Shelhamer said. "But it's a relatively new product for us, so it will take some time before we see how it performs against some of our other top sellers."
For the Luno team, education around car camping vs. tent camping is one challenge they have.
"Camping is such a traditional activity," added Shelhamer. "And when we think about it, we think we need a tent, good weather, and all of these accessories to be able to go; however, it's much easier than that. If you have access to a car, you can camp comfortably and safely in various conditions."
Shelhamer said that another challenge Luno has is helping campers differentiate Luno's air mattress quality from others on the market. Since Luno's gear is built for the backroads, their mattress quality goes beyond a traditional air mattress you'd get from a big box store.
"Our in-house design team has taken the concept of a standard air mattress and modified the internal structure, durability, fabric, and packability — all to make car camping super easy and comfortable," said Shelhamer.
The Luno team is proud that their gear is making the outdoors more accessible for those traveling solo and wanting a safe sleep environment (the ability to lock the car at night is paramount for many) or for those with a mobility impairment and can't easily get in and out of a tent, vehicle-based camping is a great solution.
"I also love that we are pulling together a community of passionate people that truly love vehicle-based camping by having products to offer each adventurer no matter their vehicle of choice — cars, SUVs, trucks, vans — we offer a good sleep solution for all," added Shelhamer.
What's Next for Luno
Ducato said Luno's research and development team will continue adding more vehicles to their database and scaling their car camping ecosystem — focusing on growing their community of vehicle-based adventures through hosting events and producing educational content across their social media channels.
Follow Luno on Instagram, Facebook, YouTube, Pinterest and TikTok.
---
Unpacked is a regular feature on ActionHub to help people discover new performance and lifestyle items that will amplify their adventures and outdoor experiences. This article was not sponsored by the brand or any PR/marketing agency, and all opinions are that of the ActionHub writer.
Suzanne Downing is an outdoor writer and photographer in Montana with an environmental science journalism background. Her work can be found in Outdoors Unlimited, Bugle Magazine, Missoulian, Byline Magazine, Communique, MTPR online, UM Native News, National Wildlife Federation campaigns and more.