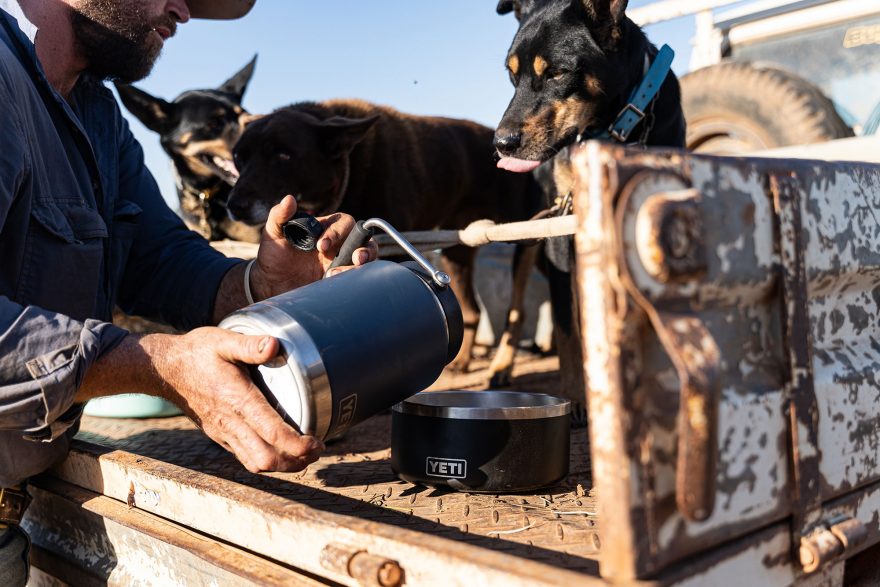 No backcountry gear list is complete without this functional and durable YETI drinkware on it.
---
YETI drinkware is a tried-and-true companion in the backcountry. From a way to keep that camp-side cup of coffee warm on a crisp morning to the refreshing blast of still-cold water at the end of a hike, YETI had made the kinds of tumblers and water bottles that hit just right on most any adventure.
And let's be honest, when your employer or a trade show vendor offers you a company-branded YETI as a seasonal gift or as part of a swag bag, you know they didn't take a shortcut in getting you something that you'll actually use the next time you head into the mountains or on a float.
While many people conjure up an image of a tumbler when they think of YETI drinkware, the reality is that the company makes a whole bevy of items beyond tumblers, such as water bottles with a great chug cap, huge water jugs for when you really need to rehydrate a lot and the perfect mugs, no matter whether you drink a little bit of coffee … or a whole lot!
So we're going to go over our favorite drinkware items from YETI's lineup — the ones that suit our daylong and multiday adventures into the wilderness. If you buy from YETI's website, you get free shipping and free returns, and these items come with a great five-year warranty.
Here are the YETIs that stand out:
YETI Rambler 26-Ounce Water Bottle
YETI refers to this bottle at the "goldilocks" item in its water bottle line: That's because it's large enough to hold a few hours' worth of water without being so big that it's unwieldy to carry. It fits nicely inside of a backpack, and it features a "chug cap," which lets you get a lot of water out with each chug on the trail (beware not to use the chug cap with carbonated beverages).
The TripleHaul handle is sturdy for clipping the bottle to a bag or a kayak or otherwise securing it down when needed, and the exterior is a kitchen-grade, dishwasher-safe stainless steel that isn't prone to rust and is extremely difficult (basically impossible) to puncture.
The 26-ounce version weighs 1.4 pounds and measures almost 11 inches tall. If you want to let your creative side fly, it's available in nine colors. And while the 26-ouncer is our go-to size, there are also 18-, 36-, 46- and 64-ounce versions to reach for if that suits you better.

---
YETI Rambler 1-Gallon Water Jug
This summer after finishing a hard-climbing 20-mile run through the Blue Ridge Mountains, I was more than a little sick of the drink mix I had in my hydration bladder. I wanted plain water — cold water — and lots of it. That's where the one-gallon Rambler from YETI comes in super handy. Even after hours in a hot car, this well-insulated water jug does not disappoint!
There are a few different color options for the jug or you can even pick straight-up stainless steel, if that's your preference (yeah, we know you need somewhere to put all of your stickers). The 18/8 stainless steel is puncture- and rust-resistant, and the lid features a comfortable magnet-powered Magcap Dock so that your cap stays close by.
It measures in at 4.5 pounds when empty and stands 12.4 inches tall. And while it's called a "water jug," don't hesitate to fill this container with coffee or other beverage of choice. It can handle it all and keep the temperature just the way you like it for a long, long time.

---
YETI Rambler 14-Ounce Mug
This is the mug you want to take everywhere with you! It's durable with an easy-sliding MagSlider lid, and you don't have to worry about it leaking on you when you go to take a sip. From camping to kayaking to van life to time spent in the home office, the 14-ounce mug is the perfect size for sipping some hot coffee or tea.
It functions this well thanks to a double-wall, vacuum-insulated body, so while your drinks stay just the right temperature, you're not going to feel it on your hands. And the mug's build means that it can take a beating on the trail and still be up to every task.
The Rambler 14-Ounce Mug comes in 12 colors, and there is a slightly smaller 10-ounce size and a larger 24-ounce size, if that fits your life better. Empty, it clocks in at a pound and measures 5.1 inches wide by 4 inches tall.

---
YETI Rambler 30-Ounce Tumbler
No list is complete without including YETI's iconic tumbler, shaped to both fit comfortably in your hand and easily into a cup holder. The 30-ounce size is YETI's largest in the tumbler line, but 10- and 20-ounce options are available.
It brings together just about all of YETI's best drinkware features into a single item: from the durable and rust-resistant material to the double-wall, vacuum insulation to the leakproof MagSlider lid. Need that extra big container of coffee to get you through till lunchtime? This is your tumbler. Need your water cold while you drive out to a national park trailhead? This is your tumbler. It's effective for so many different things!
Get a little wild with up to 12 colors to pick from. And this tumbler won't bog you down, weighing in at 1.1 pounds and standing just under 8 inches tall.

---
YETI Rambler 16-Ounce Stackable Pint
If you want to buy in bulk for a group camping trip or other well-attended outing, the stackable Rambler is your best option. With the lids off, you can pile these pints high. Plus, it reduces the need for the old red Solo cup or any other single-use plastic.
These containers have an easy-to-use MagSlider Lid and the dishwasher-safe puncture- and rust-resistant material you've come to expect from YETI.
These stackable pints weigh only a half-pound each, and we find the ideal size is the 16-ouncer — though a 26-ounce version is also available. There are lots of colors to choose from, too.

---
This article was published on behalf of YETI.
---
Ryan Tipps is Managing Editor for ActionHub. He lives along the Blue Ridge Mountains, is an avid hiker, backpacker and trail runner and has been a part of the wilderness search and rescue community since 2005.