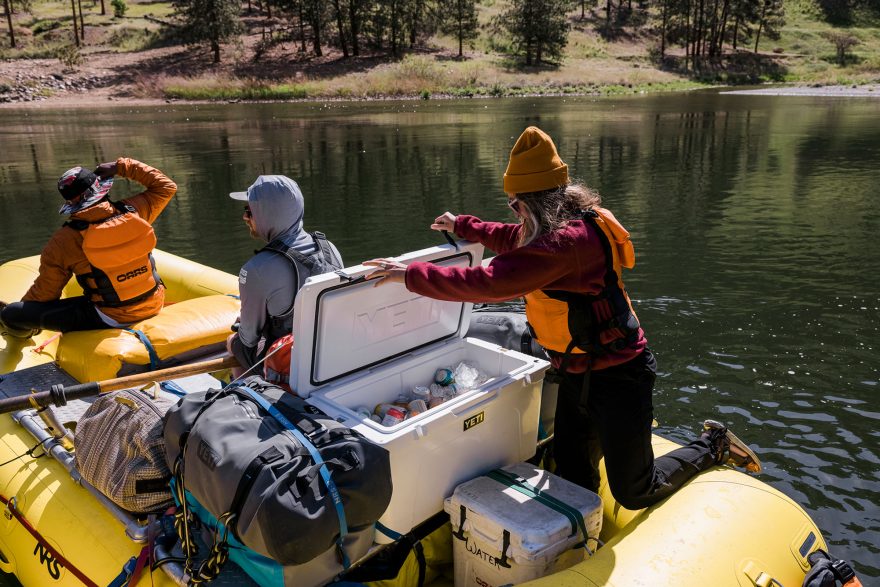 From the portable Hoppers to the rugged Tundras and the Roadies, YETI makes some of the best coolers on the market.
---
My time spent playing in the woods is rarely short — maybe it's a three-hour trail run or a mountainous bike ride on a bumpy fire road or an all-day summit hike. Couple that with the heat and humidity in my area along the Blue Ridge Mountains, and that can slow my pace and extend my outings even more. It's great to have a bevy of drinks — still cold after hours in the car — waiting for me in a YETI cooler.
After these kinds of adventures, I usually like to have a bottle stowed away with plain water, one with some recovery drink mix and, as a treat, some refreshing apple cider. I have yet to find a better way than a YETI cooler to keep these drinks cold for longer.
The soft coolers from Yeti fit well on the floor of my car and are particularly easy to transport, and in just the past year or two they have been improved up and outfitted with even more features. For example, the Hopper line from YETI has a DryHide double-TPU Shell and thick ColdCell Insulation, along with things like an extra wide mouth, quick-release buckles, and accessory attachment points. It's the kind of cooler you'd also find yourself packing on a kayaking trip or maybe a one-nighter in the woods.
On the other end of the spectrum are YETI's hard coolers, which are amazingly durable and can be found in pretty large sizes — perfect for that hanging-out-with-friends vibe and longer-term adventures. They have up to three inches of PermaFrost Insulation, and often in the Roadie line (one of Yeti's most iconic models) are equipped with wheels to more easily haul them down to a waterside picnic table or to your Trail Ragnar Relay campsite.
♦ How long will it keep your ice? Check out YETI's ice retention guide.
The moment you use these coolers, you'll understand that yours was money well spent. There are many varieties and sizes for you to have the opportunity to find the right cooler for your adventure, and the construction is sure to last. YETI coolers have been a top choice for backcountry and water sport folks for many, many years, and the newest iterations of YETIs show us exactly why that is.
If you buy from YETI's website, you get free shipping and free returns, and these coolers come with a great five-year warranty.
Here are some of the best YETI coolers in the company's top model lines, and they're our recommended go-tos when it comes to helping stay chill outdoors:
YETI Tundra 75 Hard Cooler
This is an absolute classic, both in terms of design and functionality. Available in two colors (white and tan), the Tundra 75 Hard Cooler is ideally sized for bringing both a good amount of food and lots of drink cans with you on an adventure. When coupled with a lock, it's got a bear-proof design (this is important!), and its rugged thick shell is capable of keeping cubed ice frozen for days in many types of environments.
Like all of the YETIs in the Tundra line, this one has T-Rex-styled lid latches that are made to never bust, as well as the rotomolded plastic that allows it to be durable yet relatively lightweight — similar to how polyethylene whitewater kayaks are made. Throw in some non-slip feet, tie-down slots and stout double-haul handles, what's not to love?
The Tundra 75 is 33.5 inches by 17.9 inches by 17.5 inches and weighs 34 pounds. While the 75L model hits a nice middle ground for a lot of outings (it can hold 57 12-ounce cans with ice), there is a lot of opportunity to find the right size for your needs. YETI has Tundra Hard Coolers in 35s all the way up to 350s — so you've got a lot to pick from.

---
YETI Hopper M30 Soft Cooler
I'm not going to mince words here: This is my favorite YETI cooler, thanks to how well it functions and its versatility and portability. Plus, thanks to some recent upgrades from YETI, this line of coolers is better than ever. It has replaced the old HydroShield technology with improved MagShield Access 2.0, now using powerful magnets to create an ultra leak-resistant shield that seals closed easily and stays open when you need it to.
The Hopper M30 fits in a lot of nooks and crannies, meaning I can put it in the bed of my truck, the rear floor of my car, or nestled in a hatchback with a bevy of other camping gear. And with 30L of capacity, the closed-cell insulating foam technology called ColdCell and the durable DryHide Shell outer material, it is as close to perfection for my needs as I've been able to find.
The M30 has internal space of 22-by-10-by-16 inches and weighs 7 pounds. It can hold about 26 12-ounce cans including ice. Want to get extra snazzy? It comes in five colors: Nordic Blue, Nordic Purple, Alpine Yellow, Navy and Charcoal. (If you opt go a bit smaller, the Hopper M20 is not just a soft cooler but it's a backpack as well!)

---
YETI Roadie 60 Wheeled Cooler
When a cooler is full with burgers, brats, beer and all the fixin's, it's heavy. No two ways around it. The Roadie 60L starts off at 29 pounds and only adds weight the more you're packing. So, the built-in wheels become a bit of a godsend if you have to haul the cooler to a campsite, picnic area or to a boat ramp.
While also coming in smaller versions, my preferred 60L version can hold more than 50 drink cans and has the same kind of durability and ice retention of the YETI's Tundras. It also has the PermaFrost Insulation, tie-down slots and rugged hinge system that you'd find on a Tundra.
Much like with a suitcase that you wheel through the airport, the Roadie has a comfortable retractable handle. And its wheels are a solid, single-piece construction that's impact- and puncture-resistant — so no need to fret about dragging it over the sharp rocks.
If you do opt for another size, the 24L Roadie isn't wheeled while the 48L one is. The largest, the 60L version, comes in both white and charcoal and has some nuanced yet welcome design features, such as a leakproof drain plug, sizing for wine bottles and two-liter soda bottles and one-handed quick-latch access.

---
YETI Hopper Flip 8 Soft Cooler
If you want to travel light for a great day trip, this is the cooler for you. YETI's Hopper Flip model line is engineered it to be sleeker while just as tough. For this kind of travel, the small 8L version works great, though YETI also makes 12L and 18L versions.
The Hopper Flip has a closed-cell rubber foam that offers better insulation than many other types of soft coolers, and I love the heavy-duty and leakproof zipper. As with the regular Hopper, the Flip has a DryHide Shell that is built to withstand punctures and damage from UV light, as well as be mildew resistant.
The fun doesn't stop there, of course, as the HitchPoint Grid system makes it easy to accessorize the cooler, just in case you're looking to add a YETI Sidekick Dry Gear Case or a Beverage Holder.

---
This article was published on behalf of YETI.
---
Ryan Tipps is Managing Editor for ActionHub. He lives along the Blue Ridge Mountains, is an avid hiker, backpacker and trail runner and has been a part of the wilderness search and rescue community since 2005.