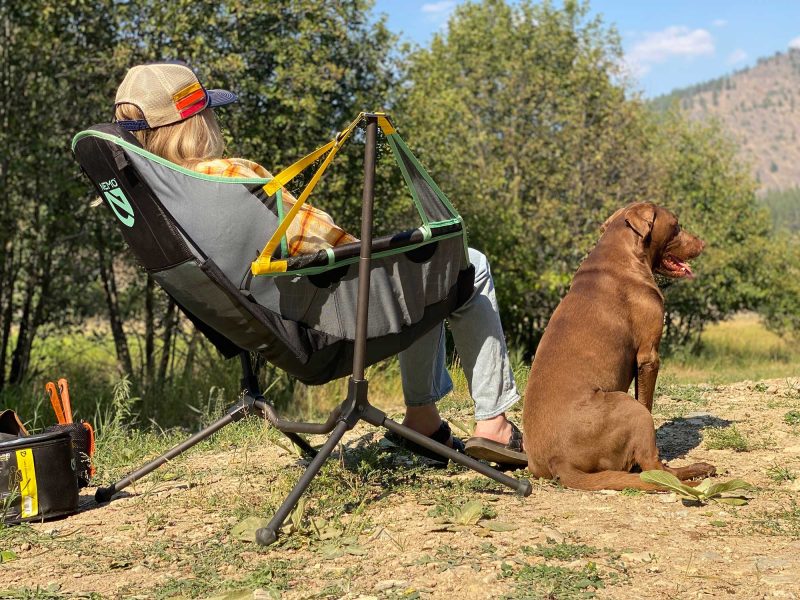 Is the Nemo free-standing swinging camp chair worth the hype? Let's find out.
---
If you've ever tried to enjoy sitting on a tree stump at camp or struggled to get comfortable in a fold-up-style camp chair, you've probably learned to appreciate a comfortable camping chair when you sit in one. Comfort after a day of adventuring is a must — especially if you've been hiking or climbing and you're looking forward to relaxing your muscles.
But with so many camping chair options out there, it can be hard to find the right camping chair for you without actually sitting in (and testing out) different styles and sizes of chairs.
On social media platforms like Instagram and TikTok, creators give swinging hammock-like chairs two thumbs up, with some videos getting more than a million views. And the Nemo Stargaze Reclining Camp Chair is among those chairs. When you're suspended and can swing in a chair at camp, you not only bring an element of fun to any space — often bringing out a fun inner child vibe — but you may also feel more comfortable and relaxed.
Swinging (hammock-like) freestanding chairs adjust to your body instead of forcing your muscles to commit to one specific shape like a fixed chair. And since your muscles aren't forced into place, you're more comfortable, more supported and less tense.
After a month of testing the Nemo Stargaze reclining camp chair in my home state of Montana, it's worth the hype. And it's great for use beyond the campground, like sporting events and backyard barbecues and porch swinging. But it's not for everyone.
Here's the scoop:
Set-Up And Initial Impression
The Nemo Stargaze reclining camp chair came packed much smaller in person than anticipated. Their product engineers did a great job designing the chair to break down and fit into a small case measuring just 23.5-by-6.5-by-6.5 inches.
With the adjustable shoulder strap, you can easily carry it over your shoulder or simply carry it by the small hand strap on the end. The packed weight of the chair seemed comparable to other portable camping chairs I've used as the packed weight is just a little over 7 pounds — a similar feel to carrying a big-sized lemon or a Pomeranian dog.
The first time you set up the chair, it's easy if you follow along with Nemo's instructional YouTube video. The bottom of the chair (also called the suspension frame) clicks together easily and feels like putting together the poles of a high-end camping tent, which makes sense as it's made of lightweight aircraft-grade aluminum.
Two tiny poles snap in place to support the back of the chair and headrest. Those can take a bit of finagling to get them to fit tight under the tabs on the first try. But after a few tries, you should catch on. (It takes a bit of muscle).
After you set up the suspension frame, the top of the chair will easily snap onto the top of the poles to secure it in place. Then, you're ready to enjoy.
As a first impression, the chair was easy to set up and felt cozy, relaxing, and fun to sit in. The swinging motion felt natural and fluid and the built-in auto-reclining feature — which is a system of two straps on each side — worked well. I also liked that the back of the chair is like a mesh fabric and allowed for a breeze to come through.
Field-Testing At Camp
The first thing I noticed when testing the Nemo Stargaze reclining camp chair in the field was that the chair legs sit nicely on uneven surfaces (like rocky mountain terrain), so you're not teeter-tottering or unstable. After setting the chair up a few times, it became easier.
The cup holder worked well for a smaller reusable water bottle and was just okay for a 12-ounce can. The 12-ounce can seem a little unstable in the cup holder while I rocked, although it didn't spill. The pocket held my phone well.
Since the back of the chair breathes well, I found it nice to feel a breeze on my back while enjoying camp. I like the hammock feel of the chair, too. It's fun and relaxing.
I struggled to pack the chair back into the bag until I watched a YouTube video on how to pack it down and stow it away. After that, it made sense and was easy to do.
At camp, I found myself wanting a footrest. The chair is comfy as it is since you sit low to the ground and can easily swing, but with a footrest, it elevates your comfort even more. If you have a camping stool or even a tree stump, you'll want to try swinging with your feet up.
I've been using this chair a lot beyond for just camping. It's great to use as a swing on the porch to watch the sun rise and set and of course, to recline in and stargaze. It's also my go-to chair for sporting events and simply sitting around the campfire in our backyard in rural Montana. I imagine it would be nice on the beach, too. It's even been a go-to chair to sit inside on occasion for my family. And as a side note, toddlers love this chair, too as their little legs can reach the ground and they can swing themselves.
The pros:
Swings smoothly with a relaxing motion
The supportive padded headrest that sits high to support your neck
Can set up on rocky or uneven surfaces
Auto-reclining feature works well so you can recline and see the stars
Has a cup holder and pocket for your phone
Breathable mesh back
Lightweight
Easy to set up
Made of high-grade quality materials
Worth the investment, if you'll use it a lot
Comes in a variety of colors
Multi-functional
Comes with a Nemo lifetime warranty
The cons:
Weight limit of 300 lbs.
Can seem small for taller people with long legs or wide hips
Challenging at first to pack back up into the case
Higher price point than others in its category
Flammable so need to pay close attention to campfire sparks
You can read more about the Nemo Stargaze Reclining Camp Chair here.
---
Suzanne Downing is an outdoor writer and photographer in Montana with an environmental science journalism background. Her work can be found in Outdoors Unlimited, Bugle Magazine, Missoulian, Byline Magazine, Communique, MTPR online, UM Native News, National Wildlife Federation campaigns and more.
---
We are committed to finding, researching, and recommending the best products. We earn commissions from purchases you make using the retail links in our product reviews. Learn more about how this works.