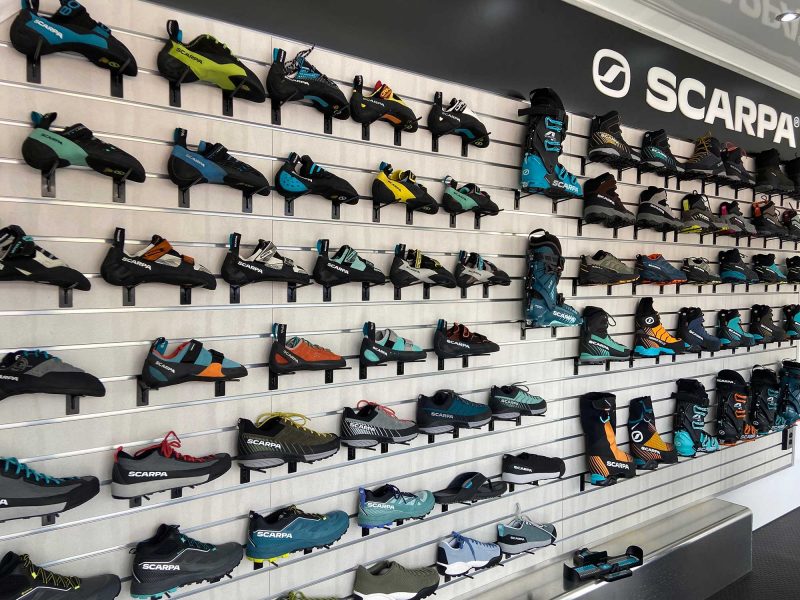 No matter how necessary, drastic change never happens overnight. The entire outdoor industry knows — or should, by now — that brands have a responsibility to craft initiatives leading toward more sustainable practices for production. Without major shifts, the gear that we use to access and explore the places we love will inevitably come back around to inflict harm on those cherished spaces as plastic pollution piles up in congested landfills and toxic chemical byproducts contaminate the air we breathe, water we drink, and earth we travel.
Taking the easy way out today pretty much guarantees a much more difficult path ahead.
But that doesn't mean that all-or-nothing is the only way forward. Too many outdoor brands do opt to stick with the status quo simply because the idea of making sweeping changes feels overwhelming. It may even be impossible for some sectors of the market to find alternatives that wipe away their footprint, even well into the future. The intimidation holds them back from making any change if they can't count on making it all.
We're at the point, though, where the little changes are the big changes. Anything that breaks routine helps set the wheels in motion, regardless of how far the car actually goes right now. SCARPA is one of the brands learning how to make the kind of slow and steady moves that are more realistic than the giant leaps that might take longer to implement — knowing that we can't stand to wait anymore.
The brand's line of Planet shoes represents their foray into more environmentally conscious practices that incorporate recycled material, reduce derivative waste, and limit carbon emissions throughout the production process. There's soon to be a Planet shoe for each corner of the outdoor market that SCARPA covers.
The Mojito Planet casual sneaker initiated the trend, with a number of others set to release in Spring 2022: the Mescalito Planet approach shoe, the Mescalito TRK Planet GTX hiking boot, and the Spin Planet trail runner.
Mojito Planet
This version of Scarpa's most popular lifestyle shoe replaces the original leather upper with regenerated suede, as well as swapping out 30 percent of the lining, footbed, and outsole for recycled material.
The production process involved in obtaining and repurposing suede for the upper results in 50 percent recycled material in this part of the shoe, on top of a 32 percent reduction in chemical use and 66 percent reduction in water waste. The shoe itself stays true to the same purpose as the original: a street-style sneaker embellished with technical touches so that it can keep up from dirt and rock to sidewalks and coffee shops.
SCARPA even took this one a step further with the Mojito Bio, a 100 percent biodegradable version that will completely decompose in the landfill within 18 months. The next iteration, the Mojito Wrap Bio, will offer a design upgrade with a wrapped midsole constructed from sugar cane and bio-based rubber under a knitted bamboo upper for better breathability in time for the warmer seasons.
Mescalito Planet
The next upcoming Planet release charges into the approach shoe arena as the brand's first steps into technical territory using recycled material. The upper employs Perspair fabric from recycled yarn for a single-piece construction that eliminates the rubber rand characteristic of most approach shoes.
PU Tek weaved into the fabric adds durability instead, while Vibram Megagrip combined with LiteBase technology keeps the outsole light but sticky. In between, the EVA midsole boasts an additional 45 percent recycled material. Similar features with a higher rise up the ankle and Ecostep Evo outsole from 30 percent recycled material make up the TRK version, plus a 20 percent recycled rubber toe rand for additional protection on the forefoot and GORE-TEX membrane from a whopping 98 percent recycled components.
Spin Planet
SCARPA entered the running world only about five years ago, but they're already diving into advancements that aim to prove that sustainability and performance don't have to be mutually exclusive. As one of the few brands brave enough to attempt the combination so far, the Spin Planet represents an introduction to their highest hopes for the running sector of the outdoor industry.
You'll feel the same comfortable cushion for stability over rolling and rocky terrain in every step thanks to a 4 mm stack height fit to tackle long distances, on top of a flared heel for trustworthy landings on unstable ground and flex channels throughout the sole for support all across a wide range of movement while navigating meandering trails. The main difference comes in with the 100 percent recycled upper, 45 percent recycled midsole, and 30 percent recycled outsole.
Forging Ahead
This coming Planet line give SCARPA a way to plug ecologically conscious production practices into almost every corner of the market that they address. Only the pure climbing shoe sector still needs a Planet designation for the brand to cover all of the bases.
But SCARPA doesn't see the Planet line as just another task to check off the list.
"The main question right now," muses SCARPA rep and senior director at Verde Brand Communications Dave Simpson, "is how we can take what we're doing in the Planet shoes and bring it into the entire line."
The brand's ultimate goal is to use the Planet line as an experimental entry into sustainable operations and eventually do away with any special designations in favor of a broad commitment to these design tactics. They're also on their way toward B Corp Certification, which acknowledges a company's dedication to sustainable and recycled products through all aspects of production. Only a few other parallel businesses, like Patagonia, have put in the work to achieve this level of recognition. But getting there isn't a question of "if" for SCARPA; only the "how" remains.
"If you can make just as good a shoe with recycled material, it's a no-brainer," Simpson remarks. "We just have to start somewhere so that we can figure out how to go all the way. This is a start line, not a finish line."
---
Lucie Hanes is an avid writer and adventurer on rock and trail with a passion for sharing her outdoor enthusiasms through journalism and mental strength consultation.