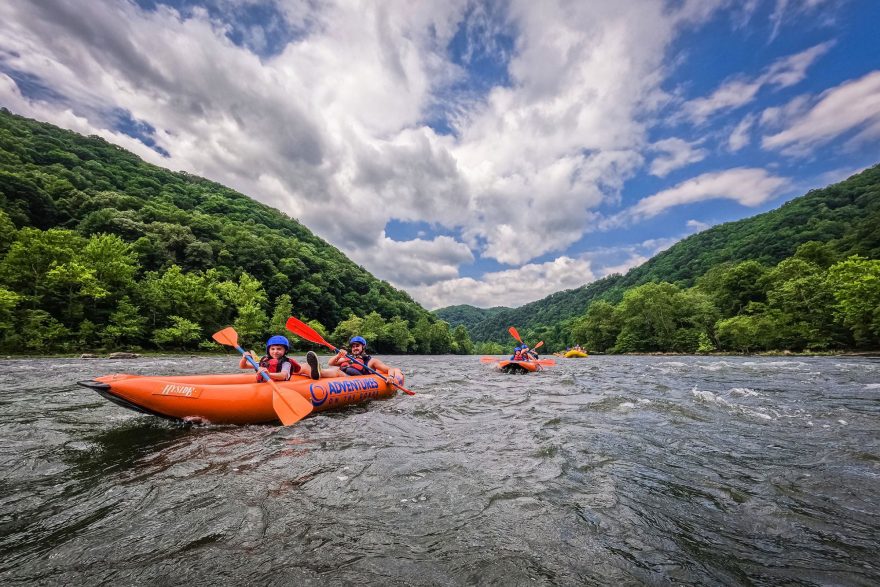 Adventure resorts are popping up all over, but their evolution took time
---
The modern adventure resort offers a wide variety of outdoor pursuits, all within access of on-site accommodations that generally run the gamut from "pimp" to "roughing it." These days, they are well-oiled machines that provide outstanding, but efficient, access to outdoor activities such as whitewater rafting, zip lines and aerial courses, mountain/trail biking and a plethora of other active options.
The origin of these resorts probably starts in the European Alps, where magnificent hotels catered to the wealthy while on the "Grand Tour." In those alpine environments, it's natural that the guests might try their hand at hiking, skiing, falconry or other activities that presented themselves just outside the hotel door.
"If you classify climbing mountain peaks as adventure, then we go back 200 years," notes Sammy Salm, CEO of the resort consortium Best of the Alps. "Our resort's origins lie in the golden age of alpinism as we were founded by alpine climbers. It wasn't even until decades after that that the first ski tourists then arrived too."
This model continued in the United States between the world wars as railroad companies built similarly opulent hotels in our new National Parks — and then launched a promotional blitz to encourage people (again, the wealthy ones) to "See America First." These railroad hotels offered similar access to a variety of outdoor activities and introduced their clientele to climbing, paddling, hiking and more.
In the 1970s, you have the birth of commercial whitewater rafting operations and from there the first lodges dedicated to running rivers. Fast forward to the 1980s and '90s, and you see a rush of new companies and lodges that specialized in and focused on one particular outdoor activity. As some of these companies grew and others faltered, there was then a natural progression of consolidation as the successful ones bought up those that weren't doing as well. With consolidation came expansion as owners sought to broaden their offerings and sometimes take their single-season business (such as whitewater rafting) and make their properties into four-season resorts.
"Our evolution was born out of necessity," notes Russell Walters, president of Northern Outdoors Adventure Resort. "The company began as a fishing and hunting business and branched out into rafting. Our remote location meant that guests couldn't just come up for the day, so we started to offer camping and meals, and then indoor accommodations and cabins. To support that investment, we cut trails and developed a winter snowmobile program. After that, we just kept adding activities until we evolved into a true four-season resort."
But what's the actual definition of an "adventure resort"?
After researching many prospects for this article, I (personally) define an "adventure resort" as businesses that offer at least four or five distinctly different activities (so not, say, just five types of fishing or five ways to fish but something more like fishing, jet skis, air boats, kayaking, etc.). There needs to be some sort of on-property accommodations too, be that a single lodge or more of a "campus" of lodging options. They would also ideally have some on-site adventures (zip lines, aerial course, rock climbing wall, etc.) as well as access to adventures (such as a beach, boat put in, etc.).
Having a golf course on site and/or a full-service spa is immediate grounds for dismissal from the category as it proves that the property is a resort that offers adventures, versus a truly dedicated adventure resort. Thus, some of the early innovators in this category, such as the Broadmoor, Greenbriar, and Mohonk Mountain House really aren't a fit. I've also steered away from resorts that are solely focused on one activity such as those that only offer whitewater rafting, fishing lodges or dude ranches.
Keeping this in mind, I present you with a list (and certainly not a comprehensive one) of great adventure resorts to consider for your next excursion, family reunion, friends' getaway, long weekend or just "I gotta get OUT" moment.
 

 

View this post on Instagram

 
Adventures on the Gorge — Lansing, West Virginia
Possibly North America's largest adventure resort, the property overlooks the New River gorge and offers a dizzying array of adventures. There are numerous whitewater rafting trips on the New and Gauley rivers, ziplines, rock climbing, rappelling, canopy tours, flatwater and whitewater kayaking, paintball and laser tag, fishing, hiking, horseback riding, pistol shooting and sporting clays and mountain biking. Accommodations run the gamut from deluxe cabins to bunkhouses to glamping to campsites.
Click to see more on Adventures on the Gorge.
---
 

 

View this post on Instagram

 
Bar 10 Ranch — St. George, Utah
ATV and horseback rides, hiking, rafting, skeet shooting and helicopter tours are available to guests of this lodge near Grand Canyon National Park. Lodging options include a few dormitory style rooms in the small lodge, or 14 Conestoga covered wagons that sleep two persons each.
Click to see more on Bar 10 Ranch.
---
 

 

View this post on Instagram

 
Buffalo Outdoor Center — Ponca, Arkansas
This resort offers various float trip options, hiking, mountain biking, zip lines and fishing on the upper Buffalo National River. Lodging options include cabins, two small lodges, an RV park, and a grass air strip for backcountry pilots to fly in. The fly-in lodging package includes use of a hanger and Jeep Wrangler, and accommodations in the "Pilot's Quarters."
Click to see more on Buffalo Outdoor Center.
---
 

 

View this post on Instagram

 
Crossed Sabres Ranch — Cody, Wyoming
While traditional ranch-style activities, like horseback riding, are certainly available, they also offer fly fishing, clay shooting, rafting, hiking, archery (and tomahawks) and a tour of nearby Yellowstone National Park. Lodging is provided via one- or two-bedroom cabins.
Click to see more on Crossed Sabres Ranch.
---
 

 

View this post on Instagram

 
Grassy Flats Resort & Beach Club — Marathon, Florida
This resort in the Florida Keys offers up ocean adventures, such as kiteboarding, sailing, deep water and shore fishing, and ocean kayaking and stand-up paddleboards. Their Lagoon on Grassy Key is an action-sports eco-park that helps teach people a variety of board, wind and paddle sports. There are standard rooms and a variety of suites available.
Click to see more on Grassy Flats Resort & Beach Club.
---
 

 

View this post on Instagram

 
Northern Outdoors Adventure Resort — The Forks, Maine
Perhaps a posterchild for the evolution of the adventure resort, Northern Outdoors started out as a dedicated rafting company and, at that time, one of many in the area. They slowly bought up the competition and eventually expanded into a four-season resort that now offers rafting and snowmobiling, as well as ATV rides, guided hunting and fishing and hiking. Lodging is available via lodge rooms, a variety of cabins and condos.
Click to see more on Northern Outdoors Adventure Resort.
---
 

 

View this post on Instagram

 
Wilderness Tours — Foresters Falls, Ontario
With legitimate claims to being the first true adventure resort in North America, they now offer mountain biking, sea kayaking, stand-up paddleboard, hiking and whitewater rafting and kayaking. There's a wide array of lodging, including cabins, mini-cabins, suites, hostel-style rooms, cottages, glamping and homes for rent.
Click to see more on Wilderness Tours.
---
 

 

View this post on Instagram

 
Zion Ponderosa Ranch Resort — Orderville, Utah
Guided hikes, jeep tours, canyoneering, horseback riding, and a shooting experience are available at this ranch-style resort — all right outside Zion National Park. Lodging options include vacation homes, cabins, glamping, Conestoga wagons and RV and tent camping.
Click to see more on Zion Ponderosa Ranch Resort.
---
'Chez' Chesak is an award-winning adventure travel writer, 20+ year veteran of the outdoor industry, Executive Director of the Outdoor Writers Association of America and chair of the Society of American Travel Writers' Central States Chapter.