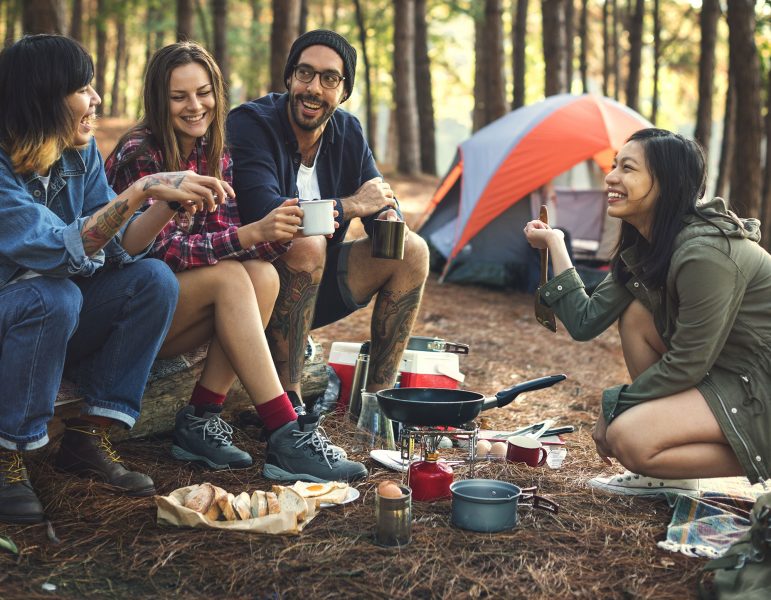 Whether you're new to camping or you consider yourself an avid (or even expert) camper, there is always something new on the market to try out when it comes to camping gear.
For some people, going on a primitive-style camping trip is enjoyable. Think of rubbing sticks together to make a fire, using a nearby log as a camping seat and sleeping with a simple sleeping bag under the stars. But for most people, camping is a vacation — so having some of the comforts of home appeals to them.
According to Business Wire in a recent Global Camping Equipment Industry Analysis, researchers reported a surge in the number of people going camping and using innovative camping equipment.
"The frequency of camping activity among youth and adults is increasing led by the rising number of clubs and associations supporting camping." Business Wire said. "Consumers are widely accepting innovative camping equipment manufactured by the leading players of the market."
Researchers for the analysis also found that higher safety and comfort level camping items are trending upward.
So as more people get outside to go camping, inventors of camping gadgets, camping gear and camping equipment continue to experiment and bring new items to market. For example, sleeping bags date back to the 1800s — created originally for arctic explorers to sleep in during expeditions. They were rectangular and insulated the best way they could be back then. Today, you can find an ultralight mummy-style sleeping bag that allows you to sleep (and survive) in freezing temperatures.
In addition, historians believe that the first personal reusable water container became popular and widespread in the 1950s after World War II, when materials like stainless steel and aluminum were more accessible. Today on the shelf of any outdoor retailer, you can find a reusable water bottle that can keep your water cold for more than 12 hours and withstand drops on rocks and rugged terrain. Every year, new innovative and clever camping gear becomes available.
Here are 10 clever camping items that can elevate your outdoor experience — taking you from camping to "glamping" (short for glamorous camping).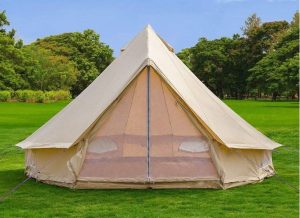 Glamping Bell Tent
If you're planning an extended camping trip, this yurt-style Glamping Bell Tent will elevate the look and feel of your campsite. With a durable cotton canvas exterior, this tent checks all of the boxes for glamping and is sure to spark inspiration for camping photos. Since this tent is heavy-duty and comes with a groundsheet, you can unzip the floor and roll up the slides for ventilation. You can also add a boho-style rug, and cushions — putting your personal décor touch on the inside to make it feel like a home away from home.

---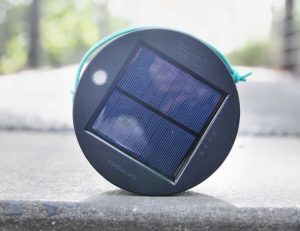 MPOWERD Luci Solar String Lights
Warm ambient lighting can make a difference in your camping atmosphere. These Luci Solar String Lights are warm white LEDs with three different brightness settings. The 100 lumens and 10 nodes will light your campsite for up to 20 hours on one charge. You can string them on your tent, in your tent, around your campsite or use them in your vehicle.

---
Grand Trunk Evolution 20 Down Hammock
For elevated comfort at camp, this Grand Trunk Evolution 20 Down Hammock is an innovative take on a traditional hammock. With 650+ down fill you can snuggle up in this high-end hammock even in temperatures down to about 20 degrees — making this cozy hammock ideal for cold weather camping. It can even support up to 400 pounds.

---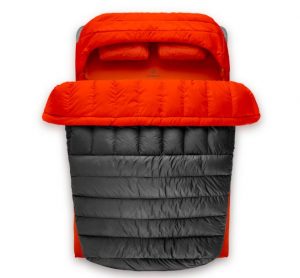 Zenbivy Luxe Bed Double
For a luxurious sleeping experience outside, the Zenbivy Luxe Bed Double 25° sleep system is roomy, soft and allows you to sleep with a partner comfortably. Zenbivy engineers designed this sleep system with quality in mind, using Ultrasoft Pongee on the interior of the sleep system and a premium 800 fill-power HyperDRY down inside the double quilt.
The oversized hood is equally as comfortable and soft to the touch. Designed with side sleepers, back sleeper and stomach sleepers, the cleverly designed sheet system and footbox allows you to move freely without feeling restricted — especially if you toss and turn.

---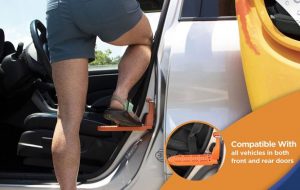 Rightline Gear Moki Door Step
If you have a rooftop cargo carrier or commonly travel with larger items like kayaks on top of your vehicle, this small but mighty Moki Door Step (as seen on Shark Tank) will make loading and unloading for your camping trip easier — elevating your loading and unloading experience.
The universal step is safe for your vehicle with a built-in bumper to prevent scratching. And you can easily put both feet on the extended platform. The step holds up to 400 pounds and is also great for loading and unloading larger items strapped to your roof like bikes, kayaks and canoes. This step also weighs a little over a pound and you can stow it away into smaller spaces than a footstool or ladder — making it convenient to keep in your car.

---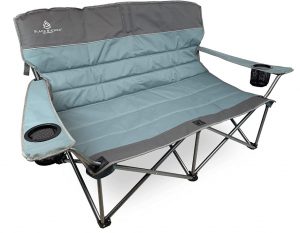 Black Sierra Lowboy Camping Sofa
This comfortable Black Sierra Lowboy Camping Sofa can elevate your camping experience — allowing you to sit with others (or your furry friend) comfortably around a campfire. It's lightweight, padded for added comfort and easy to set up. With adjustable tension straps, you can customize this camping couch to your comfort level. It has cup holders and can support up to 250 pounds on each side.

---
Nemo Stargaze Recliner
This luxury Nemo Stargaze Recliner camp chair allows you to easily recline to see the stars or simply lean back, swing and relax in comfort while you're camping. With a cup holder and added padding for your arms, it's a way to elevate your comfort. The climbing grade hardware will make you feel secure, and you can even set this camp chair up on an uneven surface outside.

---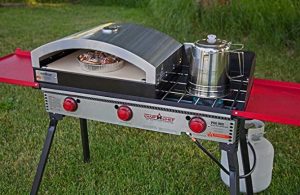 Camp Chef Italia Artisan Pizza Oven
If you're a fan of homemade pizza, this Camp Chef Italia Artisan pizza oven can elevate your cooking experience at camp. And all of your campers can make their own personal pizzas or you can make a larger pizza. This propane-fueled camp stove replicates the performance of a wood-fired oven, and you can adjust the heat with the micro-adjust valves for the perfect pizza. You can also bake bread and roast meats.

---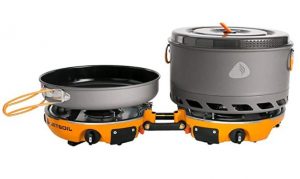 Jetboil Genesis Basecamp Cooking System
If you enjoy cooking at camp, this innovative Jetboil Genesis Basecamp cooking system will have you feeling right at home. It packs away in a convenient travel bag and comes with a dual burner stove, 5-liter FluxPot and a fry pan. The meals you can make with this cooking system at camp are endless. It's also ideal for boiling water for a French press coffee system as it goes from a simmer to boil in less than three minutes.

---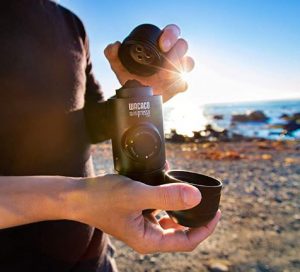 WACACO Portable Espresso Machine
For coffee lovers, this WACACO portable espresso maker is as innovative as it is convenient. You don't have to go without your morning espresso just because you're away from home. You can manually operate this small espresso machine (no batteries required). All you need is boiling water and ground coffee. With a semi-automatic piston, the machine injects small amounts of water into the coffee adapter. There's no compressed air or N20 cartridges required to operate it and make a delicious cup of espresso.

---
Suzanne Downing is an outdoor writer and photographer in Montana with an environmental science journalism background. Her work can be found in Outdoors Unlimited, Bugle Magazine, Missoulian, Byline Magazine, Communique, MTPR online, UM Native News, National Wildlife Federation campaigns and more.
---
We are committed to finding, researching, and recommending the best products. We earn commissions from some purchases you make using the retail links in our product reviews. Learn more about how this works.