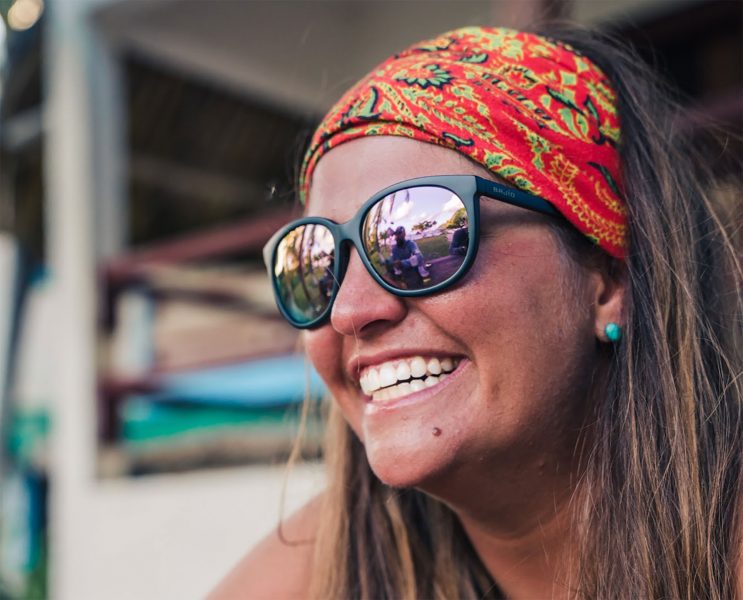 If you're a fan of kayaking, stand-up paddleboarding, visiting saltwater flats or simply spending time on your favorite body of water in general, you already know how important sunglasses are on your adventures. Sunglasses protect your eyes from the harmful rays of the sun. And polarized sunglasses reduce harsh glares even more — blocking blue light and helping you see further into clear water without a constant squint.
Whether you're spending a day kayaking, rafting, or canoeing, having a clear vision of the water below you can elevate your outdoor experience by watching fish and other critters in their natural habitat.
For Al Perkinson, CEO of Bajio Sunglasses, his quest to give people clear visibility through performance sunglasses paired with his passion for saltwater flats fishing and conservation, led to the launch of his company in spring 2021. Using plant-based materials, like bio-based nylon and switching to cactus leather sunglass cases, his innovation goes beyond their proprietary LAPIS technology that makes Bajio sunglasses the clearest on the planet. To go deeper inside the brand and see what they're all about, we get Unpacked with Bajio Sunglasses.
Unique Lenses
For Perkinson and his team of engineers, clarity was key when developing their sunglass lenses. They wanted people to see clearly into the water and to see better than they ever had before.
"It's all about reducing the blue light from the sun," Perkinson said. "Through our design techniques, we block 95 percent of blue light, which is more than any other sunglasses brand on the market."
Bajio offers five different mirror colors. Blue is the darkest. Green is amber. Silver is in the middle. Pink has 16 percent light transition and red-based. Purple is the newest lens with a red base.
"When we put the red bas lenses on the eyes of guys who have been guiding in saltwater flats every day, they don't want to give them back," Perkinson said. "All the guides in the Caribbean that I know, that's what they wear."
And there really is something notably different in their drum/rose lens color. With a red base, this lens is medium light and high contrast. You can choose a pair of sunglasses with this lens in either glass or polycarbonate lenses. For clarity and scratch resistance, I recommend glass. For impact resistance and lighter weight, choose polycarbonate.
Both the glass and polycarbonate rose lenses are ideal in both bright sun and lower light. (Think of a lake or river that's tree-covered or an overcast day).
I got my hands on a pair of Bajio Gates rose mirror sunglasses in 2021 to check the technology of the lenses myself on the water. Right away, the clarity was evident. In my home state of Montana, having a red base lens worked great for Western rivers and lakes. And I found myself able to see deeper into the water than I ever had, which was a cool experience watching rainbow trout in their natural environment. When my sister got married on the beach in South Padre Island, Texas, the Gates sunglasses were a life-saver for my eyes near the water and out on a boat in the bay.
These were the first polarized sunglasses I've owned. And I've since learned how polarization increases your depth perception and contour. The bottom line, I could see better in the water, and I could see things farther away.
Sustainability and Cactus Leather Cases
In addition to creating quality sunglasses, Parkinson wanted to be carbon-neutral, a goal he's easily achieved through paying attention to the details down to the sunglass casing.
"Because we're small and it's very important to us, we've built our company to be as sustainable as we possibly can — we are looking at every facet of the business from day one and doing the best we can to make it sustainable — not just a little bit of an add on" Perkinson said.
It's in their DNA. They've been carbon neutral from inception by being creative, like planting mangroves to offset their carbon.
"I looked around at different types of materials — recycled this or recycled that — and I wanted everything to be super sustainable and we ended up with leather at first," Perkinson said.
At first, he figured leather is sustainable because it's a food byproduct and it lasts forever so you don't have to buy multiple cases — if you ever do want to throw them away, it's totally biodegradable.
"But then we found two brothers down in Mexico that were taking cactus and turning it into vegan leather cactus to grow," he added. "It dries in the sun, and it is up to European standards. Since it's made in Mexico now, we don't have to ship it far to get to us in California."
The newest sunglasses from Bajio, Bajio's Cometa shades (with a blue mirror lens) came with the new cactus leather case and the quality is similar real leather.
Perkinson's Personal Favorites
Perkinson's two favorite sunglasses are the Bales Beach and Roca sunglasses.
"I wear my Roca sunglasses on an everyday basis — on and off the water," he said. "But right out of the gate, our new Caballo sunglasses are doing great, so they could be my new favorite."
Beyond Sunglasses
Since Perkinson is geared toward helping sustain our most loved places and the people who live there, he launched an expedition with the Odyssey crew to travel internationally, help with pollution threats to saltwater flats and introduce people to fly fishing along the way.
In Bajio's mission, it states that Perkinson and his team love saltwater flats all over the world. The flats are the nurseries of our oceans. The flats also are their favorite places to fish, offering some of the most beautiful water and beaches imaginable. These flats are important to the future of our oceans and the survival of our planet. They face many threats — from extractive industries and pollution to global warming and over-harvesting — and they need our help.
Bajio works with a team in Xcalak, Mexico. Not only do they help clean up trash on the beaches, they have been instrumental in planting coral along a mile of reef and helping young kids learn how to fly fish.
Perkinson also partners with tatoo artists for new and unique designs for his hats and T-shirt line that launched in 2022.
From glass lenses, bio-based sunglass frames, cactus leather sunglass cases, recycled packaging, organic cotton shirts to using bamboo instead of wood or plastic whenever they can, Perkinson is proud to stand by Bajio's 100 percent carbon neutral status.
---
Unpacked is a regular feature on ActionHub to help people discover new performance and lifestyle items that will amplify their adventures and outdoor experiences. This article was not sponsored by the brand or any PR/marketing agency, and all opinions are that of the ActionHub writer.