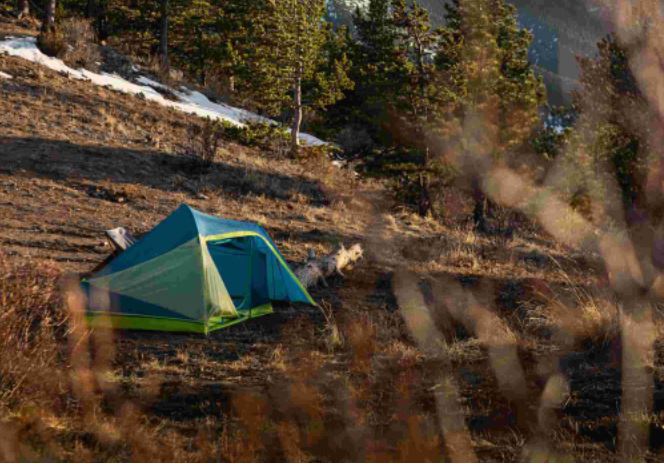 Here are our expert picks for the best 2-person tents — in a variety of price ranges — for your upcoming camping adventures
---
For camping, having a well-made tent is one of the most important parts of your trip. Whether you're going on an epic backpacking adventure through the mountains or just setting up your tent in the backyard so you can stargaze and enjoy some time away from technology, you'll need something that's small, durable and easy to set up. Here, we'll zero in on the best 2-person tents for your adventures.
For two people, your tent should be big enough to comfortably fit both people with some extra space for gear and other valuables. And, if you're backpacking, make sure your tent packs away small enough to avoid taking up too much space in your pack.
With so many advances in technology and improvements to tents over the years, you can now find small two-person tents that can withstand harsh conditions like rain and wind — while also being fairly easy to set up and pack away.
When shopping for a two-person tent, looking for one with two doors is ideal. Two doors on your tent will save each person from climbing over someone or disturbing them when they need to exit the tent. You'll also need ventilation and storage pockets to keep your tent less cluttered. Having a way to easily store things like a wallet, keys and a flashlight can not only free up space, but it'll help you in the middle of the night if you need easy access to your flashlight. You'll know exactly where it is!
Another important thing to consider adding to your tent is a footprint — which comes standard now with some tents. A footprint is an extra layer (or barrier) between your tent and the ground. It will help prolong the life of your tent as it acts as a tent protector. Think of when you purchase a new phone and then purchase a protective case for it. A tent footprint also adds extra warmth, since most heat in your tent is lost through the ground and gives you an extra layer of protection when it rains. You can also use a footprint to layout where you're tent will be and as a guide while setting up your tent at camp.
Most smaller tents also come with an awning — an extra covered space that extends from your tent — that creates a safe and dry space for your pack or other essential items that you won't have room for inside the sleeping area of your tent.
Here are five of the best two-person tents for 2022 that are great for camping and built to last for years to come: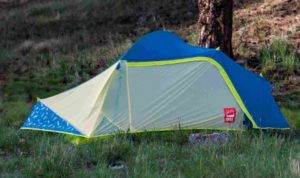 UST Highlander 2-Person Tent
The UST Highlander tent has a fun vibe to it with a unique blue and yellow color combination. You'll even find color-coded blue poles for an easy set up. It's roomy inside and has a storage pocket system and gear loft to easily stow away small valuables. There is even a secret stash vestibule for additional storage that you can access inside the tent.
There is plenty of ventilation in this tent, too, and the top of the tent has two awnings for outside storage. This tent is also ideal for backpacking as it weighs just 3 pounds, 4 ounces, or 4 pounds, 15 ounces fully packed with the included footprint. You can even cut weight by using your trekking poles for support instead of the aluminum poles that come with it. You can also use this tent during three seasons — spring, summer and fall with the rain fly. You can watch a set-up video on the UST website, too, so you'll know exactly what to expect when you're ready to set up camp. For me, the first time setting up this tent only took about seven minutes.

---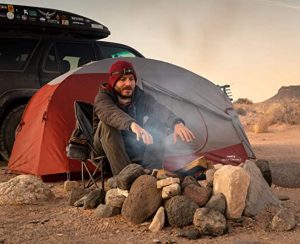 Klymit Cross Canyon 2-Person Tent
This two-person Cross Canyon tent by Klymit is both innovative and durable. The clip-on system for the aluminum poles makes for an incredibly easy set up for one person. And with two doors, it's ideal for sharing the space with someone as you'll both have your own exit route.
There's also a ton of space inside with three overhead pockets and two corner pockets to keep your valuables up and stored off of your sleeping area. The aluminum poles snap together easily and the outer vestibule is roomy enough to store a pack or extra clothes. This is a great tent for a weekend car camping trip as the pack weight is 6 pounds.
Another feature of this three season Klymit tent is the added ventilation. You won't have to worry about condensation buildup since it breathes really well. This tent is also ideal for stargazing without the rainfly on. You'll have a lot of visibility to enjoy the nature around you.

---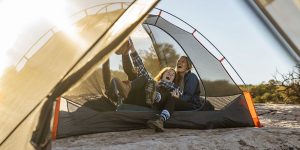 Kelty Late Start 2-Person Tent
If you're looking for a minimalist backpacking tent for camping, the Kelty Late Start 2 tent is a good three-season option. It's a no frills tent that weighs in at 4.5 pounds. You can set this tent up at camp in less than five minutes. The poles come pre-bent with a "Quick-Corner" technology, so you can simply click the tent body to the two poles. For me, the first time setting this tent up took just under four minutes.
It also has a full coverage waterproof rain fly that's easy to add on if you need the extra coverage. The mesh is see-through for stargazing and also keeps bugs at bay like similar tents in this category. This tent is also good for just one person — especially if you have a sleeping cot or like to sprawl out.

---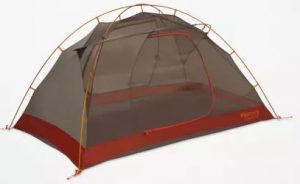 Marmot Catalyst 2-Person Tent
The Marmot Catalyst 2-person tent comes in Marmot's iconic rust-orange color and includes a footprint. It has two doors for easy entering and exiting. It's also very quick and easy to set up with color coded "Easy Pitch" clips, poles and fly. I found that the poles have almost a magnetic feel to them and snap into place effortlessly.
You'll also get a nice interior pocket inside to organize small gear and the smooth-moving "jingle-free" nylon zipper pulls are easy to use. This tent's packed weight is 5 pounds, 3 ounces and comes with two exterior vestibules to stow extra items away from the elements. Another bonus to the Marmot Catalyst tent is that it has enough room to easily accommodate a 6-foot height, and it has added seams to keep rain at bay.

---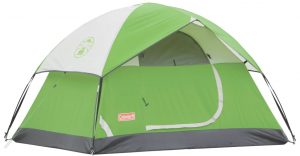 Coleman Sundome 2-Person Tent
The Coleman Sundome tent is an ideal budget tent if you're looking to camp a few times here and there during camping season. It comes in gray/blue and green with an added rainfly. Although it's rated for two people, you'll find that it's much larger than other two-person tents on the market.
This tent is on the heavier side at 7 pounds, 4 ounces, so it's ideal for car camping vs. backpacking. It's also enclosed more than the others on this list, so stargazing isn't as accessible inside the tent, but there is still some outside visibility.
You should be able to set this Coleman tent up in about 10 minutes and use it during three seasons as it has a "WeatherTec" system that makes the bottom nearly waterproof. It has two windows with good ventilation. You'll sacrifice the footprint and extended vestibules for storage, but you'll find this tent to be comfortable and functional.

---
Suzanne Downing is an outdoor writer and photographer in Montana with an environmental science journalism background. Her work can be found in Outdoors Unlimited, Bugle Magazine, Missoulian, Byline Magazine, Communique, MTPR online, UM Native News, National Wildlife Federation campaigns and more.
---
We are committed to finding, researching, and recommending the best products. We earn commissions from some purchases you make using the retail links in our product reviews. Learn more about how this works.