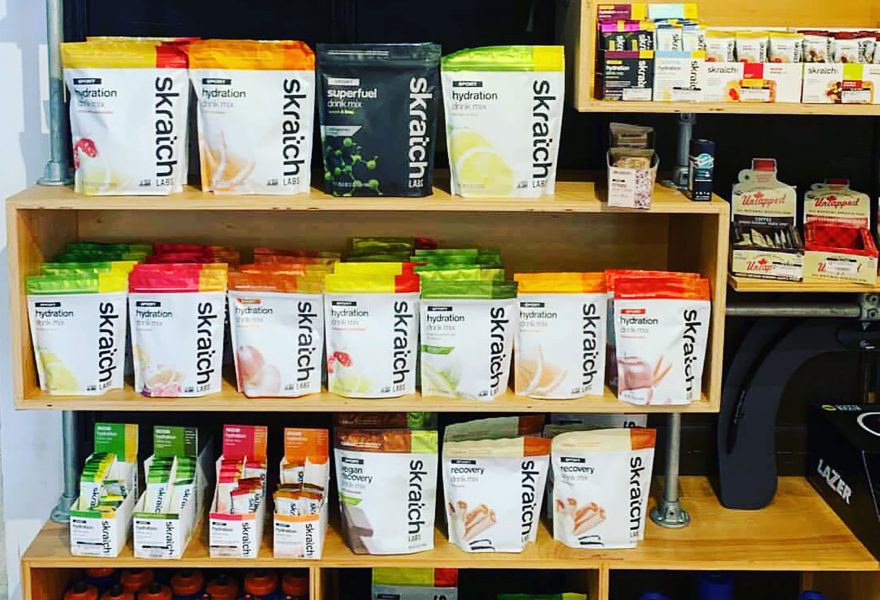 Any outdoor or fitness enthusiast knows that hydration isn't just about quenching thirst. It's primarily about staying healthy and safe, and keeping your body functioning as optimally as it should. When we're well-hydrated, we function better overall, especially when it comes to participating (or competing!) in athletics or spending time outdoors.
Electrolytes play a major role in hydration. When dissolved in water, electrolytes put out an electrical charge that's extremely beneficial to the human body, helping us to maintain essential fluid levels inside and outside of our cells.
Electrolyte drinks pack a one-two punch, restoring both the water and electrolytes the body loses after physical activity, thus preventing dehydration. Popular sports drinks like Gatorade and PowerAde are often touted for replacing electrolytes; however, they're also loaded with sugar, which actually interferes with your body's ability to absorb liquid.
There's no question that electrolyte mixes are beneficial, but how does one pick the best electrolyte drink for dehydration? Let's take a look at some of the most popular options available, including powders and liquid concentrates.
Best Electrolyte Drink for Dehydration: Powders
 

 

View this post on Instagram

 
Skratch Labs Sport Hydration Drink Mix
Preferred by many runners and bicyclists, the Skratch Labs Sport Hydration Drink Mix replaces electrolytes lost through sweating, without all the sugar and calories. In fact, its electrolyte profile was designed to mimic sweat, containing a combination of sodium, calcium, magnesium, and potassium. This re-hydrates the body quickly and allows for maximum absorption.
Skratch Labs' drink mixes include real fruit for a natural, refreshing taste that isn't cloyingly sweet. The flavor offerings are enticing, too, with memorable, unique options including Matcha and Lemons and Strawberry Lemonade.
The powders are available as individual grab-and-go packets or larger multi-serving bags, giving you options whether you're a hiking enthusiast, an elite ultra-runner, or someone who leaves it all on the stairclimber.

---
 

 

View this post on Instagram

 
Tailwind Endurance Fuel
Another popular electrolyte drink for dehydration — especially with runners — Tailwind Endurance Fuel powders replenish electrolytes while simultaneously offering calories to help power through your workouts. Tailwind contains a just-right combination of glucose and sucrose to help your muscles more optimally absorb nutrients, not only rehydrating, but aiding in faster recovery, as well.
This electrolyte powder is generally easy on the stomach, as it's formulated to match what our stomachs naturally absorb. It's easy to overlook, but this is an important feature, as people often consume electrolyte drinks shortly after intense physical activity, when their stomachs are likely unsettled to being with.
Tailwind contains no artificial flavors, sugars, or other hard-to-digest ingredients — just the good stuff! The Endurance Fuel powder mixes easily with water, resulting in a light-tasting, refreshing, and crystal-clear recovery drink. Similar to the Skratch Labs' powder drink mixes, Tailwind comes in both convenient single-serve and bulk sizes.

---
 

 

View this post on Instagram

 
Osmo Nutrition Active Hydration
Osmo Nutrition Active Hydration, as its name implies, is a bit different from some of the other best electrolyte drinks for dehydration. This one is a "during-exercise electrolyte," designed specifically to rehydrate the body while we exercise.
With an optimized blend of sucrose, glucose, and electrolytes intended to replace water lost through sweating, Osmo Nutrition's drink mix works similarly to many others. The major difference here is that Osmo is designed to work fast, at a rate of about three times greater than water alone. The result is that Osmo Nutrition's electrolyte drink is intended to increase your endurance and power, boosts blood circulation, reduces cramps, and fights fatigue.
Osmo's flavors come from real fruits and other natural ingredients, and they're low in calories, avoiding a feeling of fullness in the belly during physical activity though also coming up a little short in endurance events. You can buy Active Hydration either in a multi-serving tub or single-use packets.
If you have more specific hydration needs, Osmo Nutrition makes additional product lines including a "hypder hydration" pre-workout supplement and a powder optimized for women during their menstrual cycles.

---
 

 

View this post on Instagram

 
Liquid I.V. Hydration Multiplier
Living up to its name, Liquid I.V. Hydration Multiplier is an electrolyte drink mix that provides the same level of hydration as drinking two or more 2-liter bottles of water. Talk about hydrating!
Liquid I.V. boasts three times the amount of electrolytes in traditional sports drinks and contains several super supplements, including vitamins B3, B5, B6, B12, and C. The powder mix uses a unique delivery system, Cellular Transport Technology, to accelerate the absorption of water and nutrients into the bloodstream. An optimal combination of sodium, potassium, and glucose helps you feel better as you practice one of the Three R's: Rehydrate.
Unique among the best electrolyte drinks for dehydration, Liquid I.V. comes only in single-serve stick packets.

---
Best Electrolyte Drink for Dehydration: Liquids
 

 

View this post on Instagram

 
Elete Electrolytes Liquid Add-in
Powdered drink mixes aren't for everyone, and many people prefer liquid products for electrolyte replacement, such as Elete Electrolytes Liquid Add-in. With no sugar or calories, the only ingredients in this drink supplement are the actual electrolytes: magnesium, chloride, potassium, sodium, and zinc.
Add just a few drops to your water and you'll have an impressive electrolyte drink with no discernible flavor. Since Elete Electrolytes isn't a flavored powder, you do have to be mindful of adding too many drops to your water. It tastes extremely salty when not properly diluted!
One notable benefit of Elete's liquid add-in — particularly for hikers, cyclists, and trail runners — is that it's perfectly safe to use in hydration bladders. It's available in several different bottle sizes, as well as a Citri-Lyte variety, which has a mild citrus flavor.

---
 

 

View this post on Instagram

 
TB12 Electrolyte Supplements
Love him or hate him, NFL superstar quarterback Tom Brady is unarguably one of the greatest, most elite athletes of all time. The guy surely knows a thing or two about hydration. The TB12 Electrolyte Supplement is an unflavored liquid concentrate containing sodium, potassium, and magnesium, key ingredients for supporting muscle contractions and recovery, fluid balance, and overall performance.
Completely free of sugar and calories, the TB12 Electrolyte formula includes 72 trace minerals sourced from the Great Salt Lake. Salt is one of the best ingredients on Earth for helping replenish lost nutrients and improving how the body absorbs fluids, especially when it's combined with key electrolytes.
The TB12 electrolyte supplement comes in convenient 2-ounce squeeze bottles with 24 servings each. In addition to the unflavored version, there are also several fruit flavors.

---
 

 

View this post on Instagram

 
LyteShow Electrolyte Concentrate For Rapid Rehydration
Similar to the TB12 supplement, LyteShow is a liquid electrolyte concentrate designed for those looking for an alternative to sugary drinks loaded with artificial flavors and colors. Besides sodium, LyteShow also contains potassium, magnesium, chloride, and zinc to quickly rehydrate after significant sweating.
Interestingly, LyteShow differs from some of the other best electrolyte drink additives in that it actually de-emphasizes sodium as the main ingredient. Its formula focuses on balancing it with magnesium and other nutrients for better rehydration, improved fluid balance, cognitive function, and energy conversion. Zinc also helps specifically with immune support.

---
A final note: For many people, water alone is sufficient to prevent dehydration. This is especially true for physical exercise lasting less than 60 minutes. Experiment with a few different electrolyte drinks and compare your hydration levels against plain water.
---
Taryn Shorr is an avid outdoor enthusiast, frequent traveler, and wannabe photographer based in southern Arizona. She lives for the opportunity to explore The Great Outdoors, both at home and in new destinations, and firmly believes that nature is a form of both therapy and religion.
---
We are committed to finding, researching, and recommending the best products. We earn commissions from purchases you make using the retail links in our product reviews. Learn more about how this works.