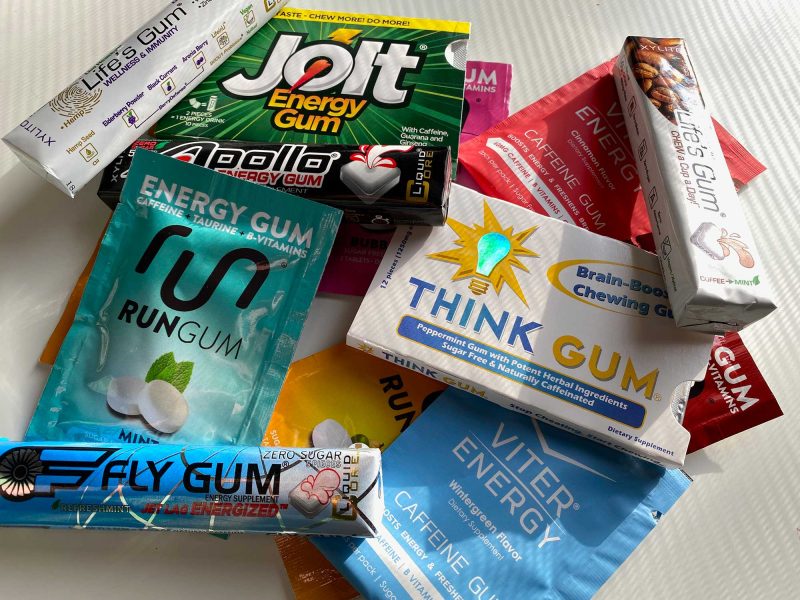 Small, compact and easily transportable, these energy gums offer quick boosts when you need it most.
---
It gets a little old, the reaction I get when I say that I don't drink coffee. As soon as I mention this fact, my listener (and, often, bystanders) then stares at me, goes somewhat slack-jawed, and inevitably says, "WHAT? You don't drink COFFEE???" I don't. I never started, don't like the taste, and just don't drink it. The conversation then quickly gets into questions along the lines of "How do you LIVE?" or "How to get UP in the morning???" I explain that I just don't get any caffeine most mornings. I never got used to it, so don't need it to wake up (a workout and a nice shower do that very nicely for me). Even while deployed with the Army in Iraq with a line unit, I didn't drink the stuff.
But there are times where I could use a little boost, especially during a long drive or after flying across multiple time zones for three or four days of a conference or trade show. I've tried drinking sodas, but, after the minor boost from the caffeine, I crash because of all the sugar. I like tea, but only with sugar, so that offers the same result as sodas.
Then, several years ago, I did a quick search and found energy gum. Now I make sure to have a few packs on every business trip or long drive. It's easy to carry and store and simple to take (even discretely, if necessary). Also, the sublingual absorption (where you absorb the caffeine through the mouth, instead of through the stomach) from the gums lets you feel the boost faster and more efficiently than from a liquid. Energy gum manufacturers state that you will absorb the caffeine and other stimulants five times faster in this manner than via liquids.
These days, there are a lot of energy gum options out there for you to consider. At this point, I've tried just about all of them. So, we've pulled together this guide to help you find the best one for you.
Two things to note though: first, caffeine is addictive. You can get addicted to these gums just as others do with coffee. I learned this firsthand some time ago and had to ween myself back off the stuff over time. Second, while these gums deliver caffeine into your body at a faster rate than coffees or teas, they're generally less environmentally sustainable. They come in plastic, foil-covered blister-packs or in foil pouches that are a challenge to recycle. Further, the base of most gums is made of a rubbery material called polyisobutylene, which is also used in the manufacture of inner tubes. It usually takes about 15 years for the stuff to degrade in the environment.
Yet, if you're game to give energy gums a try, I wanted to share a handful of ones that really stand out: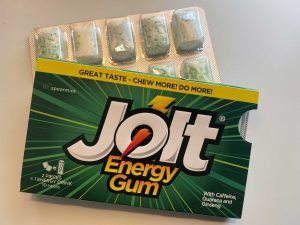 Jolt
It's appropriate that Jolt came up first in this alphabetical list as it was the first energy gum that I used regularly. I remembered Jolt soda (who's tagline was "All the sugar — and twice the caffeine") and found their gum counterpart via a search. I used Jolt for years before branching out to other gums.
Available at the aptly named Gumrunners.com, Jolt comes in Spearmint and Icy Mint flavors. It comes in a blister pack of 10 pieces, and the pieces are surrounded by a crunchy shell with blue and green flavor crystals. The gum used to have a definite bitter bite to it at first, but they've now been able to find a way to mask this bitterness. Via email, the company said, "Caffeine and its bitter taste bonds very well to chewing gum so one of the real challenges is to keep the flavors stronger than the caffeine even after five minutes of chewing."
The gum is pleasantly soft but can get a little too soft at times. I've found that it can break down after chewing for a while, with some small bits often getting stuck in my teeth. I'm personally not a big fan of the Icy Mint flavor, but then I've never liked "ice" flavored things. So I stick to Spearmint.
Fast Facts
Two pieces of Jolt is a serving, and a serving provides a boost equivalent to an espresso shot or a small cup of coffee — 80mg of caffeine
Contains caffeine, guarana, and ginseng
Spent three-years in R&D before being released, after testing with hundreds of consumers prior to launch
---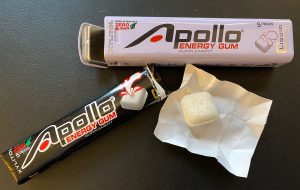 Liquid Core Gums
LiquidCore.Store offers a variety of energy gums, and I tried their Apollo Energy Gum and Fly Gum. As you can surmise, each of their gums come with a liquid core. While the gum is always white, the color of the core varies by brand.
I will say that the first chomp into their Apollo Gum results in a particularly gooey experience. You then bite into some flavor crystals before hitting a rather bitter punch that is, in itself, eye-opening. The flavor then settles down into a very nice spearmint flavor, and the gum is pleasantly chewable.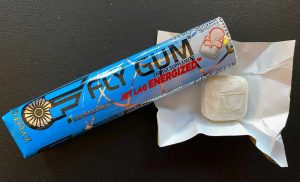 Their Fly Gum has a more subdued initial bitter bite, and both have great longevity of both flavor and chew.
Fast Facts
Their gums are vegan, zero sugar and gluten free
The manufacturer states that their brands have more xylitol (a unique sugar that prevents plaque buildup from congregating inside the mouth) than any other gum in the world
One piece of their Apollo, Golf Gum and Fly Gum brands contains about 80mg of natural caffeine, which is derived from green coffee beans
Their newest brand, Flatliner, contains 130mg of natural caffeine per piece, which the manufacturer says makes it the world's strongest caffeinated gum
---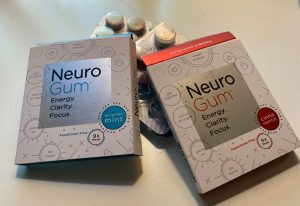 Neuro Gum
Available at GetNeuro.com, their gums come in Peppermint and Cinnamon flavors (and they also offer caffeinated mints as well). I've also found both them and Run Gum in CVS stores — although they're never in the gum section, and usually the staff can't even find them (generally they're on some distant end cap with "memory aides").
The gum comes in nine-piece blister packs, and the packaging includes post-consumer recyclable content. The flavors are mildly intense to start with — the cinnamon even getting a little "hot" at first. Both flavors settle down quickly though.
Fast Facts
A two-piece serving offers about as much caffeine as a cup of coffee
In addition to caffeine, the gum also includes L-theanine, B6 and B12
Founded by two college buddies who have degrees in neuroscience, chemistry, and economics — and who also trained with the Japanese Olympic Judo and U.S. Paralympic teams, respectively
---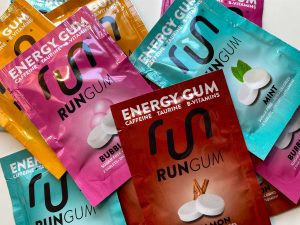 Run Gum
Run Gum has been my go-to gum of late (at least before trying a variety of other gums for this article). Their gums come in a wide variety of flavors, including Mint, Wintergreen, Bubblegum, Cinnamon, Fruit, Tropical Boost, Watermelon and Fruit Punch. While I have yet to try all of them, I'm currently partial to the Fruit Punch flavor as it's reminiscent of the Fruit Stripe gum that I chewed in my youth. However, like a lot of gums, the flavor doesn't last very long.
There are two semi-rigid tablets per foil packet, which come twelve to a box. The packets are recyclable via Terracycle.
Fast Facts
Infused with caffeine, taurine, and B vitamins
Founded by a track athlete and his coach who won seven national championships and six U.S. titles and made two Olympic teams
---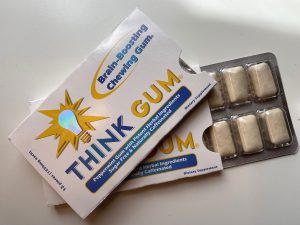 Think Gum
While other energy gums are often focused on physical as well as mental performance, Think Gum strictly positions itself more as a brain-boosting gum. It was invented by a Stanford University Ph.D. specifically to help students think faster and concentrate better. A subsequent study published in the peer-reviewed Journal of Appetite showed that students remembered 25 percent more when they chewed Think Gum compared to when they chewed regular gum or no gum at all.
The pieces look to be about half the size of other gums, but their blister packs include 12 pieces. The flavor starts off a little bitter and then flattens, until it mellows out into a nice peppermint.
Fast Facts
Includes what the manufacturer calls "The Four Horsemen of Brain Health," which are guarana berry extract, vinpocetine (derived from the periwinkle plant), ginkgo biloba and bacopa
Guarana berries are native to Venezuela and Brazil, found in many popular soft drinks in these countries, and naturally contain about 5 percent caffeine
Guarana shows brain-boosting effects even when the amount of caffeine present is insignificant, including increased performance across attention and sentence verification tasks
---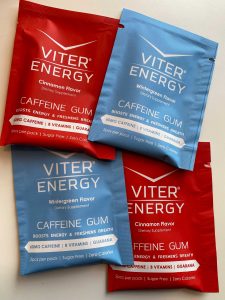 Viter Energy
Available in Cinnamon and Wintergreen, their pieces are semi-rigid tablets that come 12 to a blister pack. I will admit that the Cinnamon flavor starts out a little intense, almost spicy, before settling down.
Fast Facts
60 mg caffeine per piece, about a cup of coffee's worth
Includes B vitamins complex and guarana
Sugar-free, zero calories, gluten-free, aspartame-free, vegan
Founded by two friends who were passionate concertgoers who wanted an accessible, portable energy source for shows
---
'Chez' Chesak is an award-winning adventure travel writer, 20+ year veteran of the outdoor industry, Executive Director of the Outdoor Writers Association of America and chair of the Society of American Travel Writers' Central States Chapter.