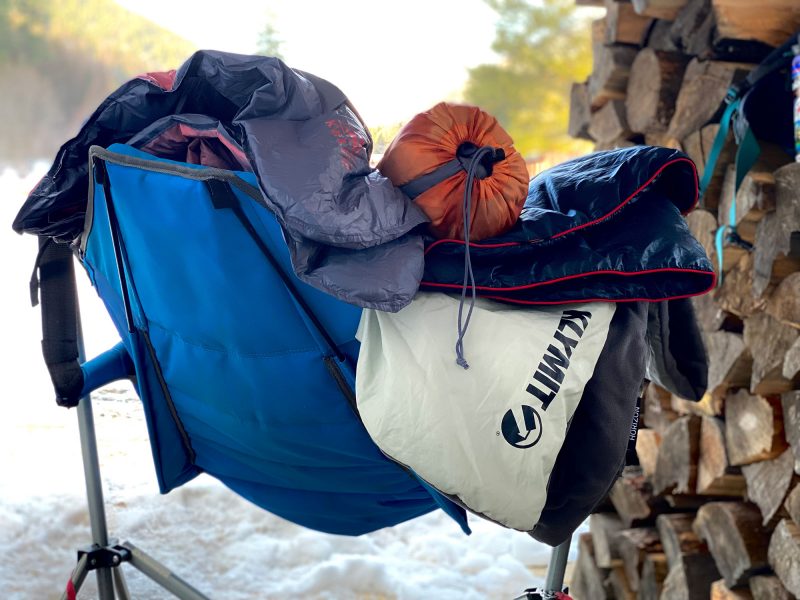 Snuggling up in a camp chair with a cozy outdoor blanket wrapped around you can make your camping experience more enjoyable — especially after a long day of adventuring. Yet many people overlook outdoor blankets when acquiring camping gear. Some people just grab an extra house blanket or quilt before heading out, use their traditional sleeping bag as a blanket or attempt to layer up with extra hoodies, jackets and coats around the campfire.
But whether you're tent camping, enjoying van life or camping out of your camper, a quality rugged outdoor blanket can come in handy while you're away from home. You can drag a rugged blanket across outdoor elements like rocks, sticks and dirt without worrying about ruining it. A durable blanket (specifically engineered to use outside) also gives you extra warmth around the campfire and the option to add extra warmth to your sleep system in the middle of the night if your sleeping bag falls short.
While a traditional throw blanket (like one you keep on your couch at home) may sound like a good idea to grab when you're headed out the door, blankets designed for indoor spaces often easily rip and tear outside. Indoor blankets can also collect large amounts of dirt and debris or absorb smells and become unpleasant to snuggle with. They're also not made to wick away water (like condensation, dew or rain), and you could unintentionally ruin your favorite blanket or quilt.
With today's technology, you can now choose from a variety of outdoor blankets that are both durable and comfortable. You can also choose from a variety of sizes, colors, prints and fabrics that best suit your personal aesthetic and outdoor lifestyle.
Here are five of the best rugged outdoor blankets ActionHub writers tested in the field that are sure to withstand the elements while adding an element of comfort for you during your time outdoors:
Rumpl Nanoloft Puffy Blanket
If you're a fan of the quilted outdoor puffy jacket filled with down or fluffy synthetic fabric, you may fall in love with Rumpl's Nanoloft Puffy Blanket like I did.
You've probably seen Rumpl blankets in their stuff sacks hanging on the walls of outdoor retail stores like REI or on display stacked together in a large bin at your favorite local outfitter. There's been a lot of hype around this brand since they launched their National Park Collection blankets. And rightfully so. Outdoor adventurers typically gravitate toward gear featuring our shared outdoor spaces.
The Rumple Nanoloft Puffy Blanket is Rumpl's first blanket filled with a synthetic alternative to down. But you wouldn't know it. Each separate quilted panel of this lightweight blanket holds a lot of fluffy fill and acts just like down fill. When you press against it, the fill inside compresses and rises the same.
This insulation technology is made of a 100 percent post-consumer recycled NanoLoft insulation. Basically, Rumple engineers take tiny circular clusters of fiber and combine them in a way that mimics the properties of down clusters — trapping warmth inside pockets of air to preserve heat regardless of outside conditions.
Despite being lightweight (weighing just 1.5 pounds for the one-person blanket), this blanket is surprisingly warm. When you use this blanket to cover your legs, you can instantly feel the heat getting trapped in. It's also a nice size for one person at 52 by 75 inches — allowing you room to comfortably wrap the blanket around your shoulders.
There's four durable loops on each corner of the blanket, which is a nice touch. With those added loops you can secure your blanket in sand, dirt or grass if you want to use it to sit on. You can also easily loop rope or string through the corner loops to create shade or make a temporary shelter.
You can also use this blanket hands free with the attached "cape clip." This function gives you the option to wear your blanket while keeping your hands free so you can stay warm while walking around your campsite and still be active.

---
Klymit Horizon Overland Blanket
If you're incredibly rough on your outdoor gear, Klymit's Horizon Overland Blanket might be the best option for you. This large blanket (measuring 58 by 80 inches) has a soft fleece interior with a tough rugged water-resistant exterior made of 200D OU coated ripstop gradient fabric.
When you move this blanket around, you'll notice a loud crinkle sound — similar to a durable tyvek fabric or an outdoor tarp. Beware if you're a light sleeper and choose to use this blanket as your sleeping blanket. It does make a lot of noise. But with it's tough exterior, you'll be worry-free knowing your blanket can withstand harsh outdoor elements.
Klymit's engineers designed this blanket for you to throw in the back of your truck or ATV, drag over sticks, rocks and debris and use in light rain without the blanket ripping or breaking down. It's also heavy-duty, weighing in at 3 pounds, 4 ounces — heavier and a bit more rugged than other blankets in its category.
There's also plenty of cushion and fluff on the inside, too, to keep you cozy. It's surprisingly soft! Although it's not a "puffy" blanket with a lot of fluff, this blanket still has a nice amount of loft and the fill holds in warmth.

---
Sierra Madre Puffle Quilt
To get an understanding of what Sierra Madre's Puffle 5-in-1 Camping Trail Quilt is, think about it like your favorite puffy jacket turned into a versatile adventure blanket. It combines many of the functions of a typical sleeping bag, top quilt, and under quilt. The Puffle comes in three ratings: 20 degrees, 40 degrees and 55 degrees — the 40-degree one was a perfect middle ground that showed off the versatility of this blanket.
The 40-degree Puffle available in synthetic (20D Hydroshield with 3D PUFL Synthetic Insulation) that weighs 2 pounds, 3.2 ounces, and down (20D Hydroshield with Waterproof 650FP RDS DownTek Insulation) that weighs 1 pound, 5.1 ounces. While the down version has the same waterproofing features as the synthetic, people who have a tendency to camp and hike in some truly crummy conditions may be nudged them toward the trusted all-weather performance capabilities of a synthetic, particularly when wet. (The synthetic is also significantly less expensive.)
A major feature of the Puffle are the snaps and cinch cords, which allow users to really seal themselves inside (including cinching snugly around the feet) while also leaving a little breathability if you so choose.
It's 52 by 80 inches in size, just long enough to cover head to toe, and while hammock camping in winter, the Puffle was easily shuffled to be a wind-break against the chilly air coming off an adjacent creek. The Puffle truly blocked the force of the wind, which is something to be really thankful for. It's billed as being usable in lots of outdoor environments and conditions — it's linkable and stackable, so multiple Puffles play well together.

---
Kelty Galactic Down Blanket
If you want that feeling of a thick puffy down jacket, Kelty's Galactic Down Blanket will not let you down. It's like being wrapped in a giant (colorful) cloud. The rugged exterior is also silky to the touch on top of the nice fluffy feel you'll find in each of the long rectangular quilt sections. And it's warm! With 550-fill down, you'll stay toasty outside while taking in the views.
At just 1.5 pounds, this oversized blanket has a durable polyester shell — making it easy to brush off dirt and debris. I love the weight of this oversized blanket, and it's easily becoming my go-to security blanket outside. Measuring 72 by 55 inches, it's perfect for wrapping around your shoulders and still keeping the rest of you covered. It's also nice for using at home outside on your porch or in your backyard.
If you're into bright colors, this blanket won't disappoint. Kelty's designers added a bit of fun and flare to this blanket line and claim it's the "coolest cosmos-camo design this side of Saturn."
Overall, the quality of the stitching is evident. The exterior is tough. The inside is fluffy and soft. It's a cozy blanket you can plan to have around for years to come.

---
Kelty Bestie Blanket
If you're looking for a thin blanket that's also rugged and durable, Kelty's Bestie Blanket is one of the best options. The exterior is a tough 75D polyester Teffeta fabric with a smooth silky feel. The inside is soft fleece that holds in heat very well — surprisingly given this blanket's weight of 1 pound, 7 ounces.
The shape is unique, too, at 72 by 42 inches. This blanket is more rectangular than square, so you can wrap it around you farther or fit more people on it if used as a ground cover. This blanket is high quality given the price point under $30 and will give you the most bang for your buck.
You'll find that dirt, debris and water easily fall right off of the Bestie blanket — making it a good choice for camping in a number of weather conditions. It's also very easy to wash as it's thinner than other outdoor blankets.
And although this blanket is made to resist the outdoor elements and keep you dry outside, it's also easy to pack into the included stuff sack — making it a great go-to option for travel. It's a nice option for using in the car, at the cabin, for a picnic or even in your living room.

---
Suzanne Downing is an outdoor writer and photographer in Montana with an environmental science journalism background. Her work can be found in Outdoors Unlimited, Bugle Magazine, Missoulian, Byline Magazine, Communique, MTPR online, UM Native News, National Wildlife Federation campaigns and more.