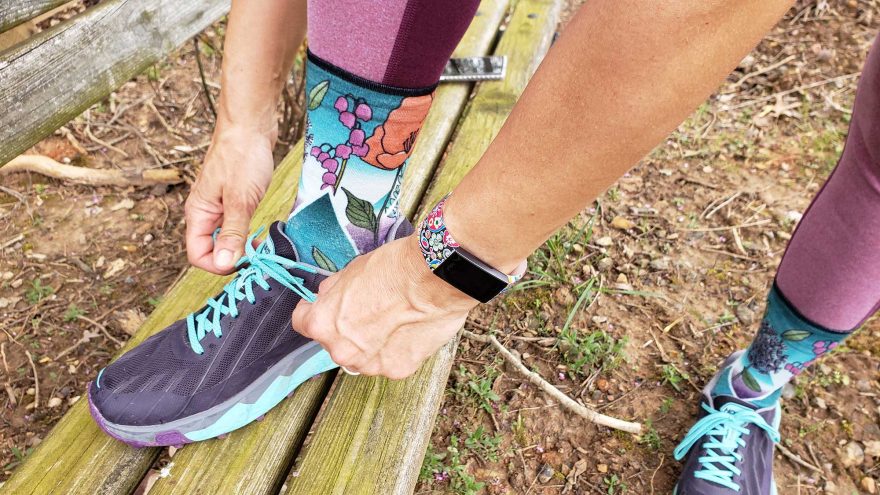 We got input from several athletes and adventure writers to make our picks of the best women's trail running socks on the market
---
You're not going to hop over to your local Walmart and find the best trail running socks to maximize your performance. So much goes into making a great trail running sock — not the least of which is the material, the cushioning, and the compression. Additionally, your typical trail running sock is a whole lot different than a road sock, and men's versions are going to be different than women's trail running socks (some makers have unisex styles).
Luckily, there are several performance-focused sock brands that are available to help women runners stay healthy, happy and comfortable on the trails. Some of these companies have been around for several years and have put on the miles underfoot of some of the best runners in the world. Others are newer to the running scene, yet bring something particularly special to their trail running socks, something that makes them stand out from so many others on the market.
We got input from several athletes and ActionHub contributors to showcase 13 of the best women's trail running socks on the market. Factors such as durability, feel, styling and manufacturing all come into play. These are the ones many runners have on their feet for both training and race days, and if you try them out, you'll know exactly why.
EDITOR'S PICK
Denmark-based Rockay came onto the scene in 2018 and has been scooping up major recognition ever since. Among their newest offerings is the unisex Rockay Razer, a trail-focused crew sock constructed from Econyl regenerated nylon, a recycled material that uses fishing nets and other ocean waste. The Razer has midsole compression as well as cushioning built into the ball and heel, and the structure of the sock offers superior stability for runners. The company uses a 200-needle thread count to give the yarn a wonderfully buttery feel. That feature also allows for a denser construction (aiding durability, especially in trail socks) and provides good stretch and recovery due to tighter tension. The top of the sock balances the ease of circulation with enough snugness to keep dirt and debris from getting inside. The sock as a whole is virtually seamless.
Vitals
Fully Recycled Materials: 51% Econyl Regenerated Nylon, 45% Recycled Polyamide, 4% Recycled Elastane
Seamless Toes
Performance Cushioning
Breathable Mesh Zones
Arch Support
Anti-Odor Coating
Anti-Blister Construction
Lifetime Guarantee
List price: $20.99

---
OTHER FAVORITES
The Women's PhD Pro Endurance is new for 2020 — the men's version of this sock was released in 2019 with the help of ultra-runner Rob Krar, and his vision for it, namely the minimal and targeted sole cushioning and a new malleolus ankle cushion, has been translated into a women-specific design with the hopes of helping on our toughest and most rugged trail runs. Compared against the men's version of this sock, the women's PhD Pro Endurance is cut slimmer, and it hugs the heel well without being too tight. Smartwool puts a lot of effort into the flexibility around the ankle with its 4-Degree Elite Fit System, and it offers good movement without sacrificing the stability that we've gotten used to with other socks. The durability of this sock is partly thanks to Smartwool's patent-pending Indestructawool construction method, a technology that has found its way into so many of the company's footwear products.
Vitals
Minimal and targeted sole and Achilles cushion to add protection without adding bulk
Malleoulus ankle cushion for protection on the most rugged trails
Virtually Seamless toe for enhanced comfort
Made in USA of imported yarn: 49% Merino Wool, 44% Nylon, 4% Elastane, 3% Polyester
List price: $25.95

---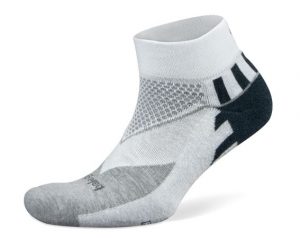 Anyone who has ever taken part in a community race has heard of Balega — their sponsorship efforts and fan base are extensive. These socks are going to be thinner than a lot of running socks out there, and thanks to Balega's Drynamix moisture management system, they breathe quite well and allow substantial airflow to ensure cool and dry feet. They also have built in mesh ventilation across the top. Think of it like a hug for your foot. The Enduro Low Cut running socks perfectly mold around the contours of your foot, lock in the heel and midfoot, leave your toes room to move, and help prevent heel blistering. Balega also does well to support communities: Its packaging is made up of partially recycled cardboard. Balega's manufacturing facility in Cape Town, South Africa, uses a water recycling purification system that recovers up to 50 percent wastewater. And they give back to South African communities, donate money to breast cancer prevention and help veterans in need.
Vitals
Provides structured running sock fit that perfectly matches the contours of your foot with our signature V-Tech Arch Support System
Keeps feet cool and dry with Balega's proprietary Drynamix moisture wicking fibers, plus specially constructed, reinforced microfiber mesh ventilation panels
Delivers impact resistance with optimal cushioned running sock design
Leverages medium volume running sock construction
Maximizes comfort with hand-linked seamless toe
Ensures perfect fit with reinforced, extra-deep heel pocket
List price: $13.00

---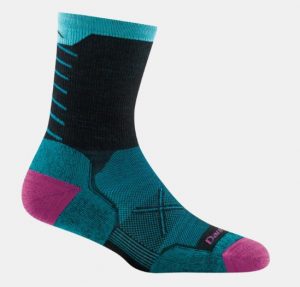 Darn Tough Vermont socks have long been seen on the feet of hikers throughout the country, and their running socks have been gaining in popularity, especially as those same trail hikers become trail runners. This Vertex sock provides a light layer of cushioning along the bottom of the foot, and it being a micro-crew height means that it's a shorter, more concise take on a traditional crew sock. From the form-fitting toe box to the sculpted heel pocket and integrated arch support, Darn Tough's knitting techniques yield top-notch performance socks. The Vertex also has highly breathable mesh paneling, with maximum forefoot placement, and coupled with the fine-gauge and breathable Merino wool means your feet stay aerated and ultra-cool even on the hottest of days.
Vitals
50% Merino Wool 44% Nylon 6% Lycra Spandex
No slipping, no bunching, and no blisters
Fine Gauge Knitting: Unprecedented durability and Darn Tough's unique "put it on, forget it's on" feel
Pulls moisture away from skin. Fast drying.
Naturally Antimicrobial: Repels bacteria and odor
Guaranteed for life
Undetectable seam fusion for an ultra smooth, invisible feel
List price: $20

---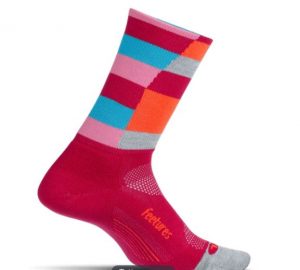 This Feetures running sock is engineered with anatomical design and targeted compression, providing a custom-like fit and reduced risk of blisters, plus Feetures' light cushion for added impact protection. There's no slippage in the heel with the Elites. These socks also do well to wick moisture to keep feet cool and dry and have a seamless toe. Additionally, the toe box is big enough that your toes won't feel crunched.
Vitals
96% Nylon 4% Spandex
Targeted Compression and anatomical design provide an unmatched Custom-Like Fit
High density cushioning provides cushioned comfort without the bulk
Anatomical design enhances fit, delivering maximum comfort and protection by eliminating blisters
The Perfect Toe (No irritating toe seam)
5-inch cuff perfect for trail running or making a fashion statement while on the run
List price: $17.99

---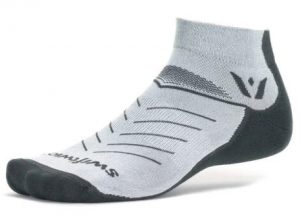 The Swiftwick VIBE One is a versatile low-end cushion, moderate compression sock that adds a good amount of support without feeling "heavy" on your feet. The VIBE One is built with high Olefin content in the footbed for optimum moisture control. Linked Toe Technology offers a virtually invisible toe seam to eliminate the potential for blisters in the toe box. One cuff height rises just above the ankle for additional support and protection, and these socks are known for being particularly durable.
Vitals
46% Nylon / 45% Olefin / 9% Spandex
Low to medium cushion for versatility
Flat-knit upper improves breathability and eliminates irritation
Signature Olefin fiber keeps your foot dry
List price: $14.99

---
There's little doubt that this unisex sock is unlike any other you've worn before, and in many ways, that's a good thing. This is Injinji's lightest-weight mini-crew, setting out to provide lots of comfort without being bulky. The standout design puts fabric around each toe, eliminating skin-on-skin friction that can cause blisters. And it gives your toes freedom to splay, align naturally, and work independently for improved comfort, balance and grip. The 200-thread-count COOLMAX fibers and a breathable mesh top keep your feet cool and dry, and the seamless ergonomic construction and integrated arch support provide a secure, slip-free fit. The mini-crew length sits just below the ankle and works to ward off debris.
Vitals
27% CoolMax and 68% Nylon and 5% Lycra
Part of the Run Series
Durable, ultra-thin sock features a mesh top for added ventilation
Allows your toes to splay naturally
Arch support construction promotes circulation and non-slippage
List price: $13.00

---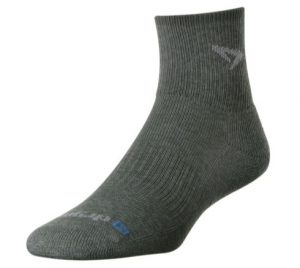 This newly redesigned trail running sock remains true to its trail heritage, combining the drymax Dual Layer Sweat Removal System with sturdy construction for tough off-road conditions. This sock is a beefed-up version of Drymax's Lite Trail sock — and while we like lighter weights in many instances, here, this tougher version simply felt more "right." Knitting advancements along with a seamless toe have resulted in this trail running sock feeling smoother on the inside. Dense yarns surround the foot increase security and durability. The 1/4 Crew features Drymax's protective double knit leg to reduce debris entering the shoe, while the Turn Down leg feature makes for a cooler run on a hot day.
Vitals
Drymax Dual Layer Sweat Removal System with sturdy construction for the toughest of conditions
Denser yarns and a seamless foot and toe envelop the foot in comfort and security
The 1/4 Crew version features a unique Turn Down leg with enhanced ankle padding to reduce debris entering the shoe
List price: $14.00

---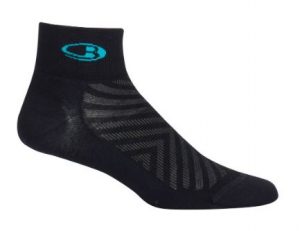 This ultralight women's running sock is made with a technical Merino wool blend and comes in shorter, height-wise, than many of the socks on this list — but they still form a good seal around the ankle to keep out debris. They have unique left and right fits, and are not going to bunch or shift on your foot. The Achilles support is particularly well done in this sock, and the Merino is soft, non-itchy, non-clammy and does well to resist odors. The material is naturally renewable, recyclable and biodegradable. The breathability of this sock helps your feet stay warm in the cold and cool in the heat.
Vitals
49% Wool 49% Polyamide 2% Elastane
Anatomical toe box for unique left and right fit
Sculptured cushion maximizes fit and comfort
Achilles support keeps your sock in place
Reinforced heel and toe for durability and strength
Instep support for stability
Seamless toe closure to reduce bulk and prevent blisters
Breathe zone for improved ventilation
List price: $18.00

---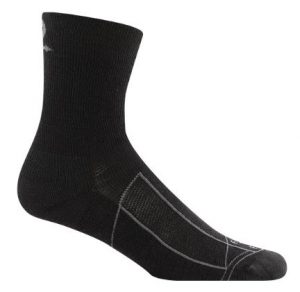 The Greensboro 3/4 Crew unisex multisport sock is built for function — though it does well on style, too. This high-coverage sports sock features comfort compression from the Achilles through the arch for a secure, supportive fit, with full-density internal cushioning for improved wicking and shock absorption. Lightweight, breathable, naturally antibacterial and 100 percent U.S.-grown Merino wool keeps feet cool in the summer and warm in the winter.
Vitals
50% U.S. Merino Wool, 46% U.S. Nylon, 4% U.S.LYCRA Spandex
Cushion that is light in weight along the base of the foot only. This all-season construction is highly versatile
A slightly shortened crew that fits just below the calf but above a hiking boot
Advanced knitting techniques create a totally flat connection in the toe box, reducing bulk and eliminating blister-generating friction
Reinforced construction and low-stress seam placement reduce wear and tear, increasing the life of the sock
List price: $20.00

---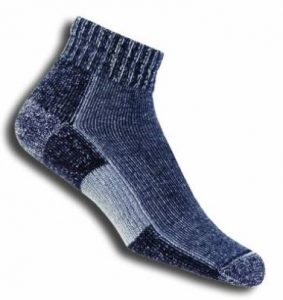 The unisex TRMX is specifically engineered to deliver protection and comfort in the critical strike zones for any trail runner prone to blisters, foot pain or discomfort. Constructed with THORLON blended with THOR•WICK COOL fibers for superior softness, resilience, durability and extra moisture-wicking for drier, cooler, better feeling feet. The goal is to leave the feet feeling less tired after long workouts, and that have a reputation that they'll last for years.
Vitals
18% Exclusive THORLON Acrylic , 4% Elastic , 61% THOR-WICK COOL , 17% Nylon
Cushioned instep and arch for a better fit, more support and less pressure on the feet for a more comfortable run.
Low profile toe seam won't rub or irritate the feet.
Unique padding specifically engineered for trail running, clinically shown to reduce blisters, pain, pressures and moisture
List price: $16.99

---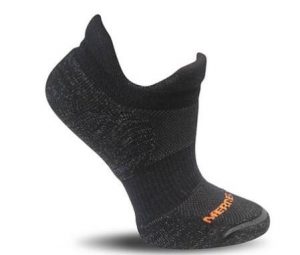 This sock offers two cushioned tabs and features a flexible heel pocket that hugs your foot. The front and back tabs provide great protection from shoe irritation, and it has a seamless toe, low-cut tab, arch support characteristics and mesh to aid breathability.
Vitals
Fabric: 60% Merino Wool, 38% Nylon, 2% Lycra®
NanoGLIDE Technology is plaited in heel and toe for added durability
Arch support
Mesh for breathability
Cushioning in the heel and toe buffers rough terrain
Cushioned heel and front tab
Seamless toe
List price: $15.00

---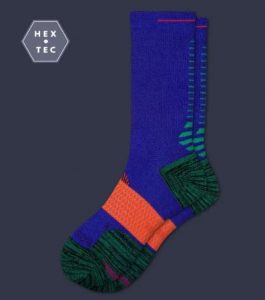 Bombas has almost become synonymous with good vibes and a mission-driven message: For every pair of socks purchased, one pair is donated to the homeless community. As of April 2020, Bombas said it had donated over 35 million pairs. This Bombas performance sock is lightweight and purpose-built for running, working out and movement. Bombas' Hex Tec construction assists with breathability and moisture-wicking, while it's constructed out of a proprietary poly/cotton blend. These socks include comfort innovations like strategic zone cushioning and airflow ventilation.
Vitals
51% Polyester, 33% Nylon, 12% Cotton, 4% Spandex
Strategic Zone Cushioning
Airflow Venting
Seamless Toe
Honeycomb Arch Support System
Y-Stitched Heel
Stay-Up Technology
Left-Right Contoured
List price: $16.00

---
We are committed to finding, researching, and recommending the best products. We earn commissions from purchases you make using the retail links in our product reviews. Learn more about how this works.