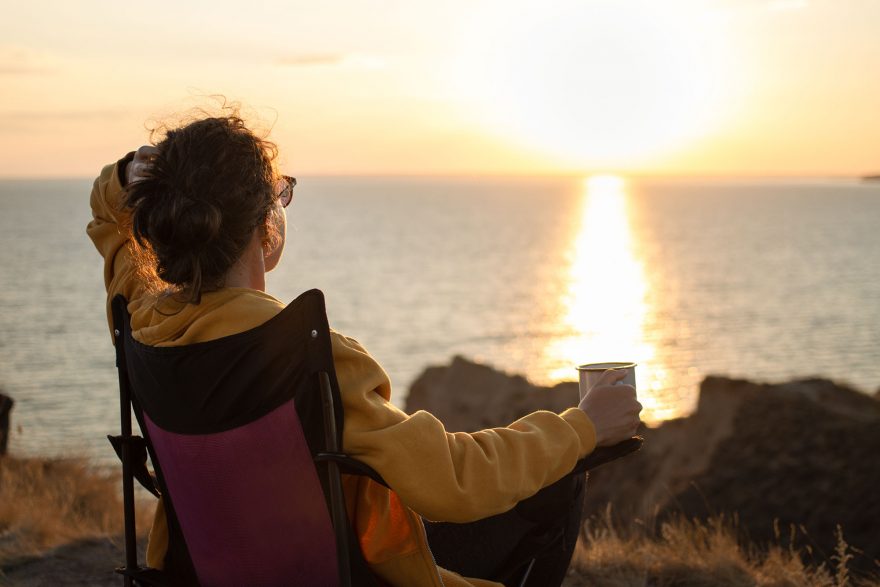 You probably already know about the importance of hydrating during your outdoor adventures. Whether you're hiking, kayaking, rock climbing or out on a trail run, it's important to drink plenty of water. Water helps you think clearer, it helps regulate your body temperature and keeps your joints lubricated to prevent injury. And those are but a few benefits of drinking water while you're active outside.
But what about after your adventure? When you're ready to kick back and unwind you may want a treat — something refreshing that helps you relax and renew. Your go-to grocery store, gas station or local brewery will most likely provide you with the luxury to choose from several refreshing beverages. And what we drink is personal — often even associated with a specific memory you have or tied to the outdoor activity you were doing. (Like drinking an umbrella decorated margarita beachside after a long day surfing some waves.)
Related: The 3 R's of Post-Run Recovery: Refuel, Rehydrate and Repair
So how do you decide what to drink to refresh you after an outdoor adventure? Well, it probably comes down to personal preference. After all, beverage manufactures know that personal flavor preferences highly influence human decision. Perhaps that's why Gatorade alone has nearly 30 flavors, such as melon, mango, lime cucumber and tangerine. You are unique, and the variety of beverages you consume are also unique to you.
Location also can influence your post-adventure drink. If you live in a city, you may be more prone to pop into a local brewery or coffee shop. If you're in a rural area, perhaps you have something waiting at home for you on ice that's equally refreshing.
Here are some favorite go-to refreshing beverages from some outdoor adventurers. You may even learn of a new refreshing post-adventure drink to try that you've never heard of!
---
Light Hearted Ale from Bell's Brewery
Drew YoungeDyke is often hiking, canoeing, camping and beach-hopping up the Lake Michigan coast to catch a wave as a newbie surfer. And after a long day outside, YoungeDyke said he enjoys a Light Hearted Ale from Bell's Brewery.
"I love IPAs," he said. "But as I've grown older, I want fewer calories and a lower alcohol volume in a beer."
Light Hearted Ale has a hoppy flavor and half the calories and alcohol of most IPAs on the market, making this refreshing beverage a top choice.
"It's also produced by Bell's Brewery, a home state brewery for me in Michigan and a member of the Great Lakes Business Network. Owner Larry Bell has been an outspoken advocate for protecting the Great Lakes from the threat of an oil spill from the Line 5 pipeline."
When YoungeDyke recently camped out at a northern Michigan beach campground — after fishing, paddling and surfing — he chose Light Hearted Ale as his perfect post-surf session beverage.
"It tastes great, helps support the waters I use and even has a trout on the cover, a reference to Ernest Hemingway's 'Big Two-Hearted River' short story."
---
Horizon and/or Hershey's Chocolate Milk
Chez Chesak in Ohio is a 20-year veteran of the outdoor travel industries. His go-to refreshing beverage of choice after a day outside is chocolate milk.
"It's just delicious, is a great recovery drink and you can just feel it refueling and re-nourishing your body after a long day on the trail or on the river," said Chesak.
When asked about his chocolate milk brand of choice he said, "When I'm doing the right thing, Horizon. When I just want the biggest choco-blast possible, I go 'big' with Hershey's."
---
Island Southern Peach Beer by Island Brands
For me, there's something extra special in Island Brands premium southern peach tea beer. After a long day hiking on trails in my home state of Montana, an ice-cold light peach beer is so refreshing — especially while enjoying the early evening mountain air on my porch swing.
The peach taste is subtle, not overwhelming. Island brands uses sun ripened peaches, fresh brewed southern tea and premium beers that makes it crisp and clear with just a hint of peach tea flavor.
If you're looking for a lower calorie option, a bonus refreshing drink recommendation is Island Active with just 88 calories per can, which is an occasional go-to refreshing drink for me. It's a light lager with no fillers or preservatives.
---
Gas Station Slushies
Samantha Weber in North Carolina prefaced her refreshing beverage of choice with the phrase, "This is not healthy at all."
She's been adventuring all over the world outside and the first thing she thought of was gas station slushies. "The kind in those big mixing dispensers, usually a bunch of different flavors," she said.
"My boyfriend and I went on a really hard, really hot backpacking trip near Shenandoah last summer and for some reason got it in our heads that we NEEDED gas station slushies when we finally made it back to the truck. Best thing I ever tasted, it brought us back to life.
"Now I associate them with backpacking."
---
Jumex Mexican Juices
Serra Hoagland in Montana — avid outdoor runner, surfer and more — said her most recent go-to post outdoor adventure drink is Jumex Mexican juices.
"They hit the spot and I used to drink the guava one with my brother as a kid. They are hard to find in Montana so whenever I see them at the store, I'll stock up on them."
---
Non-Alcoholic Beer and/or Ginger Beer
For Ken Keffer, a vagabond naturalist in Wyoming, he said he recently switched to drinking more non-alcoholic beers.
"Especially for the 'lawn mower beer' situation where I just want something cold and wet to quench a thirst. Lagunitas Brewing Company has an awesome Hoppy Refresher," he said.
"Otherwise, a sharp ginger beer hits the spot."
---
Lemon Lime Gatorade
As a hiker, trail runner and horseback rider, Lauren Rideg in Montana enjoys a cold lemon lime Gatorade after her outdoor adventures.
"I think I like them because they remind me of summer," she said. "I've also always been a really big citrus fan. I love anything lemon, orange or lime flavored."
---
LaCroix Pamplemousse Sparkling Water
Kelsea Harris-Capuano finds joy and meaning among wester landscapes and is a big LaCroix sparkling water fan. She remembers a mountain biking trip at Post Canyon, known as Hood River's "ultimate" mountain biking destination in Oregon.
"Me and four other friends had to slog all the way back up to our campsite after a ride (at least a 1,000-foot climb) and it was sunny and muggy and we were all dripping with sweat," she said.
"I'm pretty sure everyone got off their bikes to walk at least part of the uphill climb. I refused to get off my bike and I remember getting back to camp first and beelining it for the cooler. An ice cold pamplemousse flavored bubbly was waiting for me."
"I can't tell you how good it tasted, the crisp sound of opening the can, putting the cold wet can up to my red face. I'm pretty sure I spent a good portion of the slog up just picturing getting that cold beverage at the end."
---
Cold Apple Cider
ActionHub editor Ryan Tipps, who's a trail runner and hiker, likes to kick back with cold apple cider when he's done for the day outdoors.
"The chill and the sweetness quickly make me forget about the aches I have after a hard training day on the trails."
Unfortunately, this isn't a perfect world, and perfect things don't always happen. Tipps' go-to cider brand, from Murray Cider Co., which was local to his area of the Virginia Blue Ridge Mountains, closed a couple of years ago. Cider is still available at numerous groceries, of course, but it may never be as wonderfully refreshing as those glass bottles of Murray's were.
---
Suzanne Downing is an outdoor writer and photographer in Montana with an environmental science journalism background. Her work can be found in Outdoors Unlimited, Bugle Magazine, Missoulian, Byline Magazine, Communique, MTPR online, UM Native News, National Wildlife Federation campaigns and more.