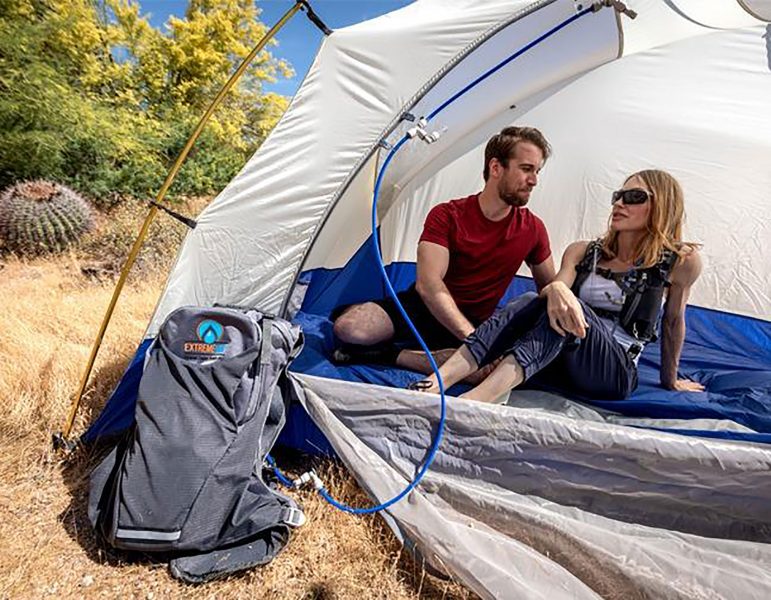 I was in Atlanta the first time I used the ExtremeMist Misting & Drinking Hydration Backpack — it wasn't as sticky as the Georgia weather can sometimes get, but it was still hotter than this Indiana native finds comfortable. The sun was pounding down for nearly two full days as my Ragnar Relay team and I took turns tackling the nearby trails. Staying hydrated around our campsite while waiting for other runners to complete their laps wasn't necessarily a problem, but staying cool was.
And that's where the ExtremeMist pack comes in most handy: when you're not stressing about speed or weight in your outdoor activity. This portable cooling system can be a both a traditional hydration pack or tap into battery power to pump a fine mist over the user, with only the press of a button. It was certainly a head-turning innovation at the Ragnar.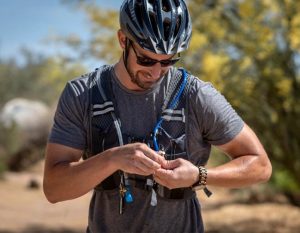 ExtremeMist's Personal Cooling System can be retrofitted to many of the standard one- or two-clip hydration vests and packs that cyclists and hikers wear. Or it can be purchased with ExtremeMist's own nylon pack, which is complete with adjustable side Z straps, nine total pockets (including stretch pockets and large interior pockets), a safety whistle, breathability zones, ergonomic features and lots more. It incorporates a lot of the traits that you'd find on many modern packs.
It's also got some smaller little flourishes that aren't necessarily apparent until you get your hands on the pack, like an insulated tube, a cover/protector for the pump control and sturdy zipper pulls that make access noticeably easier.
The cooling system has a rechargeable battery, which powers an 8-speed wireless remote control for mist density and includes two sizes of misting nozzles. While water usage is an estimate, ExtremeMist reports that the lowest speeds use about 1.5 to 2.5 cups of water per hour, while medium speeds use 2.5 to 5 cups, and higher speeds are in the 5- to 6-cup range. The pack's reservoir is two liters (a little more than eight cups), and my use was pretty much on par with that.
I didn't have a way to measure the temperature change while in the misting zone, but ExtremeMist says that many users can expect as much as a 30-degree (Fahrenheit) difference with the misting function on. Of course, that depends on the actual heat and humidity of the day, but anything that can move the mercury on 95-degree scorcher wins points in my book! 
"Our Blue pump technology atomizes water into mist at 170 psi as it mimics sweat to help cool you down as it evaporates from skin contact," says Ron Laikind, the founder of Arizona-based ExtremeMist. "ExtremeMist Personal Cooling System will allow you to recover faster and extend any outdoor activity by cooling the surrounding air temperature."
I've since found myself reaching for this pack while on a hike with my family near the beach and during a flatwater kayaking outing where I didn't want to spend too much time actually swimming. I don't suspect a lot of people have filled the reservoir with orange-colored water high in tannic acid from swamps before, but, well, that's what I did!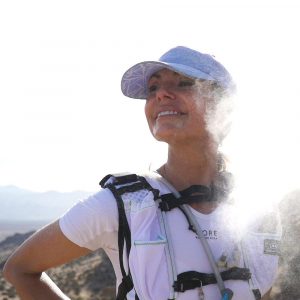 The cooling pump is designed so that it can easily be removed from the pack and used in a variety of other cooling applications (just imagine a hot day on the golf course!), and it can utilize ExtremeMist's Quad Hose/Nozzle Kit for large area cooling. I expect to take it on weekend camping trips this summer, so I can set the backpack and reservoir in an area where everyone I'm with can fire off the pump and get a burst of cooling water.
While the pack itself is a reasonable weight, it's likely that some people may be a little nervous with the 1-pound weight of the battery and water pump. It's not going to be something that trail runners, for example, will gravitate toward, but it would be a solid fit for hikers who are already used to carrying gear for an extended adventure or who are simply more about the endurance than the speed. Same goes for cyclists, who may not be so focused on a lightweight experience outside of race day.
There's no doubt that ExtremeMist has brought something unique to the table by marrying such hydration and cooling properties into a single pack. And Laikind is very hand-on with his products, with many shoppers praising ExtremeMist's customer service.
I've found that the backpack is going to be ideal for adventures like meandering hikes or bike rides, leisure sports (with the large-area cooling kit), and family outings, where parents and kids can all knock a few degrees off their day. But I can also see it being a good addition for a weekend-long backpacking trip in some hot, dry areas, where any little bit of moisture will be wonderfully welcome!
Images courtesy of ExtremeMist