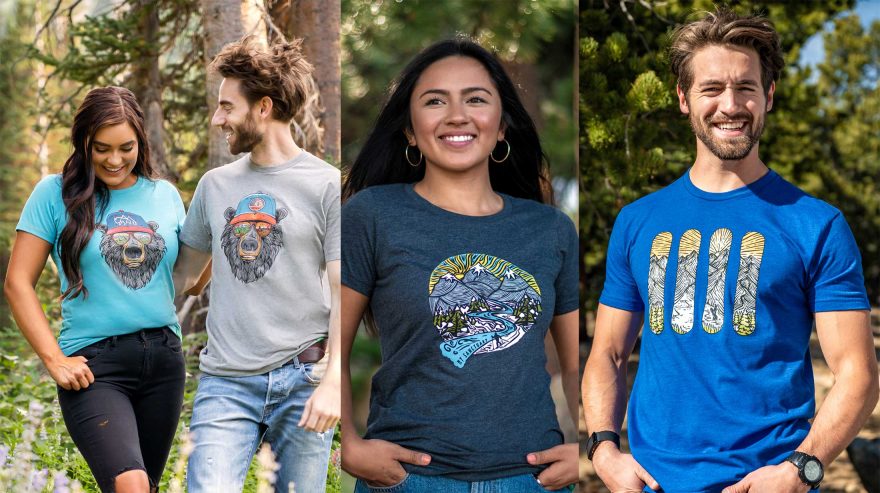 Clothing brand Wild Tribute has become a meaningful part of the fabric of national parks, including donating a portion of proceeds to their preservation
---
If you embrace the outdoors like I do, you have a deep respect for national parks and public lands — after all, they are the places where we strive to ascend to new heights, explore our limits and feel the rush of untouched springs and streams. Protecting these places is paramount to our purpose, and it's refreshing to find ways to give back and help make them sustainable. It's why a brand like Wild Tribute, which donates 4 percent of its proceeds to these parks, is so meaningful. "4 the Parks" has naturally become the company's rally cry — a fitting one, at that. To go inside the brand and see what they're all about, we get Unpacked with Wild Tribute.
Wild Tribute has found its niche primarily as a T-shirt brand, with tops that feature uniquely drawn artwork that evokes the lifestyles of national parks. The art showcased on these shirts may be a reimagining of Smoky the Groovy Bear or Teddy Bro-Sevelt, or they use typography of park names to cleverly form into an animal shape, or else they tap into some other amazing slice of outdoor or van life and bring it into focus in a visually fun and interesting way.
"A lot of what people love about us is our stories," says Katie Botwin, marketing specialist for Wild Tribute.
And a lot of their story is in their mission.
"Choosing to donate 4 percent of revenues demonstrates our commitment to prioritize purpose beyond profits," the company says. "That said, a conscious business is not without the conscious consumer. We're defined by those who love our national parks and public lands as much as we do. Together, we pay tribute to these wild and historic places. Together, we're making a difference."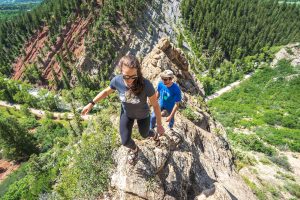 Wild Tribute's Roots
Based in Salt Lake City, Wild Tribute sells its gear in the majority of lower 48 states' national park gift shops, as well as in many gateway communities to national parks. The meat of their footprint is in the western U.S., though their shirts are getting more common in eastern regions, too. 
The company has been around since the early 2010s, founded by two brothers-in-law: Brian Stowers and Ben Kieffner. While many outdoors clothing companies are primarily or entirely online, Stowers and Kieffner immediately looked at getting into parks gifts shops and making sure that the money spent there stays in those places. 
As skiers and backpackers, Stowers and Kieffner founded Wild Tribute because it was heartbreaking to see so many unmaintained trails and trash around our national parks, and funding being so severely impacted. This was their vision for being able to give back. 
"Our thought process has always been that if people are going to the national park, and they want to get something to commemorate that trip, why not get a shirt that's going to donate back to the park," Botwin explains. "So if you're buying a shirt from Acadia, that 4 percent is going to go to that park." (If you do choose to buy online, Wild Tribute lets you choose which park the money is donated to.)
Wild Tribute also works with park partner groups to help find the best projects to put the money toward. 
"Part of our mission is to give back to these places that we all love and to these places we love to explore," she says.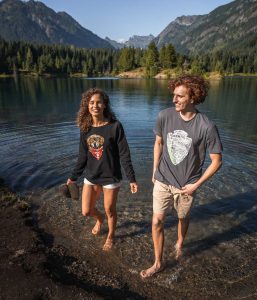 The Clothing and the Path Forward
Wild Tribute has a deep selection of shirts, as well as some hats and stickers, but they don't have the kind of product variety that a company like Black Diamond or Mountain Hardware has. So what sells people on Wild Tribute is the mission. 
"We do have some hard-core adventure enthusiasts, but a lot of our audience are those folks who are maybe going to a national park just once or twice a year. It is important for us to hit all of those different realms," Botwin says.
The shirts Wild Tribute currently has for sale are soft and intricately designed, mostly using a cotton/poly blend fabric. 
"We put quite a bit of emphasis on our artwork, and we work with a lot of different artists," Botwin notes. For example, the National Park Road Trip Collection features a Volkswagen van with imagery from individual parks pouring out its doors and windows. In the Mountain Dog Collection, each shirt's unique flair is patterned into the featured pup's bandana. 
Some of the artists Wild Tribute uses have been here since the beginning, while the company continues to add new talent and new visionaries for future work.
Spring 2021 is poised to bring a lot of newness to Wild Tribute's offerings, with a heavier emphasis on women's shirt styles, including more long sleeves and crop tanks. The art will do more to showcase geometric shapes, and more muted color options will be offered.
Beyond this coming season, Wild Tribute is also exploring adding more technical fabrics and athletic shirts to its lineup, as it continues to sort through the pandemic-impact supply chain.
With everything Wild Tribute offers, it's hard not to embrace their mission of being "4 the Parks" and it's easy to find a style that speaks to you.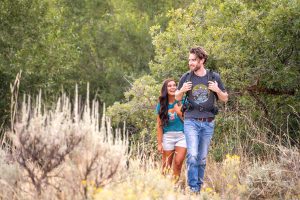 ---
Unpacked is a regular feature on ActionHub to help people discover new performance and lifestyle items that will amplify their adventures and outdoor experiences. This article was not sponsored by the brand or any PR/marketing agency, and all opinions are that of the ActionHub writer.
Images by Wild Tribute