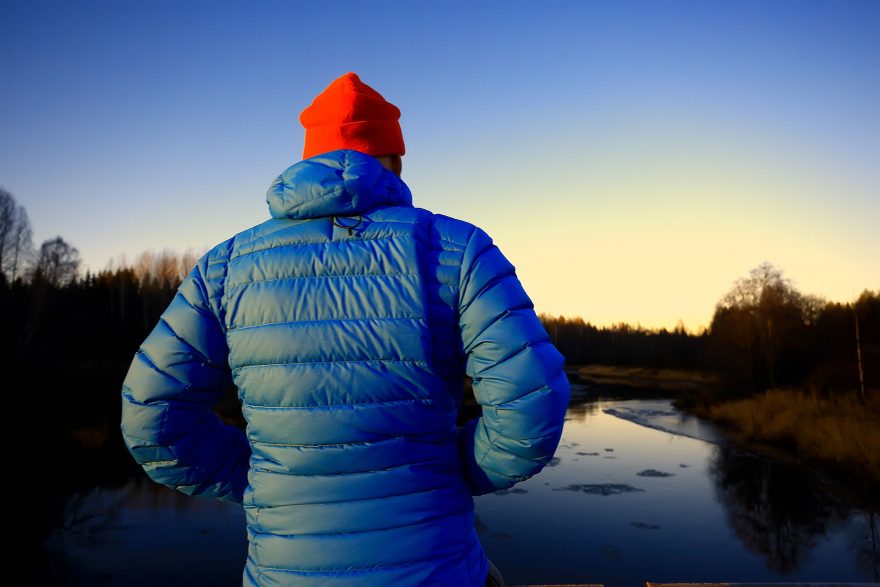 With the advances made in weather resistance, these picks for the best lightweight and ultralight down jackets bring comfort and warmth closer than ever
There's nothing quite like the beauty of a forest painted orange, yellow, red, and gold by the leaves changing color as winter approaches. On a sunny autumn day, you might feel like you're in an impressionist painting with so many brilliant hues. Fall, winter, and spring months provide some of the most spectacular opportunities for hiking and camping. However, being caught outside without enough warm gear can make even the most stunning trip very uncomfortable. If you want to enjoy being outside during the colder months, you're going to need some extra insulation to help keep the cold out. Especially on crisp mornings and evenings, a warm jacket makes all the difference and allows us to stay cozy and happy.
There are many different options for warm jackets out there. For hikers and people who are camping or carrying a big load however, a good jacket has to check a lot more boxes than just being warm. The ideal jacket should provide instant warmth, be lighter than a water bottle, and pack away small enough that you don't even really notice it's in your bag. It should also be durable enough to stand up to the kind of things one would encounter around camp — and, in a perfect world, be weather resistant.
Enter the down jacket. This iconic layer is a favorite of outdoors enthusiasts and athletes all over the world, and for good reason. The amount of warmth down provides in relation to its weight is virtually unmatched, even with the latest in synthetic technology. Additionally, due to advancements in hydrophobic coating as well as shell fabric and baffle construction, down jackets are more weather resistant than ever.
There are scores of options from brands offering different models and designs of down jackets. Unfortunately, not all these jackets are designed well. Some aren't as warm as we'd expect, or they don't really pack down small enough, or a host of other problems. Obviously, if you're going to spend your hard-earned money on a down jacket, you want to make sure you're getting something that'll perform well. We have put together this list to help you make that call. Keep in mind, these are lightweight and UL (ultralight) jackets that work best with a warm baselayer.
Here are our picks for the best lightweight and ultralight down jackets from eight different categories: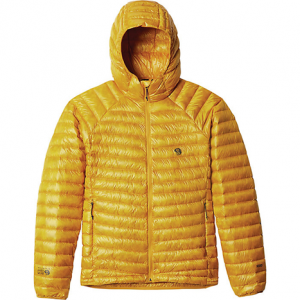 Mountain Hardwear Ghost Whisperer UL
Top-rated for ultralight performance
The Ghost Whisperer is a long-standing, award-winning jacket that has been put out in quite a few iterations over the years. It is arguably the most well known product that Mountain Hardwear makes. Fans describe the Ghost Whisperer as an extremely light jacket that performs exceptionally well given its weight. This year's UL model also features a fully recycled shell fabric, and RDS certified 1000 fill power down. This extremely high fill power is rare to see, and it means the jacket will deliver more loft at lower weight and pack down even smaller than its competitors. The Ghost Whisperer UL comes in a variety of colors, and includes both a hooded and a non-hooded version to suit your individual taste. Be sure to check out the review we wrote for the Ghost Whisperer UL.
Click the button below to find the Ghost Whisperer UL, along with more detailed specs:

---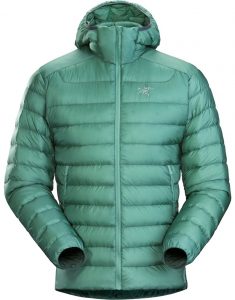 Arc'teryx Cerium LT
Best mix of performance and style
Arc'teryx is a Canadian brand best known for two things — high price tags and an unrelenting commitment to quality. Their clothes also have a reputation for having a tailored fit. The Cerium LT is no exception to any of these things. Typically retailing at $379 USD, the Cerium is certainly more expensive than a lot of other comparable jackets. What makes it worth the price? For starters the garment features quality stitching throughout, a well-designed hood and sleeves that stay in place. Moreover, the Cerium LT is stuffed with plenty of quality 850 fill down. Standard features like adjustable drawcord hem and hood are matched with thoughtful details like an internal zippered chest pocket. The jacket's form-flattering fit makes it just as suited for nights on the town as it is for the rugged alpine environment.
Click the button below to find the Cerium LT, along with more detailed specs:

---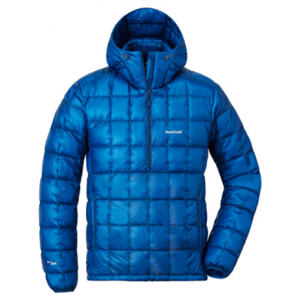 Montbell EX Light Down Anorak
Top choice for minimalists
For many modern hikers, the best down jacket doesn't need to be feature heavy. Zippers add weight and bulk, plus they usually generate cold spots on a jacket. Inevitably, after years of use, most zippers will stop working as well as they did off the rack. The Montbell EX Light Down Anorak does away with the traditional full zipper, and shines as a minimalist down pullover that successfully delivers all the important features. The 2020 model features a two-way adjustable hood, designed to fit over helmets and cinch down tight to stay snug on your head when needed. Other standard features include a drawcord hem and elastic cuffs to keep warm in. It has a single, insulated tunnel pocket for both your hands. The major benefit of this kind of pocket is that by keeping your hands in the same compartment, they will share and multiply warmth. The solid 900 fill power down makes up for an impressive 35 percent of the total garment weight, a larger percentage than most down jackets on the market today.
Click the button below to find the EX Light Down Anorak, along with more detailed specs:

---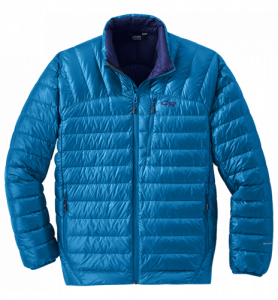 Outdoor Research Helium Down
Best in class for durability
If you're anything like me, you end up using your gear in a lot of situations that tend to wear it out quickly. The Outdoor Research Helium Down is made for people like us, who find ourselves pushing through brush on secondary trails more often than not. The jacket is constructed using Pertex Quantum ripstop nylon with Diamond Fuse technology. It might sound like a lot of fancy branding, but the result is a shell fabric that's a lot more tear resistant than other lightweight down jackets. At 12.6 ounces, it sits on the heavier end of the lightweight category. For the added durability, the minimal weight penalty seems like a small price to pay for the peace of mind it comes with. The Helium comes in both hooded and regular versions, and with all the features one would expect from standard fare down jackets.
Click the button below to find the Helium Down, along with more detailed specs:

---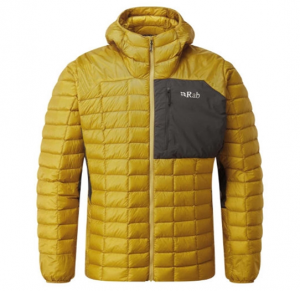 Rab Kaon
Best for high-intensity aerobic activities
Rab bills the Kaon jacket as "an alpine jacket for those looking to do more but take less." The Kaon is like many other down jackets in that it uses zoned construction to cover certain parts of the torso in down, and others in more sweat-friendly synthetic. What sets the Kaon apart is the fact that Rab has chosen to leave certain parts of the jacket completely uninsulated, allowing for maximum breathability. Keeping you warm where necessary, and allowing you to dump heat under the armpits and placing synthetic insulation in the areas prone to wetness, the Kaon is designed to simplify your active layering system. The 850 fill power down and high tech synthetics mean the jacket still packs down impossibly small and light. If you're looking for something to keep you warm on winter runs or fast alpine trips, the Kaon could be the ultimate combination of warmth and breathability.
Click the button below to find the Kaon, along with more detailed specs:

---
REI 650 Jacket/Hoody
Best budget option
Down jackets, in general, are expensive. Many outdoor sports enthusiasts are used to the high price tags and carefully choose down garments as investment pieces. Not everyone is in the same boat however. For someone who is just starting out, the sticker shock can be a lot, especially when combined with all the other essential gear like a shell jacket, tent, sleeping bag, pad, stove, backpack, etc. There are plenty of compelling reasons to not run out and buy one of the more expensive jackets on the market. The REI 650 jacket delivers reliable warmth and packability at an affordable price. Just because the 650 is a relatively cheap down jacket compared to the others on this list doesn't mean it's cheaply made. REI is known for making entry level products that work well and last a long time.
Click the button below to find the 650, along with more detailed specs:

---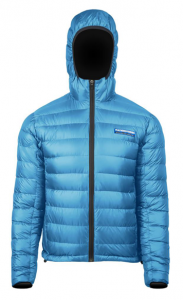 Feathered Friends Eos
Best warmth-to-weight ratio
Feathered Friends is a brand well known for producing down products. They have made down suits that have been to the summit of Everest, and they make down blankets that transform your bed at home into a plush wonderland. All of their products are made in Seattle and Vancouver, in small factories where the workers have dealt extensively with down. The Eos is Feathered Friends' lightweight packable down jacket. It is designed with warmth in mind, so the hood fits ergonomically around the head and neck. There's a good amount of 900 fill power down in there to ensure the jacket really keeps you toasty on cold mornings and around camp at night.
Click the button below to find the Eos, along with more detailed specs:

---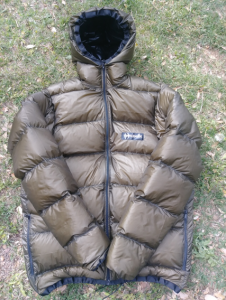 Timmermade Kinglet
Best fully custom option
It might seem like the best down jackets are those made by large, well established companies. After all, they have the most resources to pour into research and development, right? Well, Dan Timmerman is out to bust that myth. Timmermade is a line of ultralight camping and backcountry gear that is made to order. The Kinglet is the perfect choice for you if you want complete control over the jacket you're going to get. First off, the Kinglet is made to your exact measurements. Chest, hips, waist and arms will all be perfectly fitted to your body. You can specify how long you want the jacket to be. You have the option of zippered pockets or none. The hood is a standout feature, and has a closure that seals around your face to lock heat in. The Kinglet is made with 900 fill power down and Argon 67 shell fabric, meaning it's on par with the other jackets on this list.
Click the button below to find the Kinglet, along with more detailed specs:

Atticus Lee is an outdoors writer and perpetual traveler. When he's not writing about adventures and gear, he's riding his bike across different countries and learning about their cultures. He enjoys coffee, campfires, and street food.
We are committed to finding, researching, and recommending the best products. We earn commissions from purchases you make using the retail links in our product reviews. Learn more about how this works.
Feature image by Kichigin, Shutterstock