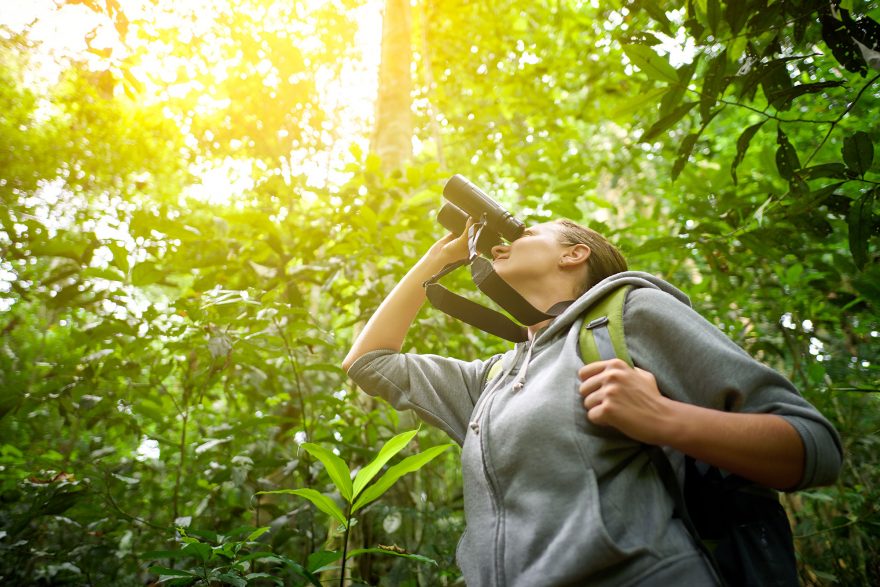 For hiking enthusiasts, the importance of having an excellent binocular in their arsenal cannot be overemphasized. A high-quality compact binocular makes a significant difference in a hiker's journey. It not only reduces their load but will determine if the hiker will have a satisfying hiking experience. So it's worth asking which are the best compact binoculars?
Before we go-ahead to identify our picks of the best compact binoculars for hiking, it is essential we first learn how to choose these binoculars.
How to Select Binoculars
There are key factors one must consider when it comes to purchasing binoculars — as they can determine the longevity and efficiency of the binoculars. These factors include:
Field of View
When you're preparing to get your binoculars, the depth of view is an essential factor when making a choice. A recommended range of sight should be around 1,000 yards. This is because hiking requires adequate scouting of areas, especially in rough terrains.
Lens Coatings
Illumination is a key component in the workings of a binocular. This is because the refraction of light allows you to view the objects that are at long distances. When you prepare to get your binoculars, you must be careful as the lens must not illuminate too much light or too little light. The lens must always be able to show a clear and bright image for the viewer.
Magnification
As mentioned earlier, the field of view is an important feature in choosing a great binocular. However, magnification also works hand in hand. Magnification entails how deep you can zoom in on an image. It also deals with how clear the pictures will be after zooming on the view. A great binocular allows magnification up to an optimum range, while still delivering outstanding images.
Six Best Compact Binoculars For Hiking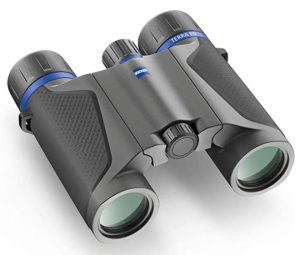 Zeiss Terra ED Compact Pocket Binoculars
The Terra ED binoculars boast of a magnification range of 8X and a SCHOTT ED glass with a hydrophobic multi-coating, which provides for high-quality images and optical precision. What makes this state-of-the-art binocular perfect for hiking is its compact design. It is lightweight, foldable and can be transported with ease when hiking in rough terrains.
ZEISS, the manufacturer of this binocular, went the extra mile to ensure its product is easy to use by allowing your index finger to be automatically placed on the focusing wheel, basically as soon as you pick it up. Thanks to its waterproof casing reinforced with glass fibers, the Terra ED binocular is the perfect companion when hiking in any extreme weather condition.
Key Features
Easy to grip
Waterproof and highly durable
Compact design
Eye relief technology

---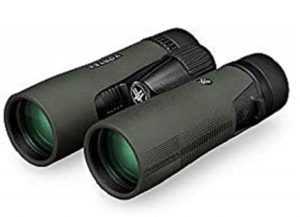 Vortex Optics Diamondback Roof Prism Binoculars 10×32
Vortex binoculars, which come in several models, have been specially designed to survive the intense outdoor and hiking challenges faced by adventurers. However, the 10×32 model that grabbed our attention features a 10X magnification and a low light viewing lens of 32mm. The 10×32 model features an enhanced dielectric fully multi-coated lenses, which delivers high optical quality and gives its users an ultra-wide field of view.
A unique feature of this binocular is its adjustable eyecups and IPD, which allows wearers of eyeglasses to use it with ease. They can simply twist the eyecups up or down to have access to a wide field of view. However, if you don't wear eyeglasses, you can keep the eyecups extended for comfortable use.
Key Features
Multi-coated lenses
Waterproof design
Advanced grip design
Adjustable Eyecups

---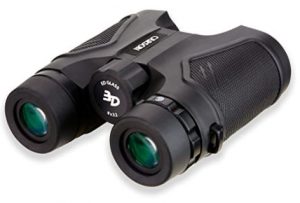 Carson 3D Series High Definition Waterproof Binoculars 8x32mm
This is the perfect binocular for both hikers on an adventure and birders on a stroll. It has many unique qualities, including extra-low dispersion glass and phase-corrected prism, which guarantees the best image projection and brightness.
The Carson 3D series binocular is durable thanks to its waterproof body. It boasts of a nitrogen-purged body and O-ring seal, which not only makes it waterproof but fog proof. This product comes in an ergonomic design due to the presence of thumb grooves, which allows for a comfortable grip.
This binocular comes with extra accessories such as a BinoArmor deluxe case and shoulder harness to ensure it is well protected when you're hiking. This binocular is also suitable for eyeglass wearers due to its eyecups, making it one of the best compact binoculars available on the market.
Key Features
ED Glass Technology
Ergonomic grip design
Extra-long eye relief

---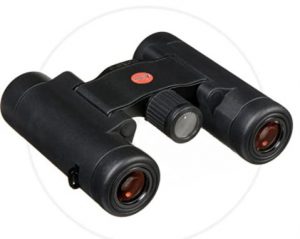 Leica BCR Ultravid Compact Binocular Review
For anyone searching for a compact binocular with an adjustable eyecup, a quick focus wheel plus an adjustable right eye diopter, the Leica 8×20 is the perfect option. This binocular was designed with an inert gas internal filling, which eradicates fogs.
The Leica BCR binocular boasts of optical precision and has an 8X magnification with a field of view 1,000 yards and 341 feet. They produce bright and sharp images giving hikers a value for their money. This portable binocular is designed with aluminum making it extremely durable and suitable for outdoor adventures.
Key Features
Improved lens coating Technology
UltraVid viewing
8x Magnification
Portable and lightweight

---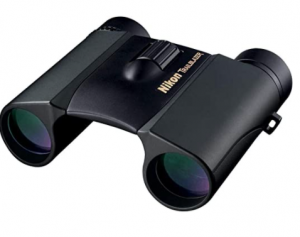 Nikon Trailblazer ATB Waterproof Binoculars
The Nikon Trailblazer features fully multi-coated optics and high-index BAK4 roof prisms, which provides for sharp and clear images by reducing light transmission. With a field of view at 1,000 yards and its optical precision, hikers can take in beautiful sceneries from yards away. This compact binocular is highly durable thanks to its rubber-armored body that provides for shock-resistant and a comfortable grip.
The Nikon Trailblazer binocular is best for hiking in any weather condition due to its waterproof and fog proof features. This product comes in a sleek and ergonomic design and can be folded for easy transport. Eyeglass wearers can use this binocular with comfort thanks to its rubber eyecups.
Key Features
Clear View
Rubber armor coating
Strap and lens cover
Great resolution

---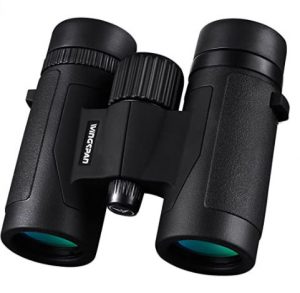 Wingspan Optics FieldView Travel Binoculars
This is one of the best compact binoculars available for hiking. It is small, lightweight and can also be used for bird watching. Due to its versatile nature, it weighs just 15 ounces for easy transportation and use. It has a magnification of 8X, an objective lens of 32mm, and a field of view at 1,000 yards and 362 feet.
This binocular features a non-slip grip for easy use and comes with a neck strap for easy carriage and nylon mesh carrying case to protect it when not in use. The Wingspan binocular provides for crystal clear focus and clear images.
Key Features
Water/Fog proof design
Compact design
8X for better focus
Pocket size design

---
From the above, it is evident that not only are binoculars vital to hiking, but they can also aid other outdoor adventures. Now that you know the best compact binoculars available, you can easily select one from the list above and watch your hiking experience improve.
Ojonugwa Lawrence is a creative and disciplined outdoor writer with a background in psychology. Her love for outdoor adventures helps her connect to her readers and the universe as a whole.
We are committed to finding, researching, and recommending the best products. We earn commissions from purchases you make using the retail links in our product reviews. Learn more about how this works.
Feature image by soft_light, Shutterstock