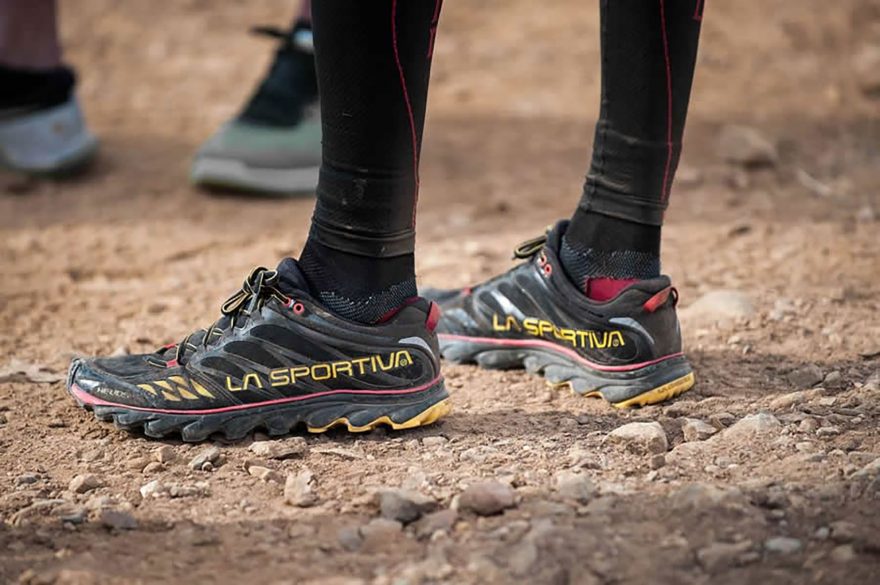 Whether you're traversing ankle-biting rocks, dancing over downed trees or slipping on muddy curves, what you have on your feet can make a big difference between a good trail run and a disaster of a run. You want shoes on a single-track to grip the ground and stand up to extreme abuse — after all, trail running shoes are made differently than road running shoes for a reason. And if you've spent any time running off the pavement, you'll have likely learned that La Sportiva trail running shoes are some of the best options for you to consider. 
Since I first began trail running, I've seen more and more of my wardrobe get taken up by La Sportiva gear — there's so much there that makes the brand perfect for tackling the wilderness at a speedy gait. The Italian company — more often simply referred to as Sportiva in conversation — got its start nearly a century ago making footwear and has grown into a brand that is distributed in more then 70 countries worldwide. And Sportiva's trail running shoes are loved by mountain athletes all around the world, and they have been awarded prizes in recent years.
But it's not always easy to narrow down the right shoe for you, especially if you don't have a place nearby to try them on. With well over two dozen running shoes each for men and women to pick from, we can understand how making a decision that'll set you back $100 to $200 can be stressful. (Thankfully, purchases made directly from La Sportiva North America can be returned within 30 days for a full refund — less shipping fees — if the shoes are unused.) But our hope here is to land you in the right pair for your situation the first time around, so that you can enjoy the mountain elevations in a great pair of La Sportiva trail running shoes for a long time to come.
In general, Sportivas are going to cater to folks who have narrower heels, higher arches and want a wider forefoot. The shoes typically run true to size.
Here are our picks for some category standouts:

All-Around Performance
Bushido II
This is the La Sportiva shoe that brings it all home in the best overall package — and the Bushido has long been the flagship of the brand, having won the coveted Editor's Choice Award from Trail Running magazine just a few years ago. This shoe excels on technical trails and has a minimalist aspect to it, which means that you're not going to be clomping down the mountain in an over-cushioned monstrosity. But if you're looking for speed, having less overall bulk (especially on race day) is a good thing. The Bushido II also stands out by having a stable, lightweight, sticky and aggressive outsole — it's certainly noticeable how well your feet will grip the surfaces below you.
Features:
Weighs in at 10.5 ounces for men; 8.8 ounces for women
Drop is 6mm (stack height is 19mm in the heel, 13mm in the toe)
Slip-on construction wraps your foot like a sock without compressing or exerting pressure points
Updated heel design for increased comfort and fit. Outsole lugs wrap the midsole to provide added traction and enhanced stability on off-camber terrain
FriXion XT V-Groove2 incorporates dual-compound rubber guaranteeing superb grip on any type of terrain, dry or wet
Updated Tongue is ergonomic, padded, highly-breathable and will stay in place with gusseted construction

---

Best Hyrbid Trail/Road Shoes
Mutant
If you're a trail runner, you truly love being on trails. But it's not entirely uncommon to have part of your route (especially on those long, multi-hour runs) to pick up stretches of pavement: maybe it's a couple of miles on a sidewalk or paved greenway, or maybe it's a parking lot around a monument or park. To balance the best of both of those terrains, the La Sportiva Mutant will excel. These are the kinds of shoes that can handle rocks and other harder and variable surfaces we encounter — yet still go 500 miles and hold up very well. And like the Bushido, the Mutant has won its own accolades, chosen as the 2015 Gear of the Year by Outside Magazine. Overall, the Mutant has an aggressive outsole, burly lugs and a trim fit, making it well-suited for covering serious terrain.
Features:
Weighs in at 10.7 ounces for men; 9.0 ounces for women
Drop is 10mm
Spyraltongue Technology for easy entry and a snug, all-encompassing fit
Integrated FusionGate Technology Lacing Harness with High Frequency reinforcements for a fantastic fit
Incredible traction with FriXion XF, our stickiest running shoe sole compound
Sublime cushioning tames the trails

---

Best Grip
Kaptiva
The La Sportiva Kaptiva is going to be one of the grippiest pairs of shoes you'll ever own. They will provide a comfortable fit for running on all kinds of technical terrain, and they have the stability built into them to match. Plus, the customer reviews of these shoes further attest to their value, with some people calling them the best mountain running shoes they've ever owned. And, if you happen to find yourself wanting in colder weather, there is a waterproof GTX version of the Kaptiva available for $20 more than the standard version.
Features: 
Weighs in at 9.0 ounces for men; 7.9 ounces for women
Drop is 6mm (stack height is 17mm in the heel, 11mm in the toe)
TRUST-FIT shape cradles your foot for a precise and comfortable fit while reducing foot slippage
SLIP-ON construction with knit fabric reduces the overall volume for an optimized and performance oriented fit and super-clean look
Flex-Grooves in the outsole facilitate the perfect flex while the 1.5mm EVA rock-guard in the forefoot & heel protect from rocks and roots
STB control inserts provide torsional stability regardless of the technical terrain you may encounter

---

Best in Muddy Terrain
Akyra
It's fine to spend your mornings sloshing around in the mountain mud (heck, it's even encouraged), just do it responsibly. And there's probably not a La Sportiva shoe on the market that'll help you hang onto the muddy trail around every slippery curve or slope like the Akyra does. Sportiva says the Akyra is "inspired by the grace and power of origami," and when you factor in its abilities to get you nimbly over a variety of uneasy terrain, we see where the company has conjured that notion from. The Akyra is not available on La Sportiva's website for women, but like other shoe models, there is a winter GTX model — complete with waterproof Gore-Tex lining, super tough welded TPU and AirMesh MicroLite uppers — that is available for both men and women (the women's version is pictured above).
Features:
Weighs in at 11.35 ounces for the men's standard Akyra
Drop is 9mm
Secure fitting, comfortable and breathable uppers thanks to the innovative 3-layer construction sytem
Trail Rocker2 sole promotes natural "outer heel to inner toe" support while running
Aggressive lugs combined with FriXion rubber and Trail Bite heel provide all-terrain traction and maximum grip

---

Most Waterproofed For Winter
Blizzard GTX
Like other GTX models from La Sportiva, the Blizzard has a Gore-Tex Extended Comfort membrane, helping to waterproof the shoe and maintain mobility. What stands out here is the calf height of the shoe, which looks more like a high-top than a regular running shoe. It utilizes a dynamic gaiter and integrated tungsten alloy spikes for maximum protection and grip. And that's the beauty of the Blizzards — they are made for some of the worst winter days out there, and you can run free from worries of external moisture or coldness. These unisex shoes also have  reflective details and a super-secure lacing harness.
Features:
Weighs in at 13.3 ounces
Drop is 6mm (stack height is 18mm in the heel, 18mm in the toe)
Single Cord Lacing system with integrated garage
4-way stretch dynamic scree guard is water repellent and wraps the foot completely protecting against stones, mud and snow
High Frequency Fusion Gate structure connects to the lacing system providing lateral/medial support and fine-tuning of the fit
Integrated 4-way stretch gaiter for protection from the elements and debrisReflective details keep you visible in extreme conditions
Gore-Tex Extended Comfort membrane keeps the shoe waterproof and highly flexible
Durable, Frixion AT 2.0 outsole with 7mm lugs and integrated Tungsten Alloy Hobnails for maximum traction in any conditions

---
While these are the best La Sportiva trail running shoes that we've come across, the company makes several more options, many of which stand out on their own merits. For example, runners have said that the Jackal is a great trail shoe if you're dealing with plantar fasciitis, while some 200+ pound runners have said how the Lycan works well for their larger frame. Of course, finding the right shoe is a personal experience, and your own body's biomechanics is vital to that selection, but with how many trail running shoes La Sportiva has available, it's a pretty safe bet that something here will stand out to you.
Images by La Sportiva 
We are committed to finding, researching, and recommending the best products. We earn commissions from purchases you make using the retail links in our product reviews. Learn more about how this works.